Hi, Quartz Africa readers!
Youth optimism vs youth bulge
Over the next 30 years, half of the world's population growth will happen here in Africa. Inevitably, that impending reality prompts questions about whether governments across the continent can cater to the infrastructural and policy needs that the population spurt will demand.
But evidence suggests very few are prepared. Nigeria, Africa's most populous country, has already been labeled the world's poverty capital and human capital spending across several countries on the continent still falls significantly short. Overall, things may look grim but youth across Africa remain bullish about their own prospects says the recently published African Youth Survey 2020.
The report says there is a trend of "Afro-optimism" among young people in Africa, driven by a "strong sense" of individual responsibility, entrepreneurship and confidence in an African identity. For instance, 82% of respondents believe their standard of living will improve in the next two years with 81% predicting technology will be the main driver of their changing fortunes.
Contrasted with current realities, the high levels of optimism in the survey can seem difficult to take on board. But there's plenty of evidence technology is helping a generation of Africans leapfrog perennial challenges from education to healthcare and financial inclusion.
That's not to say technology alone will fix all of the continent's problems. Indeed, national governments still have to optimize public resources and also create strong political and economic institutions that foster innovation. But what's increasingly clear is while Africa cannot "entrepreneur its way" out of its many problems as quickly as required, innovation and entrepreneurship is delivering impact that can inadvertently bring about better governance.
In the meantime, young Africans, in the face of unemployment and tough realities, are leading the innovation charge as the rapid growth of tech ecosystems across the continent show.
At a US Congress hearing on Africa's youth bulge earlier this month, a recurring theme from witnesses was for policy makers within and outside Africa to start thinking of the ongoing rapid population growth as an opportunity rather than a problem—because that's exactly what young people are doing. As Krystal Strong, assistant professor at the University of Pennsylvania, said during the hearing: "[African] youth are taking on the work that governments and social institutions are meant to do without adequate resources but with great creativity."
— Yomi Kazeem, Quartz  Lagos correspondent
Five stories from this week
The world's largest rubber company is being blamed again for pollution in a Liberian river. Firestone Liberia, the world's largest rubber plantation owned by global tire giant Bridgestone, is alleged to have allowed the ongoing release of waste into a river in Liberia, 15 years after it was first alleged of the same pollution problem. Uwagbale Edward-Ekpu examined a new report which accuses Firestone of corporate negligence.
A misguided attempt by FW de Klerk to reframe apartheid's impact damages his legacy. He may have been awarded the Nobel Peace Prize along with Nelson Mandela, but incendiary comments by the former South African deputy president FW de Klerk threaten to undo his legacy. As Norma Young writes, de Klerk's prominence as a leader and position as patron of the Rainbow Nation, are in question; with calls demanding #DeKlerkMustFall.
The story of how Kenyan women are bringing P&G to task over the Always "burning pads" saga. 
In early 2019, Kenyan women on social media started sharing their negative experiences using Procter & Gamble's
Always 
pads. The hashtag, #myalwaysexperience trended as P&G failed to accept responsibility for the issues raised.
of the unrelenting movement to get one of the world's largest FMCGs to address their issue.
The EU subsidies which cause overfishing in West Africa's waters also drive illegal migration. As fish stocks off the West African coast dwindle the WTO talks on Mar. 2 will tackle how to end harmful fisheries subsidies that fuel overfishing. Chidinma Irene Nwoye writes on the impact of these subsidies in this Quartz Africa/Newsy partnership, alongside a short documentary video which also highlights how overfishing is driving illegal migration to Europe.
Coronavirus hits Nigeria, Jumia but there is some cautious optimism. The realities of coronavirus first showed up this week on the quarterly earnings call of Jumia, when the chief executive said the outbreak was already hitting its supply chain. Then the virus arrived in Nigeria in the person of an Italian business traveler. Fortunately, Nigeria has spent some time prepping for coronavirus and might just prevent a full-scale outbreak. But the biggest battle for Nigerian authorities might be how to stop misinformation on coronavirus spreading on platforms like WhatsApp.
The Dealmaker
•Lifestores, a Lagos-based pharma-tech startup which aims to disrupt primary healthcare, has raised its seed round to from multiple investors led by Consonance Kuramo with participation from the Flying Doctors Nigeria Group, Greentree Syndicate, Altadore Lionbear Capital, Unseen Ventures, StartUp Health Transformer Fund, K50 Ventures, Chinook Capital and Kepple Africa Ventures.
•Goldman Sachs joined Odey Asset Management and Leapfrog Investments to invest $55 million in debt and equity in South African fintech player Jumo. It brings Jumo's total funding to nearly $150 million.
•Nairobi-based B2B retail platform Sokowatch raised $14 million in Series A funding from investors including Quona Capital, Amplo and Breyer Capital.
Quartz partner announcement
IE Africa Center
presents
African Solutions, Global Challenges
. What is the role of Africa's diaspora when it comes to shaping the continent's future? On Mar. 4 in London, in collaboration with SOAS, MIT and RAS,
IE University's Africa Center explores
how the diaspora contributes to forging a new reality for the continent.
Chart of the Week
Nigeria's economy is making a comeback—but it's still not happening fast enough. Nigeria's economy had its best quarter since the 2016 recession but most Nigerians wouldn't have noticed. The economy grew by 2.55% in the last three months of 2019 but that was well short of the government's own ambitious targets or even more conservative IMF forecasts.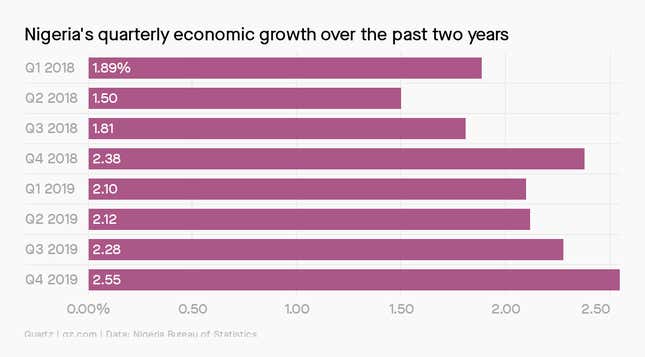 Quartz Membership
TikTok is China's first truly global app. With hundreds of millions of monthly users and burgeoning TikTok stars, ByteDance's hit video app is here to stay. But "TikTok's roots are a double-edged sword," writes Quartz reporter Jane Li. This week's field guide for members tells you why.
Other things we liked
Africa isn't ready for new currency unions. Lessons from the CFA franc zone's own experience in West and Central Africa and from the eurozone in Europe raise serious doubts about whether the African region is prepared for the challenges a new monetary union will bring, writes Célestin Monga for Project Syndicate. Monga thinks the proposed eco zone will be a challenging, risky, and possibly painful venture for all involved.
Pentagon's own map of US bases in Africa contradicts its claim of a "light" footprint. Since 9/11, the United States military has built a network of outposts in more than a dozen African countries. The Intercept's Nick Turse obtained US military documents and maps which show locations of these African bases in 2019. These formerly secret documents, created by the Pentagon's Africa Command are said to offer a window into the footprint of US military operations in Africa.
Running out of time: East Africa faces new locust threat. As climate changes makes the Indian Ocean warmer, it means more rain, wakening dormant locust eggs and cyclones which help disperse swarms are getting both stronger and and more frequent creating a major locust threat in East Africa, find Omar Mohammed and Dawit Endeshaw for Reuters. The problem is exacerbated by a lack of expertise in pest control, pesticide and planes they write.
ICYMI
The Tech By Her Accelerator with MEST. The Tech By Her Accelerator is supporting female-led tech ventures to become globally competitive and sustainable brands. It is powered by Accra, Ghana-based MEST with support from the Tech Entrepreneurship Initiative and "Make-IT in Africa" backed by GIZ. (Mar. 13).
Africa international postgraduate scholarships. Postgraduate scholarships are available to students from most African countries for a full-time MPhil/PhD program at King's College London in the 2020/21 academic year. (Apr. 1).
Keep an eye on
South Africa GDP data (Mar. 3). South Africa's statistics agency will publish its GDP report for the fourth quarter of 2019.
Aviation Africa, Addis Ababa (Mar. 4-5). The two-day aviation summit and exhibition will over 200 delegates from airlines discuss the theme of "creating a sustainable future for Africa's aviation industry."
*This brief was produced while listening to New Breed by James BKS – 'New Breed' feat. Q-Tip, Idris Elba & Little Simz (US/UK).
Our best wishes for a productive and ideas-filled year ahead. Please send any news, comments, suggestions, ideas, any brand but Always and sustainably and ethically-fished sardinella and Thiof to africa@qz.com. You can follow us on Twitter at @qzafrica for updates throughout the day.
If you received this email from a friend or colleague, you can sign up here to receive the Quartz Africa Weekly Brief in your inbox every week. You can also follow Quartz Africa on Facebook.