Hi, Quartz Africa readers!
Digital cash transfers
Back in June, we wrote about how Togo was using digital cash transfers to plug its social welfare gaps as the government tried to help informal workers whose livelihoods had been disrupted by the pandemic and the accompanying lockdown. The Novissi program, which was launched in April, signed up more than 1 million citizens in its first week. Up to 65% of the eligible beneficiaries were women.
While Togo's mobile-based digital program stood out early on, it was not alone in Africa in providing social welfare relief for its citizens. More than 40 African countries have introduced or expanded social welfare programs since the pandemic, according to data compiled by the Milken Institute's Covid-19 Africa Watch. So far 36 African countries have offered cash transfers to eligible citizens (the requirements vary) while around 15 countries provide food assistance. A few of these countries offer both.
There are two notable things about these programs. The first is that outside of emergencies and conflicts, few of these countries had substantial social welfare programs in place before Covid-19.
Secondly, it's been notable how digital technology is being used to help overcome some of the biggest challenges for developing countries with cash transfers, particularly with communications, recruiting new citizens, digital ID, screening for eligibility, and delivering payments.
A new policy paper (pdf) from the Center for Global Development in Washington DC focuses on the role of digital technology in enabling efficient "G2P" (government to person) social assistance. It shows how the mighty challenge facing developing countries during a global pandemic has forced several of them to consider the benefits of cash transfer programs seriously for the first time. Digital technology can certainly help reduce the cost of running such a program though, as the authors point out, countries that have already enabled investment in digital infrastructure and financial services will see more immediate results.
"The Covid-19 period will undoubtedly spur further use of digital mechanisms to deliver social protection," write CGD's Alan Gleb and Anit Mukherjee. "Our review suggests that an important objective for policymakers in the post-Covid period will be to build on the capabilities developed during the crisis to strengthen sustainable social protection and payment systems that are both inclusive and effective, in particular addressing the challenges faced by women, who are often digitally disadvantaged."
— Yinka Adegoke, Quartz Africa editor

Five stories from Quartz Africa
The US is clamping down on fraudulent child adoption from Uganda as birth parents fight back. The US department of Justice is going after key American and Ugandan actors in a child adoption and trafficking scam that separates young Ugandan children from their families. It comes after years of weak regulation allowed orphanages put children up for adoption at the risk of trafficking and exploitation, reports Rosebell Kagumire from Kampala.
Wealthy Nigerians are buying up passports for cash from Caribbean nations to beat visa rules. Nigeria's passport suffered the worst decline in passport power over the past decade with its holders able to visit fewer countries visa-free now than they could in 2010. In search of improved international mobility, wealthy Nigerians are paying hundreds of thousands of dollars for passports through investment migration programs by Caribbean nations, Yomi Kazeem reports from Lagos.
A probe into Chinese-made Tecno phones found malware stealing paid airtime from owners across Africa. Chinese-owned Transsion Holdings became the top selling phone maker in Africa over past decade by selling cheaper phone models. However, newly reported findings suggest some of those phones may have come at an extra cost as preinstalled malware fraudulently signed users up for paid services without their knowledge.
Environmentalists are furious with Zimbabwe's approval of a new Chinese coal mine in its top game reserve. Endangered wildlife in Zimbabwe's biggest game reserve are set to face a new threat warn activists. As Tawanda Karombo reports from Harare, the government has granted coal mining concessions to  Chinese companies in the Hwange National Park despite the risk of harm to the environment and the recent mysterious death of 22 elephants in the park.
How the "success story" of genetically modified cotton in Burkina Faso fell apart. Burkina Faso was once the poster child for genetically modified crop advocates after it rolled out a cotton seed program with Monsanto in 2008. For a long while it was hailed as a success even as it fell apart and eventually shut down by 2016. Power, conflict, and self-interest played key roles in allowing the "success" narrative to live on.
Dealmaker
Venture capital firms are collaborating to keep Nigerian startups alive. Abuja, Nigeria-based early-stage fund, Ventures Platform, is collaborating with New York impact investor Acumen and LoftyInc, a Lagos-based investment firm to create a startup relief program to disburse emergency grants of up to $20,000 to early, high-growth stage startups that may require cash support. The non-equity grants could be a key lifeline for young startups during the pandemic.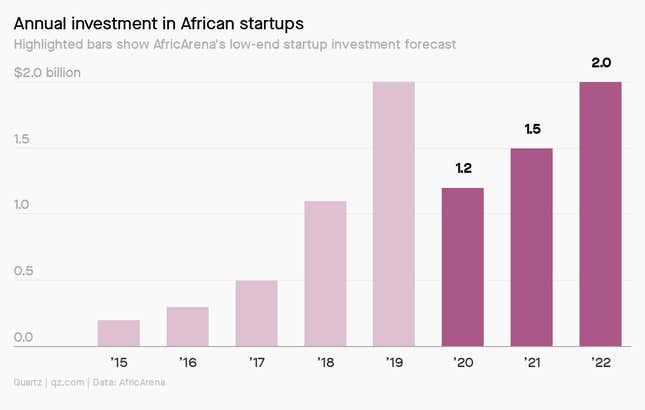 •WorldRemit, the UK remittances company is to acquire Africa-focused remittances startup Sendwave in a $500 million cash and stock deal. The transaction is expected to close in the fourth quarter while Sendwave will remain an independent business and retain its management and employees.
•South Africa's Standard Bank has taken a 35% stake in TradeSafe, a South African online escrow platform. Since launching in 2013, TradeSafe has offered a bridge-of-trust service in e-commerce transactions between two or more entities by ensuring that sellers only get paid when buyers confirm receipt of orders or services.
•Digital Horizon, a London-based venture fund led a $2.4 million investment round in Healthlane, a Nigerian healthtech startup. The round also saw participation from investors including Sequoia Capital, Silicon Valley Bank, TSVC, Supernode Ventures, CRE Africa, and Capitoria.
•DataProphet, a Cape Town-based artificial intelligence startup has raised $6 million in a new funding round led by Knife Capital. The round also saw participation from Industrial Development Corporation and Norican Group.
Quartz presents:
What China has to gain from Africa
China's relationship with Africa goes beyond building skyscrapers and roads that lead to those skyscrapers. What started off as a search for raw materials in exchange for infrastructure loans has evolved into a complex geopolitical chess game as China expands its influence on the global stage.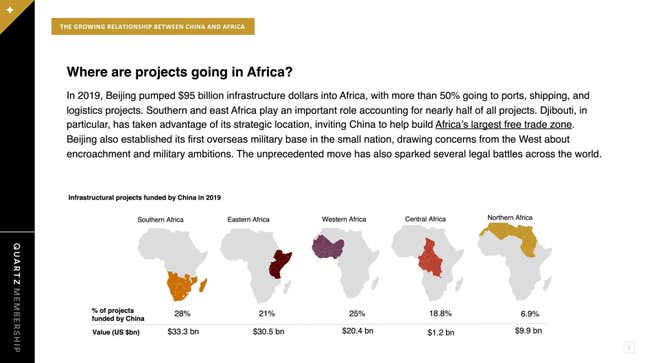 China needs the support of Africa to compete with the geopolitical and cultural influence of the US and other dominant Western nations. What's their approach? A multi-pronged strategy that involves a mix of deep cash pockets and exporting Chinese soft power. Here's how it's working so far:
$95 billion invested in infrastructure projects in 2019
49 cultural institutes set up throughout Africa to teach Mandarin and Chinese culture
35,000 scholarships awarded to African students in 2018  to study at Chinese universities
$240 million invested in African startups in 2019
But no relationship is perfect. The poor treatment of Africans during the coronavirus pandemic in Guangzhou reveals cracks. And the "win-win" narrative could be further challenged as African economies, hit hard by the coronavirus, struggle with high levels of Chinese debt.
Our latest presentation provides a data-driven overview of the growing relationship between the two regions. See all 16 shareable slides explaining what China has to gain from Africa right here.
✦The Quartz membership sale ends on Monday Sept 7 (Labor Day in the US). Take 50% off your first year by using code "SUMMERSALE" through Monday.
Other things we liked
Do Safari companies really want African travelers? After months of border closures and few international tourism opportunities around the world, major Safari companies in eastern and southern Africa have struggled to keep going. But, as Tariro Mzezewa notes in the New York Times, these companies have now started reaching out to local tourists who are not always best pleased at potentially being an afterthought.
Inside Saudi Arabia's hellish Covid-19 detention centers. Migrants in the middle east are often caught in the crosshairs of the region's weak labor and human rights laws. Writing for the UK's Telegraph, Will Brown and Zecharias Zelalem report on the fate of hundreds of African migrants locked up in horrific conditions as part of the kingdom's drive to curb the spread of Covid-19
China's fragile relationship with Nigeria. As China has stepped up its soft power drive across the continent over the past decade, it has sought to establish strong ties with Africa's most populous country through a series of infrastructure projects. But as Adagbo Onoja writes in The Diplomat, the growing wave of anti-China sentiments across local Nigerian politics highlights the paradox of China's vulnerability despite the influence in Africa.
ICYMI
Schwarzman Scholars. A scholarship program offering students a "the opportunity to develop their leadership skills and professional networks" through a one-year Master's Degree at Tsinghua University in Beijing, China. (Sept. 22)
Commonwealth Short Story Prize. A  £5,000 ($6,600) prize for unpublished short stories authored by nationals of Commonwealth countries. (Nov.1)
Chevening Scholarships. A fully funded scholarship which allows students  pursue one-year master's degrees in the UK. (Nov. 3)
*This brief was produced while listening to Makambo by Geoffrey Oryema (Uganda).
Our best wishes for a productive and ideas-filled week ahead. Please send any news, comments, suggestions, ideas, digital cash transfers and Caribbean passports to africa@qz.com. You can follow us on Twitter at @qzafrica for updates throughout the day.
If you received this email from a friend or colleague, you can sign up here to receive the Quartz Africa Weekly Brief in your inbox every week. You can also follow Quartz Africa on Facebook.