Hi Quartz Africa readers!
The number of early-stage deals among African fintech startups is increasing, but the average deal size remains low compared to other regions, and funding gaps persist at the early stages. It's time for creative solutions.
The average African startup's seed round is around $1.5 million, according to a new report, compared with $4.6 million in India and $5.7 million in Latin America. Researchers surveyed 177 fintech startups and 33 investors in Africa, Asia, and Latin America. Among African respondents, seed investments were the most common type of deal. Indeed, the volume of early-stage deals for African fintech startups, including accelerator funding, pre-seed rounds, and seed rounds, has increased over the past five years.
But funding gaps remain for early-stage startups, particularly in the $250,000 to $1 million range. As a  result, many startups don't get the chance to fully scale, says Maëlis Carraro, managing director of tech accelerator Catalyst Fund and co-author of the report. That's lost opportunity for potential customers, small businesses, governments, and the economy.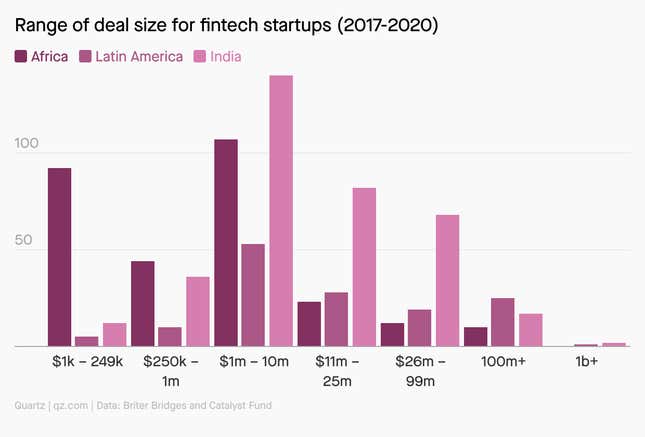 Despite the presence of accelerators, incubators, mentorship programs, and angel networks, the report warns that the African market is still far from having enough support to sufficiently spur innovation. One example of a creative solution that helps bridge the gaps: blended finance approaches that make use of philanthropic and equity or debt capital to help startups.
"We're still falling short for the ecosystem to really mature and flourish like it has in other regions, and that's our message for investors and for other ecosystem players," says Carraro. "We need to do more for those entrepreneurs, and we need to see more innovative solutions emerge." —Carlos Mureithi
Five stories from Quartz Africa
A Covid-19 procurement scandal has international implications. After news broke that Kenya had reportedly engaged a Canadian company in a billion-dollar contract for healthcare infrastructure to fight Covid-19, US regulators temporarily suspended trading in the company, citing concerns. As Carlos Mureithi reports, the purported deal raises questions about transparency in the east African country's procurement processes.
Crypto art collections have African creatives feeling optimistic. African art sales account for less than 1% of the $50 billion global art market. What if there was a way for African artists to profit from their work in perpetuity while also growing their piece of the pie? Ciku Kimeria discusses the opportunities the nascent NFT sector could unlock for artists and investors.
Economic imperatives clash with internet shutdowns. The more Africans do business online, the more they resent digital restrictions enforced by governments. That's one of the findings of a comprehensive Afrobarometer survey of attitudes towards digital freedoms, analyzed by Jeffrey Conroy-Krutz.
South Africa ramps up its vaccine rollout. Starting this week, more South Africans will be able to receive a Covid-19 vaccine, as officials brace for a potential third wave. Widespread vaccination points the way out of the pandemic, writes Brian Browdie. "The problem with public health measures is that you cannot use that in winning a pandemic," says Dr. John Nkengasong, director of the Africa Centers for Disease Control. "You have to bring in vaccines aggressively to bring it down."
Glamorizing cybercrime. Cybercrime puts a major dent in the Nigerian economy each year, which makes any celebration of it worthy of review. Looking at three popular songs by Nigerian hip-hop artists, Oludayo Tade analyzes the portrayal of cybercrime as a way out of economic suffering, and a clever business transaction with huge material benefits.
Chart of the week
More than 30 of Africa's 54 countries have progressively adopted anti-plastic bag policies since 2000. But experts claim the effects remain insignificant, considering the persistent use of plastic products such as water sachets across much of Africa, and the disregard for the numerous threats they pose.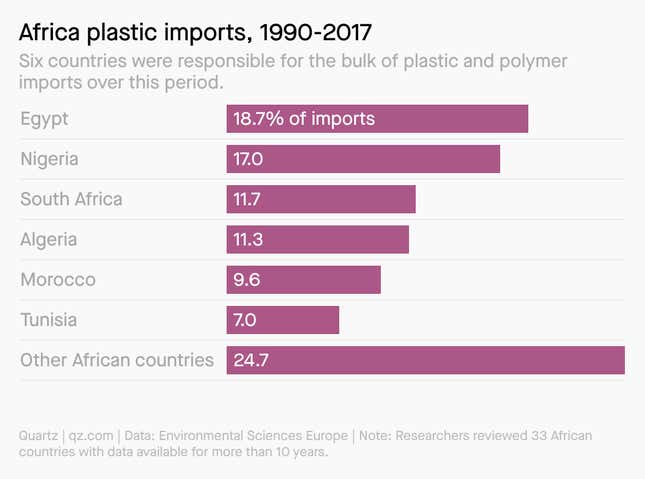 "We live in a country where nobody cares about the environment," says Abdullahi Salifu, a Kano-based drinkable water activist. "How do you eradicate plastic water bags when three out of five Nigerians consume them per day because there is no public water supply?"
A thriving plastics economy, Kingsley Kobo writes, built to meet the important needs of clean drinking water and employment, has come head-to-head with the urgent need to protect fragile environments on a continent that is rapidly urbanizing.
Dealmaker
Investisseurs & Partenaires, the Africa-focused VC firm, has provided funding for two Côte d'Ivoire-based fintech startups through its $3 million I&P Acceleration Technologies program. Keiwa, a streamlined accounting application, and Legafrik, a digital platform that allows management of legal needs across the 17 OHADA countries, are the beneficiary of the investments.
Maviance, a Cameroon-based fintech startup, has raised $3 million in equity financing. Investment was provided solely by MFS Africa, which in turn secured an undisclosed minority stake. The funding allows Maviance to scale its flagship product, Smobilpay, in Cameroon and the Central Africa region.
iXperience, a South African ed-tech startup, has secured a $2.5 million Series A funding round to build out its product and scale internationally. Kalon Venture Partners and Caleo Private Equity provided the funding. The startup began as a coding boot camp and has since morphed into a workforce-upskilling platform.
Quartz gems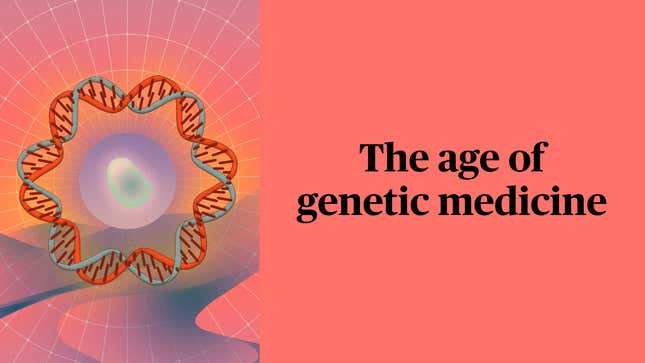 Though Africa's genetic makeup is the most diverse in the world, only 2% of the genetic material available for pharmaceutical research is from people of African ancestry.
That may slowly change as Covid-19 vaccines usher in a new wave of genetic medicine—drugs that tweak DNA to keep us healthy. Ride along in our latest member-exclusive field guide, which describes how the technology could spur advances in treating cancer, HIV, and rare diseases. Not yet a member? Sign up here.
Other things we liked
Now she's in the picture. Vanessa Nakate became famous after she was cropped out of a photo that featured four fellow climate activists—who were all white. This led to a rallying call against racism in the global environmental movement. For the New York Times, Abdi Latif Dahir writes about Nakate's moment in the spotlight, and how she is using it to bring attention to climate change in Uganda.
The Singapore misconception holding Djibouti back. President Ismaïl Omar Guelleh's Djibouti has benefitted from the so-called Singaporean model, which allowed the country to amass billions in rent from military bases and Chinese investment. But as John Hursh explains in Africa Arguments, to become a successful gateway to trade in Africa, wealth has to be evenly and democratically distributed.
When Bob Marley and Robert Mugabe celebrated independence. For the Africa Report, Trésor Kibangula takes a trip down memory lane to a 1980 performance by reggae legend Bob Marley in Zimbabwe, as the country was transitioning from British colonial rule after a decade-long armed struggle.
SpaceX's Africa ambitions. The aerospace manufacturer founded by Elon Musk confirmed this week that it is working with Nigerian regulators to secure permissions to launch its internet satellite service in the country. Emmanuel Paul writes for Techpoint about the implications, and how they align with the government's plan to bring 90% of Nigerians online by 2025.
The human price of gold. The value of gold reached record levels last year. However, as Moses Sawasawa illustrates in a photo essay for the Guardian, the people who mine it in the Democratic Republic of Congo remain poor and continue to work in dangerous conditions.
ICYMI
Pandemic preparedness. The Harvard Center for Africa Studies hosts an Africa-Asia roundtable on pandemic surveillance and response, with guests from prominent research and public health institutions, the African Union Commission, and the World Health Organization. (May 18-19)
Partnering to advance Africa's prospects. Africa Business and international law firm Hogan Lovells invite West Africa business leaders to join their latest webinar, which offers regional analysis and updates on key projects from leaders ranging from Renaissance Capital and ARISE. (May 19)
Keep an eye on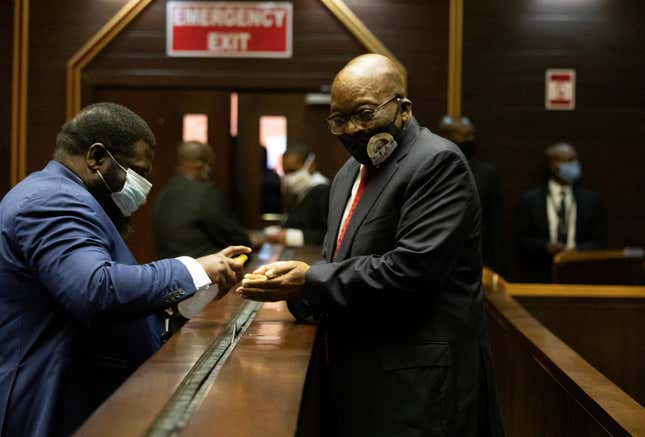 The corruption trial of former South African president Jacob Zuma, slated to begin on Monday, has turned into a judicial crisis for the country. The 79-year-old faces 16 charges of racketeering, fraud, corruption, and money laundering during his tenure as deputy president in 1999, then as president from 2009 to 2018. Zuma's current defense strategy is unclear after he parted ways with his legal team last month.
Zuma has denied all charges. He ignored a Constitutional Court order in February to appear before a commission probing corruption in state government, then missed a resulting court appearance.
"What we've seen the last couple of months is an attack led by Jacob Zuma on the constitutional system," William Gumede of South Africa's Democracy Works Foundation told the New York Times. "This is really a moment in our country where we have to decide if we are either for constitutional democracy or we reject it fully."
---
🎵  This brief was produced while listening to Lokua Kanza in concert at the 30th Africa Festival in Würzburg (DRCongo).
---
Our best wishes for a productive and ideas-filled week ahead. Please send any news, comments, suggestions, ideas, crypto art finds, and Bob Marley bootlegs to africa@qz.com. You can follow us on Twitter at @qzafrica for updates throughout the day.
If you received this email from a friend or colleague, you can sign up here to receive the Quartz Africa Weekly Brief in your inbox every week. You can also follow Quartz Africa on Facebook.