Hi Quartz Africa readers!
Businesses in developed economies may find themselves annoyed, frustrated, or even stifled by government regulation and bureaucracy. African startups, on the other hand, are actively lobbying their governments to put more rules in place.
Just look at the growing number of countries exploring "startup acts," inspired by Tunisia, which in 2018 enacted legislation to define "startup" and provide incentives like tax exemptions and paid leave to pursue entrepreneurship. A recent report ranking Africa's tech ecosystems praised countries following Tunisia's lead—Morocco and Ghana among them—for enacting reforms that position science and technology at the heart of their economic transformation.
Legislation allows startups to operate with the certainty afforded by a clear framework for expansion. Take the case of telemedicine, which is growing rapidly as a result of the coronavirus pandemic, but struggling to scale because of inconsistent rules within and between countries. Or ask Nigerian entrepreneurs, who recently requested the government consider a regulatory framework for startups after a surprise ban on crypto platforms by its central bank. Being at risk of getting wiped out by a government policy change-up doesn't make for an encouraging operating environment.
On the flip side, businesses should be wary of any truly heavy-handed regulation. "Without forward-looking approaches that strike the balance between protecting African ingenuity and scaling up, increased regulation can reduce foreign interest and stall the momentum on the continent," says Yaw Thompson, a Quartz Africa contributor and senior analyst at Forbes Tate Partners in Washington DC.
Thompson cites another telemedicine example: The CEO of Accra-based African Health Holdings, Sangu Delle, has said that in order to grow, the company must contend with Ghana's chronic shortage of healthcare workers. "Potential solutions…would require increased investment," Thompson says.
"Growing calls for regulation aimed at improving the business environment for African innovators…should also include forward-looking measures, such as the facilitation of skills and technology transfer in order to make these homegrown solutions more scalable, and sustainable," he concludes. "Most importantly, it should strike the balance between protecting African ingenuity, and fostering stronger investor relationships in the long term."—Jackie Bischof
---
Five stories from Quartz Africa
Fintech has Bezos back for more. The participation of Jeff Bezos's VC fund in the $100 million Series C round of payment firm Chipper Cash shouldn't detract from the realities of operating a business on the ground, warns entrepreneur Ndubuisi Ekekwe. Scaling successfully "will remain the winning model, irrespective of who wrote the checks," he says. "That Mark Zuckerberg's foundation invested in Andela did not change the nature of challenges the company has had to overcome."
Africa at the forefront of digital currency. Central banks around the world are looking to use technology to represent a country's official currency in digital form. Co-Pierre Georg, who researches such technology at the University of Cape Town, tells Carlos Mureithi that the world could look to Africa as a digital currency leader.
Where capitalism fails. A new book by a South African academic Ian Goldin, the former CEO of the Development Bank of Southern Africa, describes how the pandemic should prompt a fundamental rethinking of capitalism. In a review of the book, Edward Webster focuses on how inequality of opportunity is the greatest challenge facing the world right now.
Oral history via text. The podcast Xam sa démb, xam sa tey ("Know your past, know your present") aims to make Senegalese history accessible to youth and to preserve the country's storytelling tradition. Along with the Goethe-Institut Senegal, the podcast is spearheaded by the House of Orality and Heritage, a cultural center founded by famed Senegalese storyteller Massamba Gueye. Nellie Peyton speaks with Gueye about why he thinks WhatsApp is helping the country preserve its traditions.
#BlackLivesMatter still resonates in Zimbabwe. Protests over racial injustice in the US last August inspired Zimbabweans campaigning against a brutal state-led crackdown on opposition members and activists. This success has galvanized the country's social activism movement, writes Farai Shawn Matiashe, who have increasingly taken to social media to push for further reform.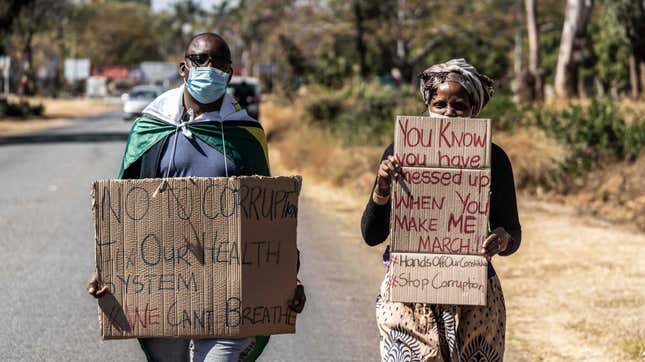 ---
One big number
20%: Increase in coronavirus cases in the last two weeks in Africa, compared to the previous fortnight
More travel, less caution, the arrival of winter, and a drop in vaccine shipments to the continent are contributing to an uptick in Covid-19 cases, which has WHO Africa concerned that health facilities are on the brink of being overwhelmed. Among the countries most affected: South Africa, Angola, Namibia, and Uganda, which had a 131% increase week over week.
"The threat of a third wave in Africa is real and rising. It's crucial that we swiftly get vaccines into the arms of Africans at high risk of falling seriously ill and dying of Covid-19," says Matshidiso Moeti, WHO Regional Director for Africa. "While many countries outside Africa have now vaccinated their high-priority groups and are able to even consider vaccinating their children, African countries are unable to even follow up with second doses for high-risk groups. I'm urging countries that have reached a significant vaccination coverage to release doses and keep the most vulnerable Africans out of critical care."
---
Keep an eye on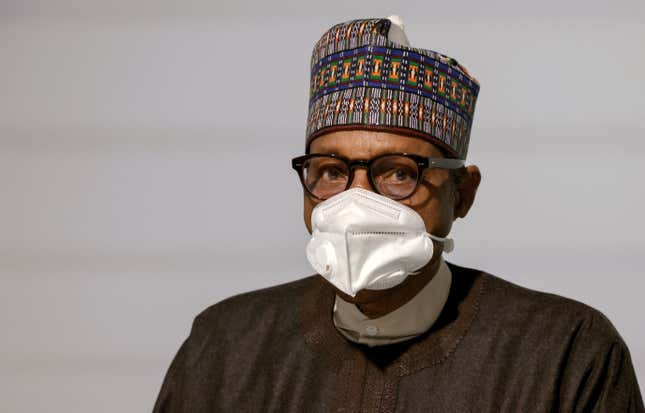 Access to Twitter in Nigeria remained sporadic this weekend, after the government suspended the social media platform indefinitely for deleting a tweet by president Muhammadu Buhari, which the social media platform said was in violation of its rules. The incident highlights a different kind of regulation at play: that of social media platforms. This is something Nigeria has considered for some time, but particularly after the widespread #EndSARS protests last November, which called for an end to police brutality.
---
Dealmaker
CribMD, a Nigerian e-health startup, has raised a $2.6 million seed round to aid its expansion. The funding comes from US accelerator Sputnik ATX and The Guardian Nigeria. The startup, which raised a $250,000 pre-seed round last year, aims to revolutionize the way care is delivered in the country via its on-demand platform.
Almentor, an Egyptian edtech startup, has raised $6.5 million in Series B funding to expand operations. The round was led by Partech, with participation from Sawari Ventures, Egypt Ventures, and Sango Capital. Almentor was launched in 2016 to create online learning content for Arabic speakers. This investment brings its total raised capital to $14.5 million.
Gamesbandy, the Egyptian gaming startup, has raised an undisclosed seed funding round to aid its growth across the MENA region. The funding was provided by Flat6Labs Bahrain and Tamkeen. Gamesbandy is a gamer marketplace that facilitates safe transactions between users amongst other services.
---
Quartz gems
It's looking increasingly likely that the Tokyo Olympics will happen—not least because of the massive amount of sponsorship dollars at stake. Brands typically pay the International Olympic Committee for a four-year package, called a quadrennium, which gives them marketing rights to one Summer and one Winter Games. In total, the IOC is expected to bring in about $2 billion from global sponsors this quadrennium.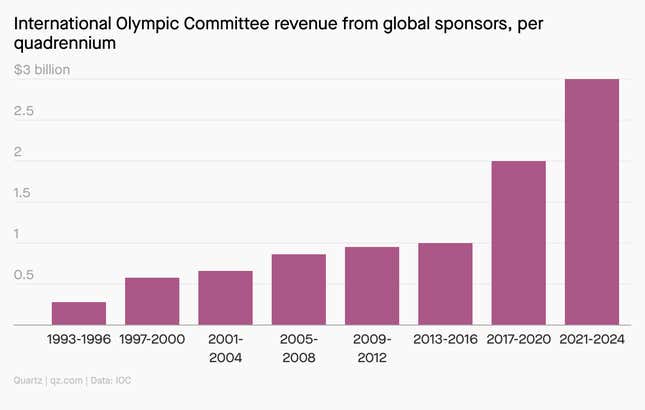 What the brands get out of this arrangement isn't always easy to quantify, but they're sure it's worth it. Adam Epstein explains why even in a pandemic there's no shortage of sponsors.
---
Other things we liked
Failed promise. Konza City in Kenya was supposed to be a smart city powered by a thriving ICT sector, superior reliable infrastructure, and business-friendly governance systems. For Rest of World, Carey Baraka asks why there's nothing much to show 13 years after its launch.
Professionalism is a game-changer for Nollywood. The Nigerian movie industry has been criticized for its emphasis on quantity over quality. Starting in 2006, as Ezinne Ezepue notes in The Conversation, Nollywood has turned things around, and is better for it.
Tackling illegal fishing in Nigeria. Fisheries crime deprives Nigeria's economy of  up to hundreds of million dollars, seriously affecting the country's citizens and socioeconomic development. In The Conversation, Ifesinachi Okafor-Yarwood and Sayra van den Berg Bhagwandas explore the layered causes and effects, and propose solutions.
Nothing to reconcile. While stories of both world wars often glorify French soldiers, the legacy of their African fellows remains muted. In the New York Times, Laura Cappelle writes about how fiction writers David Diop and Alice Zeniter are resurfacing that conversation.
Julie Mehretu's layers of meaning. With subjects like refugee camps and the Arab Spring, the Ethiopian-born American artist's work—currently the subject of a retrospective at the Whitney Museum in New York— is a "complex dance between abstraction and representation," writes Maximilíano Durón for Art News, and according to the painter, a way to help her "digest" what is happening in the world.
---
ICYMI
Global Startup Awards. New companies can enter multiple categories in this competition, with the focus this year on financial inclusion, healthtech, agritech, fintech, renewable energy, sustainability, and women in tech. (July 31)
---
🎵 This brief was produced while listening to "Mona Ki Ngi Xica" by Bonga (Angola).
---
Our best wishes for a productive and ideas-filled week ahead. Please send any news, comments, suggestions, ideas, favorite Nollywood films, and African history podcasts to africa@qz.com. You can follow us on Twitter at @qzafrica for updates throughout the day.
If you received this email from a friend or colleague, you can sign up here to receive the Quartz Africa Weekly Brief in your inbox every week. You can also follow Quartz Africa on Facebook.