Hello Quartz readers,
As lockdowns roll on and mask tan lines loom, we've been thinking often about a reader email from March. We write for a living here, and yet no one has more eloquently expressed the minute injustices of quarantine in such elegiac, thought-provoking prose. Let's revisit it: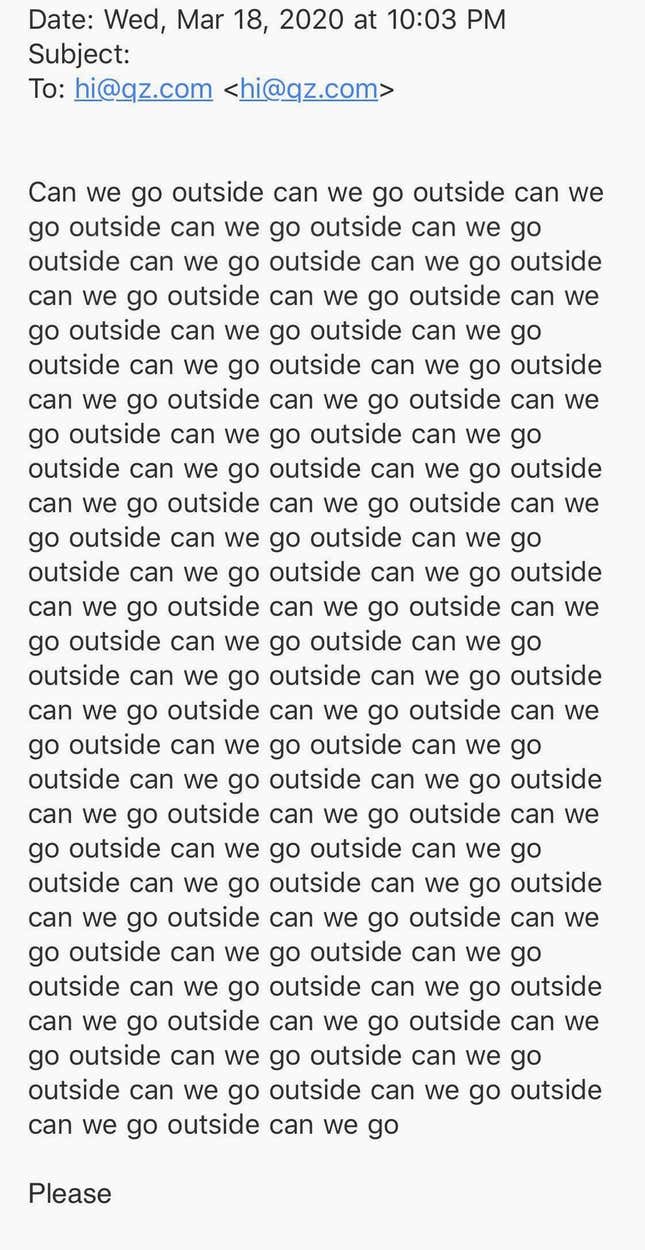 Utterly moving.
If you're likewise seeking a reprieve from coronavirus fallout, try adding what Quartz membership editor Walter Frick calls a "moment of delight" to conversations with colleagues and friends. It can be a piece of good news (We hit that goal! I baked that bread! The pants are on my body!) or just a funny anecdote from the day ("And then she said, 'I cut a hole in the mask so I could breathe easier.'")
And if you'd like a reprieve sent directly to your inbox, make sure you're signed up for the Quartz Daily Brief. In addition to news of the day, a featured chart, and nuggets of context on the global economy (all in less than 900 words), you'll get some "Surprising Discoveries" to give your brain a break. Here are a few recent ones:
Martian mud flows behave like boiling toothpaste. Researchers recreated the Red Planet's environment in a lab to study what volcanoes spewing muck instead of lava would look like.
One man lives alone in an iconic Barcelona hotel. Industrial engineer Daniel Ordoñez lives by himself in the 27-story W Hotel, running the taps and doing light maintenance.
Snakes are cliquey. Groups of easter garter snakes placed in a walled enclosure make "friends" with other snakes, and seek out the same pals if they get separated.
*exhales* Wasn't that nice?
Okay, let's get started.
---
Locking down dissent
While the world wasn't looking, the rules of engagement between Beijing and Hong Kong have been rewritten at startling speed.
On April 17, just 10 days after authorities lifted the weeks-long lockdown of Wuhan, Beijing's liaison office in Hong Kong declared that it has full authority to interfere in Hong Kong's affairs, effectively dismantling over two decades of legal precedent. The next day, 15 veteran leaders of the city's democracy movement were arrested over their roles in last year's protests. A few days after that, the central government's Hong Kong and Macau Affairs Office issued a string of statements voicing support for the liaison office, while condemning opposition figures and politicians. Already, with local transmission of Covid-19 cases under control, protesters are itching to vent a long list of grievances.
Last year's Hong Kong demonstrations started with massive marches, but forms of resistance are now more diverse. Protesters have adopted a "be water" strategy, engaging in wildcat demonstrations across the city. They boycott businesses that are pro-government and pro-China, a tactic known as the "yellow economic circle." And dozens of new workers' unions have formed since last year, boasting almost 200,000 members.
Hong Kongers have also learned to weave protesting into the fabric of everyday life. Which businesses to patronize, what media to consume, even subtle color schemes and gestures on social media profiles—all are now markers of resistance. "The protests last year have turned dissent into a very private activity," says Samson Yuen, an assistant professor of political science at Hong Kong's Lingnan University. "It's embedded in your daily life, and it's surprisingly resilient, especially among the young people."
Fearful of a return to last year's pitched street battles, Beijing is pushing the Hong Kong government to pass a series of laws that will consolidate the central government's power. One would make it a crime to disrespect the Chinese national anthem. Another is a national security law that critics say could incriminate a large swath of anti-government action. With the approaching legislative elections in September, many also fear the government will find ways to disqualify opposition candidates.
And where Beijing's liaison office in Hong Kong used to keep a low profile, it now comments publicly on just about every local issue. Earlier this month, it called the protesters a "political virus," a disturbing parallel to Beijing's use of the term "ideological virus" in Xinjiang. Seemingly incognizant of the irony, the Communist Party even decried Hong Kong protesters boycotting pro-China businesses, citing a violation of free-market principles.
---
No-handshake deals
Covid-19 has disrupted dealmaking, but could also unleash a wave of mergers and acquisitions. Larger well-capitalized players and private-equity groups will likely use the opportunity to grab up vulnerable companies at bargain prices.
The scenario seems especially likely in retail. A report from McKinsey and Business of Fashion estimates 34% of publicly traded fashion companies in Europe and North America were showing signs of financial distress before the pandemic. With two or three months of store closures, it said, that number could rise above 80%.
Private equity firms have in recent years made some high-profile purchases, such as Carlyle Group buying half of streetwear powerhouse Supreme in 2017. As of last June, PE had nearly $1.5 trillion in ready capital at its disposal.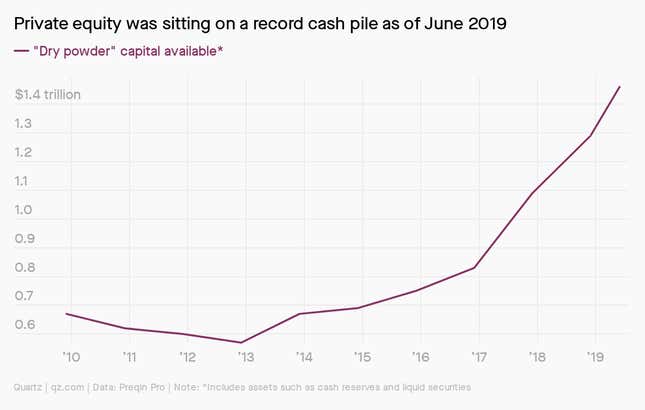 ---
Office space
Around the world, employers are sussing out the new specifics of office life, at least for the short term.
🏢 In South Korea, coworkers are asked to sit two meters apart, avoid physical contact, and abstain from anything that causes people to spit, such as chanting. Employers should create a culture that minimizes extracurricular activities, and use video conferencing and phone calls as much as possible.
🎢 At its offices in Seoul, Salesforce is adding plexiglass barriers between desks, providing PPE, and enforcing social distancing. CEO Marc Benioff said that when employees check in for work (yup, that's a thing), they'll be given a ticket to ride the elevator during a specific window of time, "much in the same way that you would arrive at Disney for a ride."
🤩 Coronavirus may kill the open office, as barriers between workstations—*cough cough* cubicles—are seeing renewed interest (Quartz member exclusive). Mary Jo Hatch, a professor emeritus at the University of Virginia who studied the symbolic associations employees make with their physical workspaces, said that if workers see cubicles as a protective measure, "it might have a positive effect on people's feelings about their management and their work lives."
---
Dude you're getting a bell
On May 7, Nintendo announced a 41% year-over-year increase in profit for the fiscal year ended in March, thanks in large part to the success of its Nintendo Switch game, Animal Crossing. The game is simple. You move to a new place, set up your home, visit neighbors—who are generally cute animals—and work at tasks like catching tarantulas and growing turnips, to pay off your debts and buy new things. Game designer Katsuya Eguchi said he wanted people to "forget everything, like all the troubles they have" while playing.
But Animal Crossing isn't just about chatting with friends and neighbors; there's an economy, and a political viewpoint about that economy, built into it. In The Atlantic, Ian Bogost argues that in the Tom Nook doctrine—Nook is a recurring character who lends users money and shows up to collect on their debt—"pastoralism and capitalism coexist perfectly. You can fish for high-value red snappers and sell them to buy espadrilles for your character, or 1950s-diner furnishings for your house. Or you can fish for never-before-seen specimens, to donate them to the museum. Or you can cast a line just to enjoy watching the moon dance across the water. All of these activities are interchangeable and equally delightful. Animal Crossing sees no greater or lesser virtue in one than another."
While the Tom Nook character supplies players with loans, Bogost points out that no one is ever kicked out of their home in the game—the debt, no matter how large, has low stakes. But on April 23, the Bank of Nook did cut interest rates on savings accounts from 0.5% to 0.05% monthly, reportedly to lower the return on a game hack in which players would deposit bells, the game's internal currency, then reset the time on Switch to a future date, to reap the rewards of compound interest.
---
Essential reading
---
Our best wishes for a healthy day. Get in touch with us at needtoknow@qz.com, and live your best Quartz life by downloading our app and becoming a member. Today's newsletter was brought to you by Mary Hui, Marc Bain, Stevie Borrello, and Kira Bindrim.