Hi Quartz readers,
Before the pandemic, few would have considered generous vacation policies of paramount importance to remote employees. How could paid time off be all that valuable to people who were already working from their living room in athleisure, free to pop out for a midday grocery run, and unconcerned with a daily commute?
Well, now we know. In an immersive crash course that no one asked for, we learned that remote work is not conducive to unplugging. Which may explain why 47% of the companies on Quartz's  2021 Best Companies for Remote Work ranking said they offer unlimited paid time off, a benefit offered at only 6% of US companies overall.
"As individuals, we're all carrying full loads, carrying jobs and family and other obligations," says Sharon Heimowitz, director of people at Cobalt, a remote-first cybersecurity company that appeared in our ranking. Unlimited PTO "takes that pressure off of team members worrying: 'Do I have enough days for everything I need to do this year?'"
Unlimited time off isn't the only way to allow for more recharging opportunities. Some companies are increasing the number of paid days off that a person can accrue, adding floating paid days off as "freebies," offering paid volunteer days, and allowing staff to carry over unused days. The larger takeaway is that employers should assume remote workers also need plenty of downtime, says Darren Murph, head of remote at Gitlab.
Murph points to the work of Graham Wallas, a British social psychologist and co-founder of the London School of Economics, who in 1926 mapped out a four-step process of creativity that is still cited today. His theory proposed that creativity involves four phases: preparation (assessing what needs to be done or solved); incubation (taking a break from the work and allowing the unconscious mind to chew over the issue); illumination (the impossible-to-force "Eureka!" moment); and verification (applying the idea).
Two of these, incubation and illumination, "literally are only activated in moments of rest," Murph says. "So the message there is clear. If you want your people to be creative and innovative, you have to give them space for 50% of the creative process to activate." —Lila MacLellan
---
Remote control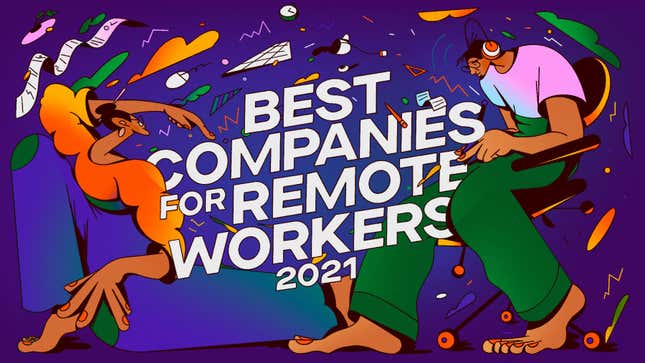 As employers around the globe settle into distance work (or claw their way back to the office), Quartz is honoring companies that already embrace the distributed future—places where remote work is treated not as a stopgap, but as a business priority. Go deeper with:
✦ Our remote work rankings are free to read, but we hope you'll become a Quartz member to back the brains behind the project. Try membership today—take 40% off with the code QZEMAIL40—to support our mission to make business better.
---
Numbers to live by
According to the CDC, unvaccinated Americans are 4.5 times more likely than vaccinated Americans to get Covid, 10 times more likely to be hospitalized, and 11 times more likely to die from it.
---
Talking points
🇮🇱  Israel's Covid cases hold grim omens. The country's vaccination drive was a shining model, but its late-summer spike presents the prospect that vaccine immunity may wane quicker than expected.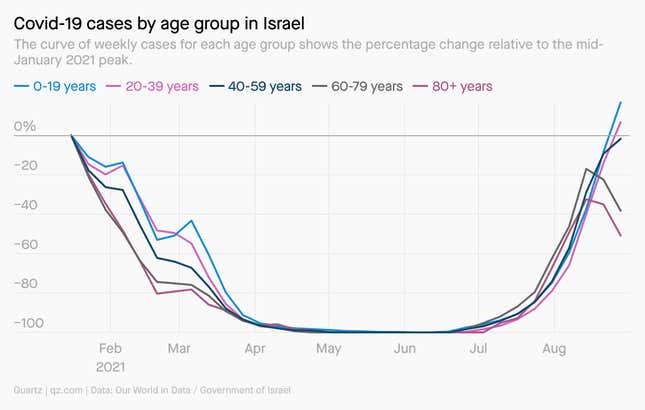 📸  Italy's vaccine passports helped tourism. When the Green Pass was introduced, critics said it would deter Italians from vacationing locally. The opposite has proven true.
🚗  How far would you go for work? Marchetti's Constant says people will travel for about an hour per day, total. But post-pandemic remote workers might tolerate a longer commute.
🐕  Miami's airport has Covid-sniffing dogs. Cobra and One Betta sniff the face coverings of employees to detect the presence of the virus in sweat and breath.
🥡  Delivery companies are fighting NYC. DoorDash, GrubHub, and UberEats are suing the city over a pandemic rule that prohibits them from charging more than 15% per order for delivery.
💉  "Religious exemptions" are complicating vaccine mandates. No major denomination opposes vaccination, but employers won't want to challenge such objections from their employees.
🤔  India is making a tough choice on vax distribution. With the looming fear of a possible third wave, the country's continued disinterest in exporting shots appears to be prudent.
✈️  "Double-testing" in west Africa is driving up travel costs. Flying between west African cities was always overpriced, but some travelers are paying as much for Covid tests as for a plane ticket.
---
You asked
Can you report your employer for not following US vaccine rules?
Great question. As a refresher, the White House surprised private businesses on Sept. 9 by announcing it would ask the Occupational Safety and Health Administration (OSHA) to direct companies of 100-plus employees to adopt Covid-19 vaccination mandates. Companies that disregard the rule could face fines of up to $14,000 per violation.
Still, it seems safe to assume some companies will ignore the mandate, given the cost (literal or political) of enforcing it. What's a worker to do?
In fact, workers can play a major role in helping OSHA police the new rules. The way OSHA operates right now, it would be up to employees to file a complaint with the agency (by phone, email, mail, or in-person) if they know or suspect that their employer is not checking for proof of vaccination or testing employees; those complaints could kickstart a more formal process. And while OSHA hasn't been known for its enforcement during the pandemic, the agency may decide to make examples of noncompliant companies.
---
Social networking
Want to know your colleagues better? We asked the 54 small, medium, and large-size employers on our Best Companies for Remote Workers list about the activities they sponsor to relieve workday stress and promote fun. Here are a few of their answers:
📖  Book clubs
🎁  Holiday gift exchanges
🔪  Murder mystery games
🍽️  Virtual dinner parties
🔮  Tarot readings
🍸  Cocktail-making classes
🧠  Trivia nights
🌾  "Guess whose pantry"
🎧  Silent raves
---
Elsewhere on Quartz
---
Our best wishes for a healthy day. Get in touch with us at needtoknow@qz.com, and live your best Quartz life by downloading our iOS app and becoming a member. Today's newsletter was brought to you by Lila MacLellan, Heather Landy, and Kira Bindrim.