Good morning, Quartz readers!

---
Here's what you need to know
China will reopen its border with Hong Kong after three years. Beijing will gradually allow cross-border travel beginning Jan. 8 as it continues to unwind strict covid controls.
Ukraine rejected Russia's call for a 36-hour holiday ceasefire. Russian president Vladimir Putin ordered a truce for Orthodox Christmas, while Kyiv said it would not reciprocate.
Amazon will lay off 18,000 employees. The e-commerce giant joins a growing list of tech firms that have cut staff to save costs in the face of economic uncertainty.
Tesla's sales in China slumped. The EV maker sold 56,000 cars in December, marking a 21% decline from the year prior, as domestic brands like BYD have seen an uptick in business.
Mercedes is launching a global EV-charging network. The German carmaker plans to build 10,000 charging points spanning across North America, Europe, and China by 2030.
China's Luxshare reportedly secured a key iPhone contract. The Financial Times said the electronics manufacturer will help assemble Apple's iPhone Pro, breaking Foxconn's exclusive grip on production.
---
What to watch for
The company managing Lionel Messi's clothing and lifestyle brand is expected to mark Nasdaq's first IPO of the year today (Jan. 6), hoping the soccer superstar's dazzling display at the World Cup last month will embolden investors.
MGO Global, which aptly picked MGOL as its stock ticker, plans to price 1.5 million shares at $5 each and raise about $7.5 million at a $66 million market cap.
It's a lofty goal for the nearly 5-year-old company. MGO currently counts Messi as its only client, which makes its success dependent on the athlete's performance and enduring collaboration.
Though the Argentine player is the face of his namesake brand, he's not a shareholder in the business. Instead, under a contract that expires next year, Messi is the recipient of 12% of sales with a minimum guarantee of $4.2 million over three years.
---
GM outpaced its rivals in a bad year for car sellers
General Motors reclaimed its crown as the top US car seller in 2022, unseating Japan's Toyota, which had just torn the title from GM's clutches in 2021 after a 90-year stint. But GM's rally back to No. 1 was tainted by a particularly somber year for US car sales.
In 2022, the US auto industry sold the least number of new cars since 2011. The problems mostly came from supply chain snags across manufacturing, inventory, and shipments. In the second half of the year, GM was able to make a sharp recovery, with annual sales rising 2.5% year-over-year to 2.27 million cars.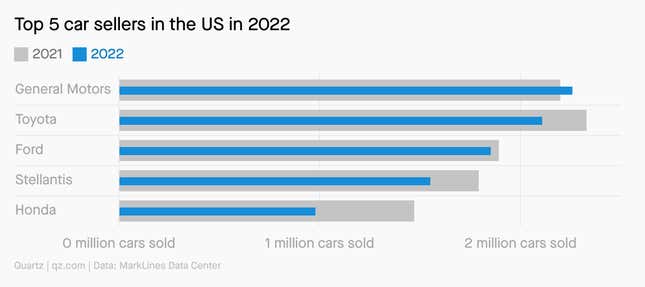 The Detroit-based automaker's jump was an anomalous one. Toyota battled supply-side headwinds to post a near 10% drop over the same period, coming in at 2.1 million sales. In fact, most major car manufacturers, including Michigan's Ford and South Korea's Hyundai, saw a decline in sales.
---
Can Kpop fandoms help win labor disputes?
Kpop girl group LOONA was scheduled to release its new album The Original Album: 0 this week, but plans for a comeback have been shelved after a fan boycott capped months of drama between its record label Blockberry Creative and one of the ensemble's former members, Chuu.
The sticking point in this tangled dispute: contract negotiations. Fans began a boycott of all LOONA merch and tickets last December amid reports that its group members were trapped in unfair contracts. Given the album delay, it seems the boycott has been effective, though the group's fate still remains uncertain.
Over the years, South Korea's Federal Trade Commission has passed more regulations to protect artists from exploitation in the cutthroat Kpop business. Still, in the absence of unionization, the LOONA saga has shown that fandom can play a crucial role in negotiating working conditions where labor protections may fail.
✦ Join the Quartz fandom and help keep content like this free and accessible to all. We're offering 50% off on membership!
---
Quartz's most popular
🤑 Could banning non-compete agreements increase Americans' wages?
🤢 A push for gold leaves a toxic legacy in Zimbabwe
🙅‍♂️ The more UK residents live with Brexit, the less they like it
🤔 Does your team need a meeting reset?
🐣 The US still has a pandemic-level child care problem
🚢 Chinese car makers are becoming shipping companies
---
Surprising discoveries
An amateur sleuth decoded 20,000-year-old cave drawings. Mr. Bacon, a furniture conservator, had a hunch about some markings.
Aggressively hitting buttons got more accessible. Project Leonardo is Sony's first video game controller for players with disabilities.
Germany's telegram era came to a close... Deutsche Post delivered ...— —..— ..—- ..—- —-.. / — . ... ... .- —. . ... on the final day of service. ​​
…and Panasonic's rice steaming days in Japan are over. Its rice cooker production is likely headed to China next.
A bipedal fox was spotted in Derbyshire, England. It appeared to be getting around with balletic ease.
---
Our best wishes for a productive day. Send any news, comments, archeology side gigs, and -(STOP)- to hi@qz.com. Reader support makes Quartz available to all—become a member. Today's Daily Brief was brought to you by Diego Lasarte, Ananya Bhattacharya, Sofia Lotto Persio, Julia Malleck, and Morgan Haefner.