Good morning, Quartz readers!

---
Here's what you need to know
The WHO declared Uganda's Ebola epidemic over. The latest outbreak, which lasted nearly four months and killed 55 people, was brought under control despite no vaccine.
Royal Mail's overseas services were disrupted by a cyberattack. The British postal service told customers to hold on sending mail abroad as it works to return to regular service.  
UK ambulance workers went on strike for higher pay. The walk out, which included about 25,000 paramedics and support staff, is the sector's second since December.
BlackRock will lay off 500 employees. The world's largest asset manager is cutting 2.5% of its staff, citing economic uncertainty.  
Tata Motors is expanding its EV portfolio. The Indian carmaker revealed 12 cars, including five EVs, at Auto Expo 2023. Meanwhile, the India unit of Suzuki Motor Corp. unveiled an electric SUV concept.
LVMH CEO Bernard Arnault appointed his daughter to run Christian Dior. Delphine Arnault will take the helm of the luxury conglomerate's second-biggest brand.
---
What to watch for
The finance world awaits a bumper earnings day on Friday (Jan. 13), but only due to the number of banks reporting earnings—the results they are expected to post are not looking too rosy.
Analysts' expectations concerning four of America's biggest banks—JPMorgan Chase, Bank of America, Wells Fargo, and Citigroup—point to a slide in quarterly profits as banks deal with fears of an economic slowdown. BlackRock, Bank of New York Mellon, and First Republic Bank also report earnings on Jan. 13.
Several lenders have been setting aside more bad loan provisions and cutting staff while they hope for a revival in consumer spending. ​​Goldman Sachs is expected to lay off more than 3,000 employees—a third of which will be from its banking and trading unit—this week. Last month, Morgan Stanley cut 1,600 people, or 2% of its workforce, and Wells Fargo axed hundreds from its mortgage unit.
---
Will the euro zone see a recession?
After scaling back its darkest forecasts for the European economy in November, Goldman Sachs has fully withdrawn its recession call for the euro zone.
Economists now anticipate an economic growth rate of 0.6% for the euro area this year instead of a 0.1% contraction. Goldman Sachs also anticipates a stronger job market and salary increases of 5% annually in the first quarter as a result of union settlements and companies responding to inflation rates.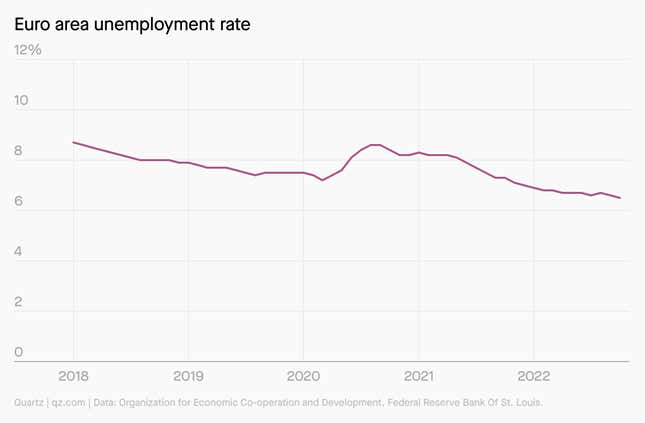 Why the swing to the positive? Two big changes since November have colored Goldman Sachs' more hopeful projection: lower natural gas prices and China's reopening. But not all economists are in agreement. Forecasters polled by FactSet still think the euro zone is set for a 0.1% drop in GDP in 2023.

---
Belarus won't send movie pirates to the plank
Belarus has just passed a law legalizing digital piracy for the next two years, but with some caveats. The new legislation will allow the use of intellectual property, including movies, music, and software, but only from countries "unfriendly" to the Belarusian regime.
The target of the new policy is undoubtedly the US, who has sanctioned Belarus in the past for its authoritarian government and human rights record, and more recently for aligning itself with Russia following the invasion of Ukraine.
The question is what repercussions, if any, this new law will provoke, and how Belarus will implement the policy. Though it may be intended as an act of economic warfare, it could also just be a whole lot of cutlass rattling.
✦ Love stories like these? Help keep content like this free and accessible to all by getting a Quartz membership. We're offering 50% off!
---
Quartz's most popular
🕳️ The FAA outage exposes a hole in traveler protections
🧳 Career pivot? You're more prepared than you think
🥊 Kenyan banks are battling for a share of the mobile money market
🏛 India's supreme court thinks Bengaluru is a template for urban ruin
🧐 Vince McMahon took back control of WWE
🎤 Bollywood's "RRR" soundtrack triumphed at the Golden Globes
---
Surprising discoveries
Inflation-hit currencies could use a second coat. One artist has found Argentina's banknotes are worth more as paintings than cash.
Bowling pins may be getting harder to topple. American bowling alleys are swapping their old setups for the controversial "string pins."
Princess Di's aubergine ball gown is headed to auction. The velvet garment could fetch as much as $120,000.
A machine was designed to spin babies out of the birth canal. The Blonsky Device looks like a theme park ride from hell, and thankfully has never been used (as far as we know).
Thieves were caught stealing a 10 metric ton statue of an Egyptian pharaoh. Seems like it was difficult to get away with.
---
Our best wishes for a productive day. Send any news, comments, dollar paintings, and aubergines to hi@qz.com. Reader support makes Quartz available to all—become a member. Today's Daily Brief was brought to you by Ananya Bhattacharya, Cassie Werber, Nate DiCamillo, Sofia Lotto Persio, Julia Malleck, and Morgan Haefner.