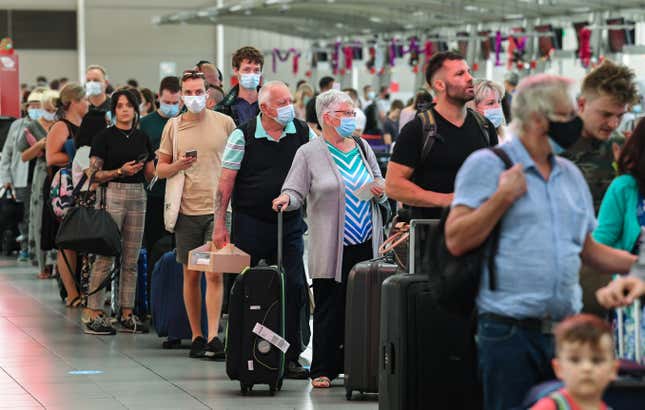 US air travel was severely disrupted on Jan. 11 as the Federal Aviation Administration (FAA) grounded domestic flights after reporting a massive system failure that imperiled a safety system crucial for communication between pilots and control towers. Flightaware, a flight-tracking service, estimated the outage delayed more than 6,000 flights.

Specifically, the Notice to Air Missions System (NOTAM) went down, a computer system that pilots check for incursions, including runway construction and adverse weather conditions, before any flight. The FAA said the issue had been largely resolved by 9am US eastern time. Further delays, are expected due to flights backlog.

The US has no regulation that requires financial compensation for delayed flights. In the Department of Transportation's Consumer Guide to Air Travel, regulators make it clear that there are no federal requirements for how airlines are supposed to treat delayed passengers waiting at the airport. It advises being polite and respectful with the airline, stating that "your demands for compensation will probably be subject to negotiation and the kind of action you get often depends in large part on the way you go about complaining."
However, if a flight is canceled, travelers can demand reimbursement for the price of their ticket as well as other incurred expenses. There is no obligation for the airlines to issue a monetary refund, and some may offer travel vouchers instead. The DoT provides an overview of the kinds of support most US airlines provide to customers facing travel disruptions.

Did a cyber attack cause the FAA outage?
The cause of the outage remains unclear at this stage, but the White House said there was no initial evidence of a cyber attack and directed the DoT to investigate. "Aircraft can still land safely just not take off right now. We don't know what the cause of it is," president Joe Biden told reporters.

According to the FAA, the NOTAM system first crashed last night and the agency responded by shifting to a telephone hotline that kept pilots abreast of any crucial information. However, as an increased number of departures began this morning, the telephone system was overwhelmed.

Republican lawmakers pinned the FAA system failure on the Biden administration. Senator Ted Cruz (R-TX) blamed the grounding on mismanagement by Pete Buttigieg, who leads the Department of Transportation (DoT) and is a rising star in the Democratic Party. "[The FAA's] inability to keep an important safety system up and running is completely unacceptable and the latest example of dysfunction within the DoT," Cruz said.

Person of Interest: secretary of transportation Pete Buttigieg
Amid the mounting delays, Buttigieg tweeted that he was in touch with FAA authorities about the system failure, saying the "FAA is working to resolve this issue swiftly and safely so that air traffic can resume normal operations, and will continue to provide updates."
A former presidential candidate, Buttigieg has had a busy calendar in his first two years of federal employment, including spearheading negotiations to avoid a nationwide rail strike. Additionally, Buttigieg launched a billion-dollar Reconnecting Communities program that aims to use money from the federal infrastructure act to cut through red lines and connect economically segregated neighborhoods.

Buttigieg has called for more federal regulation of the airline industry, calling the recent meltdown at Southwest that resulted in over 17,000 flight cancellations "unacceptable," but critics argued he could be more aggressive at holding airline executives accountable. After Southwest promoted multiple executives implicated in the holiday-season cancelations this week, the director of the American Economic Liberties Project Matt Stoller tweeted that the airline was "just mocking Pete Buttigieg."

Buttigieg has also expressed support for legislation introduced in November 2021 by senator Richard Blumenthal (D-CA) to create a bill of rights for airline passengers that would provide additional consumer protections. The bill has yet to progress from the committee stage.
The Biden administration proposed tougher rules to tackle flight tickets' hidden fees in September, but regulation in other areas of the airline industry remains scant.

Related stories:
✈️The US will investigate "unacceptable" cancellations by Southwest Airlines
🧑‍✈️Southwest Airlines, born of airline deregulation, could inspire re-regulation
🍸The number of unruly airline passengers referred to the FBI has doubled since November