Good morning, Quartz readers!

---
Here's what you need to know
US inflation cooled. The consumer price index dropped 0.1% in December compared to the month prior, suggesting that the Federal Reserve is likely to reduce the size of February's rate hike.  
Adidas lost a trademark infringement case. An eight-person jury in New York rejected the German company's claim that the four stripes used by designer Thom Browne were too similar to its three-stripes mark.

Tim Cook is linking more of his pay to Apple's stock performance. Apple's CEO asked the board to reduce his pay by more than 40% after he made nearly $100 million last year.

US regulators have sued crypto exchange Gemini and crypto lender Genesis for breaking securities law. The crux of the issue is the Gemini Earn program, jointly launched in 2021 and shut down this week as the two companies spar over the fate of $900 million of customers' funds.

JPMorgan shut down the financial planning platform it bought for $175 million. The 2021 acquisition of Frank is now the subject of a lawsuit and counterlawsuit between the bank and the startup founder, who is accused of inflating its user base.

ExxonMobil's scientists accurately predicted global warming in the 1970s. In public, however, the oil giant kept downplaying the link between fossil fuels and climate change for decades.

---
What to watch for
Miss Universe has a new look. The pageant has an all-women line up of hosts and, for the first time, a woman owner—Thai media mogul and trans rights advocate Anne Jakkaphong Jakrajutatip.
Her media distribution company JKN Global Group bought the competition, which includes Miss USA and Miss Teen USA, in October for $20 million. The deal highlights increased popularity for pageants in countries like Thailand, the Philippines, and India—the birth country of the reigning Miss Universe, Harnaaz Sandhu, who will pass on the crown at the final on Jan. 14.
Jakrajutatip told Time she's shunning the idea that pageants objectify women: "This year is a new year of Miss Universe, or I'd rather call it a new paradigm of the global female empowerment platform." Next on her agenda is to move the competition from a one-time yearly event to a reality show series, although a distribution deal has yet to be signed.
---
Ro-ro your EV gently across the ocean
Before a car hits the road, it likely sailed the high seas aboard a massive, specialized ship called a roll-on/roll-off car carrier, or "ro-ro" for short.
Japan has long dominated the ro-ro ship space, accounting for 40% of the world's fleet. By contrast, Chinese ships make up barely 3% of global capacity.

But as it exports more electric vehicles, China is muscling its way into the car carrier space. The commercial advantages of operating its own fleet are many. China can control costs, offer shipping to make its cars even more competitive on pricing, and potentially deny shipping services to rival firms or countries.
Primarily, though, it's a big bet on the continued growth of global car sales, and China's convinced it'll pay off.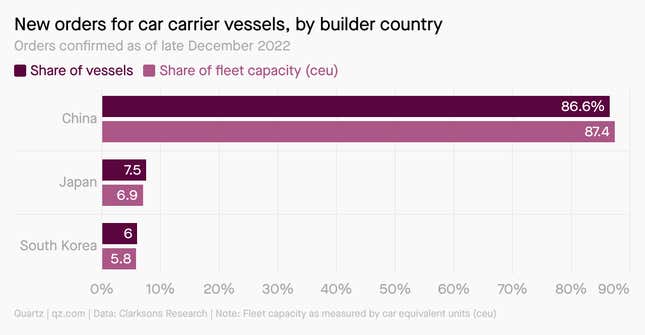 ---
Are tech companies liable for mental health?
Seattle's public school system is unhappy with the mental health of its student body, and is blaming it on four social media giants: Meta, ByteDance, Alphabet, and Snap.
The school system filed a lawsuit against the organizations last week, but legal experts think it's built on a shaky foundation. The most salient legal claim in the case involves a little clause called Section 230, which, as Quartz's Scott Nover explains, has become a lightning rod for social media criticism in recent years.
✦ Love stories like these? Help keep content like this free and accessible to all by getting a Quartz membership. We're offering 50% off!
---
Quartz's most popular
😬 Internet shutdowns cost Ethiopia $146 million in 2022
💔 Actress and UN ambassador Gugu Mbatha-Raw on confronting compassion fatigue
🪧 The New York nurses' union has reached a tentative deal to end the strike
💰 Closing the gender pay gap has stalled. A new study reveals why
🤨 Could you be losing money with a manager title?
🕳️ Why an Indian Himalayan town is sinking
---
Surprising discoveries
Future credit card swipes may come with a musical jingle. But first retailer hardware and software need a big update.
London's Natural History Museum is under fire for greenwashing. It contractually agreed not to badmouth its donor, Danish energy company Ørsted.
Misinformation isn't as impactful as we thought. But unfortunately, information also doesn't pack much of an impressionable punch.
Even scientists can't clock ChatGPT. The AI wrote abstracts for fake research papers that also passed plagiarism checks.
NASA's James Webb telescope found its first Earth-sized exoplanet. LHS 475 b is 99% the size of our home.
---
Our best wishes for a productive day. Send any news, comments, ChatGPT poems, and names for LHS 475 b to hi@qz.com. Reader support makes Quartz available to all—become a member. Today's Daily Brief was brought to you by Mary Hui, Ananya Bhattacharya, Sofia Lotto Persio, Julia Malleck, and Morgan Haefner.