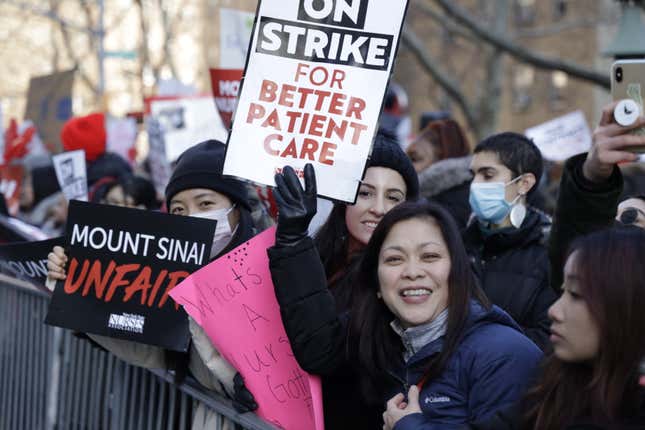 More than 7,000 nurses were due to return to work today (Jan. 12) after reaching a tentative new contract with two major hospitals in New York City that includes a commitment to increased staff and higher wages. Three days after embarking on the largest strike the city has seen in decades, the New York State Nurses Association announced preliminary agreements with Mount Sinai Hospital on the Upper East Side and Montefiore Medical Center in the Bronx.

How trauma-informed workplaces can support your team's mental health
This is a clear victory for the union, with the relatively quick resolution to the conflict addressing the nurse's number one issue: staffing. The deal includes "safe staffing ratios for all inpatient units with firm enforcement so that there will always be enough nurses at the bedside to provide safe patient care, not just on paper," with financial penalties if the hospitals do not comply.

During the strike, the two hospitals diverted ambulances, hired temporary workers, and canceled elective procedures, while New York City mayor Eric Adams encouraged the city's residents to avoid calling 911. Both hospitals released statements welcoming an end to the strike, with officials at Mount Sinai calling the agreement "fair and responsible."
Quotable:
"Through our unity and by putting it all on the line, we won enforceable safe staffing ratios at both Montefiore and Mount Sinai where nurses went on strike for patient care. Today, we can return to work with our heads held high, knowing that our victory means safer care for our patients and more sustainable jobs for our profession." –President of the New York State Nurses Association Nancy Hagans in a prepared statement
By the numbers:
42,000: Members of the New York State Nurses Association

24.1%: Share of New York residents with union representation, tied for the highest percentage in the country with Hawaii

51: The average age of a nurse, meaning the country will need more than 200,000 new registered nurses every year through 2026 to keep up with a retiring workforce

68%: More than two-thirds of Americans support labor unions in a recent Gallup Poll, marking the highest level of support for organized labor since 1965

The 19% pay increase
The deal between the union and the two hospitals included the implementation of a 19% pay increase, offered during the initial bargaining agreement proposed on Sunday (Jan. 8). During negotiations, the union welcomed the pay increase but maintained that staffing was the main issue that needed to be addressed.
The 19% increase is reflective of a raise in salary for nurses represented by the union across private hospitals in New York City. Public hospitals also recently announced a series of pay raises for state-employed nurses.

Coincidentally, a 19% wage increase is also the figure sought by the nurses union in the United Kingdom. Nurses, ambulance staff, and physiotherapists affiliated with the Royal College of Nursing have staged a series of strikes demanding wage increases, with two fresh days of work stoppage planned for next week. The government has called the demands "unaffordable."


Related stories:
👩‍⚕️ A shocking number of US nurses are quitting, but a majority would stay for more money
🏥 American healthcare workers just don't want to go back to work
🦠 A quarter of US hospitals are critically short of staff because of omicron