Good morning, Quartz readers!

---
Here's what you need to know
A US investor accused the world's third-richest man of pulling "the largest con in corporate history." Hindenburg Research released its two-year investigation into Gautam Adani's empire, causing shares in the Adani Group companies to fall.
Walmart increased its minimum wage to $14. The largest private employer in the US offered a 17% pay bump to attract service workers.
A US senator called on regulators to probe the egg industry for price gouging. Senator Jack Reed (D-R.I.) wants to know why egg prices are so high.
The US sued Google (again). The Justice Department and several states accused the tech giant of abusing its dominance in digital advertising.
Rupert Murdoch called off a merger between Fox and News Corp. The media mogul finally accepted the deal would not bring value to shareholders.
Microsoft is investigating a massive outage. Teams and Outlook went down globally today (Jan. 25). Yesterday, the company reported lackluster earnings and a gloomy outlook for growth at its cloud computing business Azure.

Everything Everywhere All At Once led the 2023 Oscars nominations. The hit, starring Michelle Yeoh, grabbed 11 nominations.

---
What to watch for
Tesla is reporting its fourth quarter results after market close today (Jan. 25). It's no secret that the final months of 2022 have been challenging for the electric car maker, which has seen its share price crash in that period.
Tesla doesn't just have to reckon with the antics of its CEO Elon Musk, who in the last quarter added the title of chief twit to his already long list of executive roles. It also has to confront its diminishing hold on the EV market in the US, which has decelerated from 70.5% in 2021 to 63.5% last year as competitors have appeared on both the affordable and high ends of the price spectrum.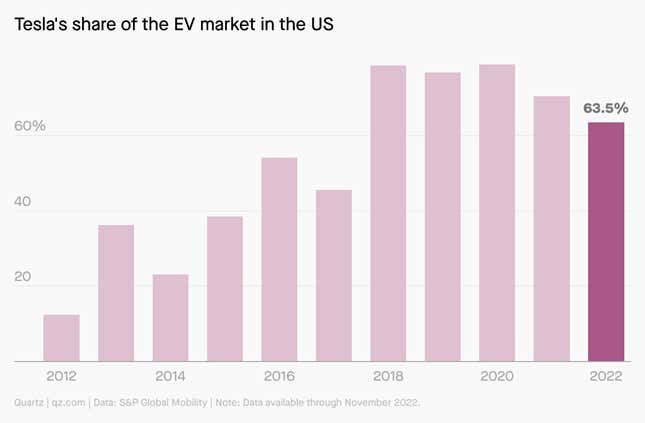 It was only a matter of time before other manufacturers would catch up to Tesla. The question now is whether Tesla will be able to keep an edge over its competitors.
---
How 💪 is your passport?
If you have a passport from Japan or Singapore, congrats! You can travel just about anywhere—well, to 193 countries and territories out of a possible 227—sans visa.

It's the fourth year in a row these two countries have topped Henley & Partners' annual ranking of passports. Beyond easy, breezy travel, the consultancy found a strong correlation between a nation's passport strength and economic power: Having a Japanese passport can send travelers visa-free to places that collectively make up 98% of the global economy.
Comparatively, those in last-ranked Afghanistan have visa-free access to only 27 countries that represent less than 1% of the global economy.
Find out where your country lands on the list—we promise there's no endless queue at customs to endure.

✦ If your passport isn't as strong as you'd like, you can travel the global economy with a Quartz subscription—we're offering 50% off!
---
The Doomsday Clock has never been closer to midnight
The Bulletin of Atomic Scientists, who adjust their symbolic Doomsday Clock to reflect how close humanity is to self-destructing, has moved it forward to 90 seconds before midnight.
It's the closest the clock has ever been to striking 12 o'clock since its inception in 1947. The scientists pointed to the war in eastern Europe as a precipitating factor among a host of worries influencing the ticker.

What has moved the hands in the past? Quartz's Amanda Shendruk illustrates the ebbs and flows of danger below.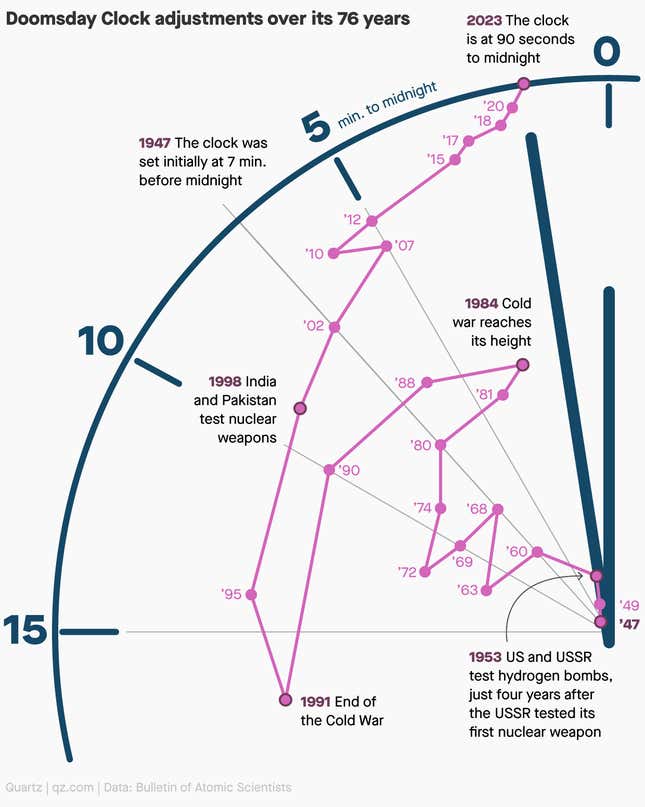 ---
Quartz's most popular
📱 Inflation is eating up the demand for low-value smartphones in India
🧠 Microsoft keeps investing in ChatGPT creator OpenAI
✊🏿 Women in Sierra Leone can finally own land
🥊 Will there be a new Latin American currency to rival the US dollar?
🎩 Even competition is bad for consumers when the prize is monopoly
---
Surprising discoveries
Earth is working on its core. The planet's iron center may be in the process of reversing direction.
A green comet is making a once-in-a-50,000-year flyby. It may even be visible to the naked eye as it crosses the skies next week.
ChatGPT could earn itself an MBA. It'd probably be a B-student (pdf), according to its achievement on a Wharton test.
A halachic ruling has been made on lab-grown beef. Israel's chief rabbi said it can be kosher.
Bottomless spiders grow their behinds anew. But it's only young sea spiders that can regenerate their lower halves.
---
Our best wishes for a productive day. Send any news, comments, plank challenges, and Neanderthal lore to hi@qz.com. Reader support makes Quartz available to all—become a member. Today's Daily Brief was brought to you by Amanda Shendruk, Michelle Cheng, Diego Lasarte, Sofia Lotto Persio, Julia Malleck, and Morgan Haefner.