Good morning, Quartz readers!

---
Here's what you need to know
Germany and the US are sending tanks to Ukraine. The move shores up defense against Russian attacks considerably, and Germany's contribution frees other countries to do the same.

Tesla made record revenue. The EV-maker saw a 33% increase year-on-year, but said only more affordable prices will increase sales.

Adani Group's shares wobbled thanks to a damning report. A US financial forensic firm concluded that the Gautam Adani-led $218 billion conglomerate has been "pulling the largest con in corporate history."

Amazon had its first UK strike. Workers protesting pay and conditions at the Coventry warehouse walked off the job for one day, adding to growing labor action across the nation.

Boeing's caution translated to a quarterly loss. Humans may be traveling more, but the aircraft maker has been reluctant to increase its output until the supply chain sees clearer skies.

Russian lawmakers voted against making their own tax returns public. On the same day, a court ordered Russia's oldest human rights organization to shutter.

India's cricket board sold rights to its new women's teams. Of the ₹46.7 billion ($572 million) total, $158 million came from the sale of Ahmedabad to Adani Sportsline and $111 million from Mukesh Ambani's Indiawin snapping up Mumbai.
---
What to watch for
French workers are up in arms against president Emmanuel Macron's proposed changes to the retirement age, with a series of targeted strikes designed to keep the pressure on in between larger demonstrations.
The energy arm of France's 690,000-strong General Confederation of Labour (Confédération générale du travail, or CGT) has called for a 48-hour strike starting today (Jan. 26) as well as a 72-hour stoppage starting Feb. 6. These two are in addition to the second round of nationwide protests scheduled for Jan. 31, following the massive turnout for the Jan. 19 demonstration.
Macron first tried to pass the reform, which would raise the retirement age from 62 to 64, in 2019. He was met with mass protests, and eventually shelved plans amid the covid outbreak. Now, French workers are willing to bet that for as long as they stand as a united front, they shall not be defeated.
---
Why the egg supply chain is cracking in the US
The cost of eggs is ruffling the feathers of Americans—and for good reason.
Prices for the grocery staple are up 60% from a year ago, turning routine omelettes and bakes into something of a luxury meal. Record-high prices have even led some opportunistic Americans to try smuggling cheaper eggs across the US-Mexico border to sell them for a profit.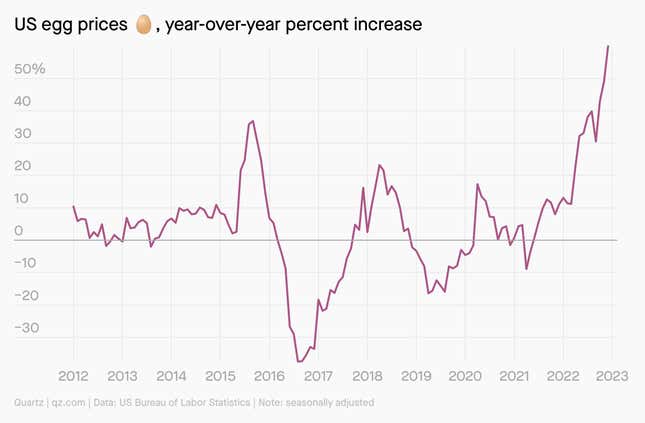 In the last year, a countrywide avian flu outbreak has infected more than 57 million wild aquatic birds, commercial poultry, and backyard flocks. Throw in broader supply chain issues, higher costs for chicken feed, and the rising cost of labor, and it's no wonder a cardboard dozen is setting Americans back $4.25 on average. Last year, it cost just $1.79.

---
Too many celebs in the boardroom
You are now meeting with Will.i.am and… Matthew McConaughey?
If you're an executive making Very Important decisions at Salesforce, that's more likely than not. But as Quartz's Cassie Werber explains, celebrity friendships aren't only suggesting a certain kind of frivolousness among business leaders, but also a sharpening of swords among famous people who double as activist investors.

✦ Love stories like this? Help keep our content free and accessible to all by getting a Quartz membership. We're offering 50% off.
---
Quartz's most popular
🤬 The Indian government is trying to block a BBC documentary about Modi
💵 Walmart's new minimum wage hike points to an enduring retail labor crunch
👀 The ongoing big tech antitrust cases to watch in 2023
🍰 Tesla's slice of the EV market is shrinking in the US
🔌 The UK is paying people to not use electricity
💫 Everything Everywhere All At Once star Michelle Yeoh has made history
---
Surprising discoveries
An Alaskan wolf population has gotten a taste for a recently recovered sea otter population. In other unfortunate news, this means more wolves are available to decimate the deer population.

A troubled Belgian wolf population is finally growing, too. It's heartening news, unless you are a deer or an otter.

Presenting: the world's ugliest buildings. An analysis of tweets determined once and for all that the Scottish Parliament Building is the planet's biggest architectural eyesore.

An attempt to see if a pet fish could beat a video game ended in accidental (?) credit card fraud. It's a classic tail of human hubris.

Confuse AI cameras with a loud sweater. A new clothing line is designed to mess with facial recognition systems while delighting your sense of style.
---
Our best wishes for a productive day. Send any news, comments, building opinions, and scamming salmon to hi@qz.com. Reader support makes Quartz available to all—become a member. Today's Daily Brief was brought to you by Ananya Bhattacharya, Michelle Cheng, Sofia Lotto Persio, Julia Malleck, Susan Howson, and Morgan Haefner.