Good morning, Quartz readers!

---
Here's what you need to know
India's GDP growth outpaced China last quarter. Asia's largest economy grew slower than India's for the first time since 2016.
One of the world's longest-running mask mandates lifts today. Hong Kongers can go maskless in public from March 1 after a 945-day requirement.
Nigeria's ruling party took a firm lead in the country's presidential election. Bola Tinubu is on top, but faces calls for a redo from three opposition parties.
Oil giant TotalEnergies got a win. A French court dismissed a lawsuit claiming that projects in Uganda and Tanzania would irrevocably harm the people and environment.
A third ex-FTX employee pleaded guilty in a cooperation deal. Nishad Singh agreed to work with authorities as they investigate what's been dubbed the biggest fraud in history.
Volkswagen defended its Xinjiang plant. The German carmaker's China chief visited the site recently and claimed there were no signs of forced labor.
China called the US's TikTok ban on federal devices an overreaction. US officials can't have the app on their government phones as Canada and the EU have followed suit.
---
What to watch for
Elon Musk is opening Tesla's Texas gigafactory to investors today. The timing couldn't be better for Musk, who's once again the world's richest person thanks to a recent rally in Tesla shares. The carmaker has recovered some from its stock tumble last year, when it lost more than half of its market value.
But as much as Musk would like the event to be about himself, it's been billed as the company's first investor day, and is expected to give the CEO a chance to address rumors around:

🔋 Personal energy storage
🚗 Cheaper Tesla models
🏭 New factories
🛻 Cybertrucks

And those are just a few of the notches in what Tesla's calling its "third master plan."
---
UK workers want Amazon to pay up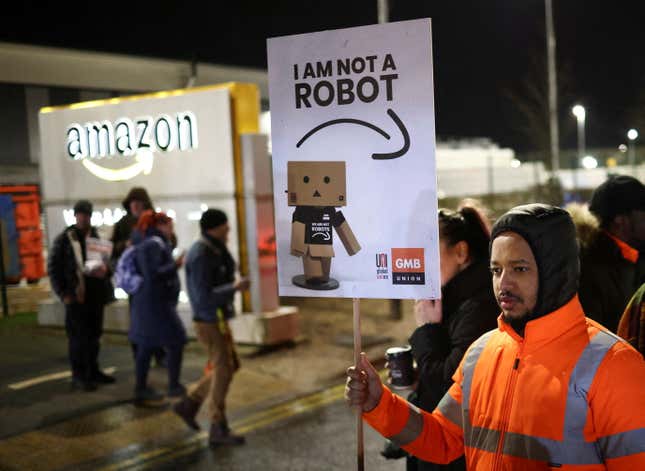 Workers staged the second-ever strike at Amazon UK yesterday (Feb. 28) in a fight for higher wages.

Employees are asking for at least £15 ($18.09) an hour as the UK weathers a cost-of-living crisis that has fueled historic levels of industrial action. While unionization in the US has faced some recent setbacks, organizing across the pond could add a decisive push in the fight for Amazon workers' rights.
👀 Here's a reading list to catch up on the latest in Bezos-land:
---
Chaos incoming for lithium markets
India may have just become one of the top five global lithium players, but its closest rival, China, has more to worry about than an overnight competitor chomping at the bit.
Chinese authorities are clamping down on illegal mining at a key production hub in Jiangxi province, where villagers are reportedly digging deep trenches. Characterized as pure "lithium chaos," China's investigatory crackdown could hit the red hot global market—hard.

Pop quiz: What share of the world's lithium supply could be disrupted in the crackdowns?

A. 13%
B. 35%
C. 6%
D. 22%

Answer: A., 13%, and that's if the hub shuts down for only a month.

✦ Love stories that help you dig deeper? Help keep our content free and accessible by picking up an annual membership. Daily Brief readers get 50% off.
---
Quartz's most popular
📉 How much has India's largest insurer suffered in the Adani fiasco?
🔍 And why is an Emirati businessman enmeshed in the Adani group's offshore dealings?
🍼 Biden is banking on chip makers to further his affordable child care plans…
😔 …but giving birth in the US is becoming a deadlier affair
🐭 Disney lost control of its Florida kingdom for opposing the "Don't Say Gay" bill
🪢 Nokia wants you to know it's not a phone maker anymore
---
Surprising discoveries
AI might get more brainy. Scientists want to use cells from the old noggin to make "organoid intelligence."
Some beaches are for lions only. Namibia's Skeleton Coast is a big cat haven for hunting fur seals.
Rome's second king invented the second month of the year. A bit of superstition may have also landed February its 28 days.
A dude went to Disney nearly 3,000 times in a row. And he paid the park, not the other way round.
We might be planning to plant too many trees. The Quartz Obsession podcast's first episode of the new season uproots the idea that branching out can cure our climate mess.
✅ Subscribe on: Apple | Spotify | Google | Stitcher
---
Our best wishes for a productive day. Send any news, comments, brain cells, and a shady tree to hi@qz.com. Reader support makes Quartz available to all—become a member. Today's Daily Brief was brought to you by Sofia Lotto Persio, Julia Malleck, and Morgan Haefner.