Good morning, Quartz readers!

---
Here's what you need to know
OpenAI released a new version of its chatbot. ChatGPT-4 is better at mental math, and at explaining its reasoning, as well as accepting visual input.
A Russian warplane struck a US drone over the Black Sea. The US aircraft fell into international waters following the collision, allegedly caused by the carelessness of Russian pilots.
Meta announced another 10,000 layoffs. The recruitment team is among those most affected by the job cuts, as the company plans to close 5,000 vacancies it had yet to fill.

San Francisco showed support for financial reparations for Black residents. A draft report on how to offer compensation for slavery and systemic racism received unanimous approval.
Brazil will require US tourists to get a visa. The updated rules also affect citizens from Japan, Canada, and Australia.
---
What to watch for
UK Chancellor Jeremy Hunt will announce his spring budget on Wednesday (March 15), and his speech is expected to focus on batting down inflation and jump-starting the UK's sluggish economy. It's no coincidence that more than 100,000 workers, including London Underground drivers, NHS junior doctors, civil servants, and teachers, have picked such an occasion to strike for higher wages.

The budget is unlikely to provide the changes unions are looking for, Julia Malleck reports. But the country's shrinking workforce plays a large role in Hunt's plans, which seek to incentivize delayed retirement and bring retirees back into the labor force.

---
Where gender wage gaps are the widest
Yesterday may have been Equal Pay Day in the US, but the world's largest economy has something embarrassing in common with many other developed countries. Quartz's reporters can explain why these gaps are still—still—happening.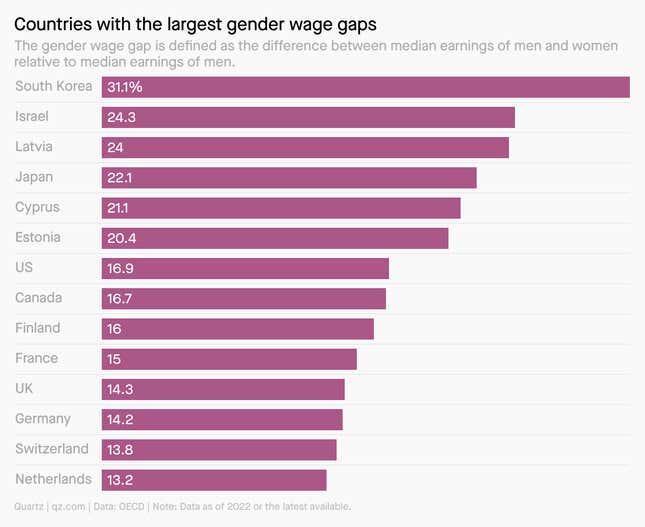 ✦ Love visualizations like this in your inbox each day? Take our 1 minute survey and let us know how you feel about the Daily Brief. (And if your feeling is a good one, consider becoming a member for 50% off).
---
Quartz's most popular
🫥 Salary transparency alone won't close the pay gap
🥻 A surprising dealbreaker in Indian matchmaking
🚗 Uber and Lyft win California gig workers case
🐸 African online pharmacies are leapfrogging an e-commerce giant
🌡️ US inflation cooling is another reason for the Fed to slow rate hikes
♻️ The EU plans to triple renewables by 2030
---
Surprising discoveries
A common dry-cleaning chemical was linked to Parkinson's disease. Trichloroethylene could be causing the neurological condition.

The ghost catfish isn't completely transparent. We now know why it radiates rainbows.  

Argentina is launching a Malbec dollar. It's an exchange rate thing aimed at increasing exports, but we'll continue picturing wine-soaked bills.

A 5,000-mile-wide seaweed blob is heading toward Florida. The largest bloom ever recorded was discovered via satellite.

Join Quartz Obsession podcast host Annalisa Merelli and Quartz senior reporter (and author of our newsletter Space Business) Tim Fernholz to learn what else satellite imagery can see, and why it impacts our lives.
🎧 Listen on: Apple Podcasts | Spotify | Google | Stitcher
---
Our best wishes for a productive day. Send any news, comments, blob protection, and Cabernet cents to hi@qz.com. Reader support makes Quartz available to all—become a member. Today's Daily Brief was brought to you by Clarisa Diaz, Sofia Lotto Persio, and Morgan Haefner.