Good morning, Quartz readers!
---
Here's what you need to know

UBS agreed to buy Credit Suisse for more than $3 billion. The all-share deal was more than triple UBS's initial offer, but it still came at a hefty discount to Credit Suisse's $8 billion market value on Friday. Meanwhile, $17 billion of Credit Suisse parent company bonds are now worthless.
Macron faces the music. The French National Assembly is expected to vote today on no-confidence motions filed in the wake of president Emmanuel Macron's protest-sparking decision to bypass parliament and raise the state pension age. The votes are not likely to pass.
China Evergrande neared an agreement with creditors. Ahead of a 9:30am court hearing in Hong Kong, a group of bondholders indicated support for a restructuring of the developer's offshore debt. Bloomberg notes a deal could stave off a court-ordered asset liquidation.
Silicon Valley Bank was warned by BlackRock consultants about its risk controls. The Financial Times says the now-failed bank got a "gentleman's C" in a 2022 report showing substantial deficiencies.
---
What to watch for
Xi Jinping is in Moscow this week for talks with Russian president Vladimir Putin. The Chinese leader, who reportedly intends to act as a neutral peace broker on Ukraine, isn't expected to make much progress on that front. But after a 20% surge in trade between Russia and China in January and February, economic cooperation is likely to dominate the agenda anyway.
---
Staying liquid
The Federal Reserve's discount window is always open to eligible banks needing extra liquidity—but some weeks are busier than others. In the seven days ended March 15, which includes Silicon Valley Bank's collapse and the immediate aftermath, banks borrowed $152 billion. Adjusting for inflation, the weekly highs in 2008 and 2023 look remarkably similar.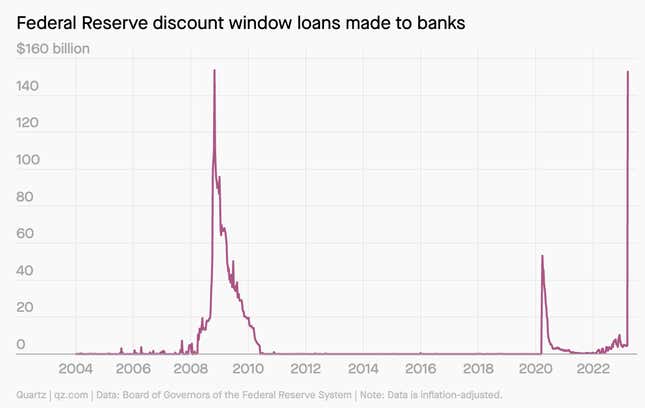 ✦ Take our 1 minute survey and let us know how you feel about the Daily Brief (and consider becoming a member for 50% off).
---
What's causing America's maternal mortality rate to rise?
Maternal mortality is an indicator that usually improves over time. Not so in the US, where deaths from pregnancy-related causes, already high by global standards, grew even worse during covid. The data is especially alarming for American women 40 and over—and even more shocking for American Black women over 40.
Read more about America's status as a maternal mortality outlier.
---
Quartz's most popular
📎 Why the Microsoft Office-ization of AI makes sense
🚀 The venture-backed rocket industry is finally coming back to Earth
🌨️ Even after California's rain and snow, the state's drought has not been sated
🛂 UK passport officials are going on strike for five weeks
💪 The Cure forced Ticketmaster to refund fans a portion of "unduly high" fees
🧠 These creative thinking exercises can disrupt your next team brainstorm
---
Surprising discoveries
TikTok isn't ByteDance's only current US hit. The Chinese app maker also owns CapCut, a video editing tool that in recent weeks surpassed TikTok in downloads.
Ai Weiwei's middle finger can go anywhere. The artist's new collaboration with Avant Arte will flip the bird at any place appearing in Google Maps street views.
A new building material designed for Mars habitats is twice as strong as concrete. "StarCrete" is made from potato starch and salt mixed with extraterrestrial dust.
Venus was recently volcanic. A scientist at the University of Alaska Fairbanks compared radar imagery from an old space probe to make the find.
The first medical record was painted on a cave wall. From there, humans turned to papyrus, clay tablets, file cabinets, and slowly, hesitantly, into the digital era. Join host Annalisa Merelli and Quartz deputy email editor Morgan Haefner as the Quartz Obsession podcast sorts through the thorny world of centralizing health records.
🎧 Listen on: Apple Podcasts | Spotify | Google | Stitcher
---
Our best wishes for a productive day. Send any news, comments, Swiss bank deals, Fed loan data, and extraterrestrial dust to hi@qz.com. Reader support makes Quartz available to all—become a member. Today's Daily Brief was brought to you by Heather Landy, Julia Malleck, and Susan Howson.