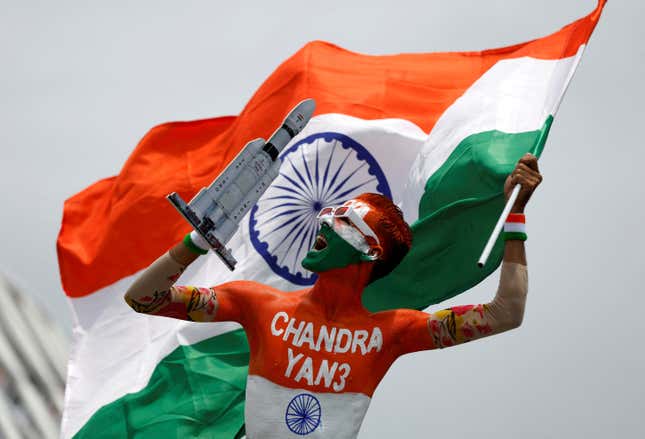 Good morning, Quartz readers!
---
Here's what you need to know
India is the newest 21st century space power. The Chandrayaan-3 mission made it to the Moon. A few days ago, Russia's competing mission didn't. More on this below.
Why a tightening of credit conditions could lead to a weak economy
Russian oligarch and mercenary leader Yevgeny Prigozhin was killed in a plane crash. The private aircraft, carrying 10 people, was potentially shot down by Russia's air defenses on its way from Moscow to St. Petersburg.
Popeyes has big dreams for China. Tims China, the local operator of the fast food chain, plans to open 1,700 Popeyes stores across the country over the next decade.

The G20 pledged to end fossil fuel subsidies in 2021... and then quadrupled them in 2022, to nearly $1 trillion, in a bid to offset the energy fallout of Russia's war against Ukraine.
---
Bric by bric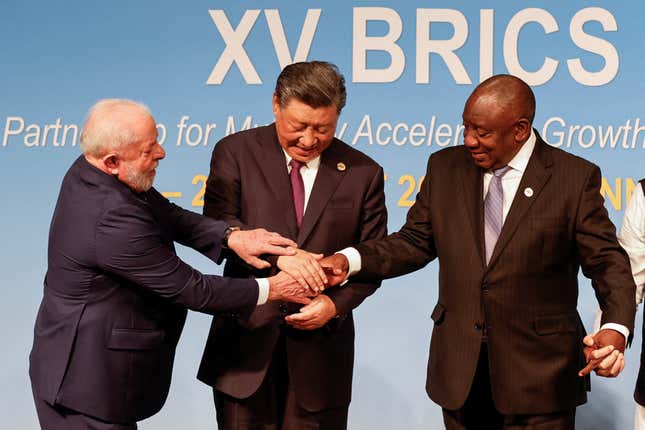 The leaders of Brazil, Russia, India, China, and South Africa, who have been meeting in Johannesburg this week to talk economic shop, are thinking of letting others into their party.

The BRICS bloc is, for all intents and purposes, the rival to the G7, and is looking to wield more power over the US and its allies. At least two dozen countries across a broad spectrum of the developing world are lining up with their CVs in hand—and an economically sluggish China and Russia are eager to get them on board.
But not all of the BRICS boys (we're groaning too) are so sure about new members. India and Brazil have waffled on the idea. And in any case, Narenda Modi and Vladimir Putin's stand-in are probably having trouble talking about anything else except the Moon.
---
Speaking of that Moon…
Of all the things that aren't easy, two come to mind: Being green and landing on the Moon.

If you need a reminder, Russia's Luna-25 lander crashed into the Moon and was destroyed a few days ago after an orbital maneuver gone wrong. Roscosmos (Russia's space agency) had hoped to beat ISRO (India's) to the Moon's south pole.

India got there first, landing a lander dubbed Vikram and a rover called Pragyan, calling the Chandrayaan-3 mission a success, and outstripping Russia as a space power in the 21st century. Measuring space power isn't straightforward, and Russia has a much richer history of exploring the final frontier, but India's ambitions are picking up steam and Russia's economy isn't.

---
Climate change is worming its way into labor demands
The union representing US-based United Parcel Service workers ratified a landmark contract that includes one increasingly vital provision in the workplace: air conditioning. UPS had originally relied on a series of heat-fighting measures—like drinking more water—that it called "Cool Solutions." Drinking more water, by the way, does not help you when the wet bulb temperature indicates the heat and humidity are both so high your sweat has nowhere to go, so your body cannot cool down.

Unions pushing for air conditioning may indicate the tides are turning when it comes to industry standards for heat safety, but also shows pushing forward those changes will not be easy. OK, three things aren't easy—being green, landing on the Moon, and getting safe labor conditions in a warming world.
---
Quartz's most popular
🚀 What SpaceX has to do to convince the FAA to let Starship fly
🦠 Covid is here to stay—as a risk factor in regulatory filings
👀 A $40,000 Nvidia chip has become the world's most sought-after hardware
🔱 A cargo ship that harnesses wind power has set sail on its maiden journey
💡 Incandescent lightbulbs are now banned in the US
🌡️ Wet bulb: It's the heat and the humidity
---
Surprising discoveries
An Ancient Roman military training camp has been excavated. The walls are red, it housed the "ironclad" legion, and it would be a good spot for a Musk-Zuck battle—just a suggestion!

A political prisoner escaped China via water scooter. Kwon Pyong made it across the Yellow Sea, a full 200 miles (322 km), and is seeking asylum.

Will your wine come in paper? Boxed wine can be more environmentally friendly, so maybe a redesign is all it takes to make it cool again, er, for the first time.

Just anticipating a vacation could make you better at work. Set our Slack status to "ultra productive pre-vacation mode," please.

Tupperware is more than a meme stock. It was the first multi-level marketing organization, and a female-led entrepreneurial endeavor, until it wasn't. Read our latest Obsession.

---
Our best wishes for a productive day. Send any news, comments, vacation dream doodles, and Tupperware party invites to talk@qz.com. Reader support makes Quartz available to all—become a member. Today's Daily Brief was brought to you by Susan Howson and Morgan Haefner.