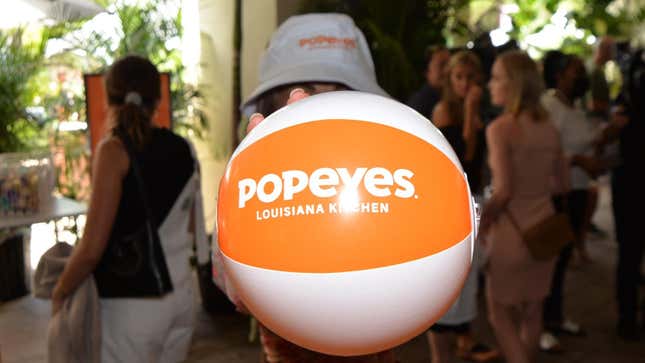 TH International (Tims China), the exclusive operator of Tim Hortons coffee shops in China, plans to get the country hooked on Popeyes' iconic chicken sandwich in a big way. Over the next decade, at least 1,700 new Popeyes outlets will open across China, if things go to plan.

Should you keep investing in Big Tech?
On Aug. 19, less than six months after Tims China acquired the exclusive right to develop the Popeyes brand in mainland China, the first, flagship location in Shanghai opened amid much fanfare. There were long queues, a ribbon-cutting ceremony, and a jazz band. One store down, 1,699 to go.

This is not the Louisiana-style fried chicken eatery's first foray into China. That happened in May 2020—right in the thick of the disruptive Covid-19 pandemic. Popeyes had a solid opening then, and the plan was to open 1,500 stores. Three years and a mere nine stores later, Popeye shut all its China locations in April 2023. At the time, Popeyes took to Weibo to describe the shutdowns as merely temporary.
The new Shanghai store combines the signature orange that graces all Popeye's outlets with a new shade of teal, called "NOLA teal"—a hat-tip to the restaurant's New Orleans roots—which was revealed last year.
But Popeyes isn't offering China a pure Louisiana menu. Rival brands like KFC and McDonalds, which have a firm footing in China, have seen their localization efforts pay off. Popeyes is trying that trick, too. Its launch menu combines Cajun traditions with local Chinese flavours. Think sweet chilli chicken, golden cheese and chicken nuggets, seafood burgers, and a Longjing tea-based pomelo milkshake.
By the digits: Popeyes' China reentry in 2023
1,761: The number of orders at the Shanghai store on Aug. 19, which set an opening day record
10: The number of Popeyes stores that Tims plans to open in Shanghai this year

1,700: The number of Popeyes stores that Tims aims to open across China over the next decade
$30 million: How much cash Tims China had on hand to pursue growth in China, as of a March 2023 statement
$60 million: The additional amount that Tims earmarked in March to develop its Popeyes business in China

700: The number of Tim Hortons stores—known as Tims in the mainland—that Tims China has set up and run over the last four years. "Adding Popeyes to the Tims China portfolio will deliver economies of scale and supply chain synergies for both brands, driving further growth for our company," said Yongchen Lu, the company's CEO.

42%: The uptick in restaurant and hotel spending in Shanghai in the first half of 2023, accompanying a 9.7% increase in the local gross domestic product during the same period.
4,000: The number of Popeyes locations worldwide
9,000: The number of KFC outlets across 1,900 Chinese cities. Popeyes can expect stiff competition from KFC, which opened its first Chinese store in Tiananmen Square in 1987.
Quotable: Popeyes is hopeful
"Despite a challenging overall macro-economic environment, foodservice retail sales have been a bright spot in China's post-COVID recovery—one of the sectors that has rebounded strongly. Popeyes offers a fried-chicken recipe that Chinese diners will love, and a brand identity based on Louisiana's signature joie de vivre that will appeal to younger consumers increasingly seeking new dining experiences."
Related stories
🍔 Despite falling profits, global fast-food chains are continuing to expand in India
🍕 Domino's Pizza becomes the latest brand to leave Russia, adding to the country's economic isolation
🌮 Taco Tuesday trademark battle ends with a final request from Taco John's to Taco Bell