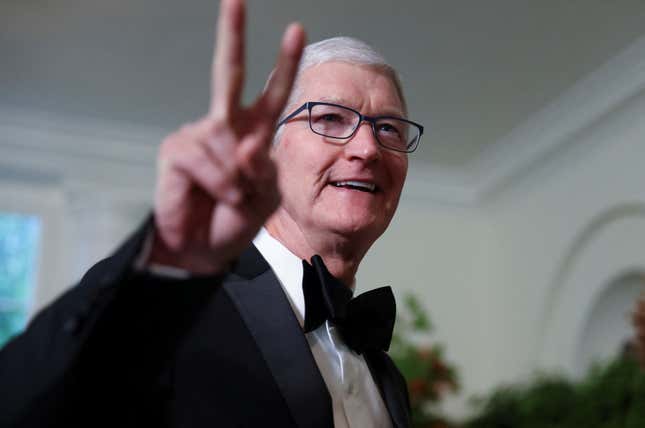 Good morning, Quartz readers!

---
Here's what you need to know
Apple is expected to release its iPhone 15 today. The "Wonderlust" event is scheduled for 1pm ET; aside from a new iPhone, the tech giant could debut a new Apple Watch and provide updates on its VR headset.
Why a tightening of credit conditions could lead to a weak economy
US regulators approved updated covid vaccines. The Food and Drug Administration greenlighted the new Pfizer and Moderna jabs, but there's still one more hoop for the shots to clear before they can be given (more on covid below).
Kim Jong Un is visiting Russia. The North Korean leader is expected to meet with Russian president Vladimir Putin in what will be Kim's first trip outside of his country since the start of the covid pandemic.
A major antitrust case against Google starts this week. In a trial expected to last 10 weeks, Google has to prove that it isn't using its dominance to unfairly cannibalize its competition.
Floods washed away a quarter of all crops in Greece's agriculture hub. In Thessaly, a major cotton- and tobacco-growing region, Storm Daniel deposited a year's worth of rainfall inside two days.
---
Quotable: Will businesses have to consider covid lockdowns again?
"It's not out of possibility, but because of the level of immunity that is in the population from so many infections and vaccinations, it's unlikely that we would get to something like lockdowns or shutdowns."—Shaun Truelove, an associate scientist at the Johns Hopkins Bloomberg School of Public Health, in an interview with Quartz
Shaun spoke with Quartz's Clarisa Diaz about the rise in new covid cases and variants, which he said point more to seasonality than a distinctive wave. But why do variants keep arising even though the majority of people have been vaccinated or have gotten covid? Check out the full Q&A.
---
Pop quiz: Mexico is about to hit a government milestone
Question: What is Mexico's global ranking for female representation in government?
A. 4th
B. 16th
C. 71st
D. 99th
It's for sure not 71st—that's where the US falls. The answer is in fact A., and it may even tick upward: Mexico is set to elect its first female president next year, meaning all three branches of the country's government will be led by women.
The triad of female representation is extremely uncommon for any country…. less than 25 around the world even have a female leader, much less a female at the top of every branch. See the countries that make up the list.
---
Quartz's most popular
🚪 Replace exit interviews with 4 questions that get employees to stay
🐸 The 10 most widespread invasive species 
🫣 Burning Man's wealthy Burners got the wakeup call they needed
⚾ The streaming wars have made it more expensive than ever to be a sports fan
🎾 Naomi Osaka and Simone Biles are modeling how to stage a career comeback
✈️ American Airlines demonstrated what could be the world's cheapest way to fight global warming
---
Surprising discoveries
Boeing has tried using alpacas to get employees back into the office. The planemaker's CEO, however, is not tempted—he's rarely seen onsite and uses private jets to travel between his two homes.

Marketers are betting that people will get sick of pumpkin spice. Their new fall favorite? Apple.

The UK's oldest swimming pool reopened. The 208-year-old lido in Bath had been shuttered for nearly 40 years before being restored.

Marilyn Monroe's house was almost demolished in Los Angeles. It was the only residence she ever independently owned.

Book blurbing is one of authors' most despised—and stressful—tasks. Some compare getting notable endorsements that often adorn covers to "a sorority hazing that never ends."

---
Our best wishes for a productive day. Send any news, comments, remotely based alpacas, and newly flavored apples to talk@qz.com. Reader support makes Quartz available to all—become a member. Today's Daily Brief was brought to you by Morgan Haefner.