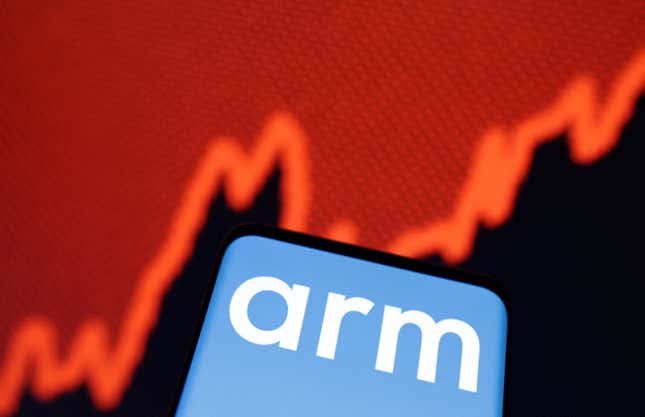 Good morning, Quartz readers!
---
Here's what you need to know
Arm set prices for its IPO. The British, SoftBank-owned chip designer that supplies the likes of Nvidia and Apple priced its shares at $51 ahead of trading, which begins today.
Microsoft, Google, and OpenAI are getting questioned about their AI "data labelers." US senate hearings continue in Washington, DC—yesterday's meeting centered on the conditions surrounding the workers who label training data and rate chatbot responses to make sure that AI systems are safe and reliable (more on this week's hearings below).
Google is being questioned by the US government for other reasons, too. As part of its landmark antitrust case against the tech giant, the US Department of Justice talked to a former employee who negotiated default search engine deals.
Thailand is waiving visas for five months for Chinese tourists. The country, which raked in 1.9 trillion baht ($53.2 billion) from its tourism industry in 2019, is hoping the offer will tempt newly restriction-free China nationals.

---
What to think about inflation
Deep breath, Americans. The Consumer Price Index (CPI, to you, probably) rose by 0.6% from July to August. And then, even scarier sounding, it rose 3.7% from August 2022 to August 2023.
When this happens, you're always going to see headlines about how inflation has increased. But the 12-month average of the overall CPI measure doesn't tell the whole story.
Nate DiCamillo gives us some much-needed context about why the numbers look the way they do, and why we can relax a little about the future, starting with these points:
⛽ Fuel prices went up a whopping 10.6% in the last month, and they're set to go higher
🏘️ Rent inflation is continuing to cool, though
🚘 Used car prices are coming down too, although, to be fair, not nearly fast enough for anyone's liking
---
Got a license for that AI?
"You can't drive a car until you get a license. You can't make the model or the application available until you pass through that gate." —Microsoft president Brad Smith at a US Senate Judiciary Committee hearing on Sept. 12
US lawmakers on both sides of the aisle and leaders in the tech industry all seem to be in agreement that there needs to be some sort of guardrails on developing AI. A solution could be found in licensing. Quartz's Michelle Cheng has been tuning in to a series of Senate hearings this week as lawmakers grapple with how to regulate the fast-moving technology powering OpenAI's ChatGPT and Google's Bard.
---
A quick look at who's wrecking the planet!
A new report by research and advocacy group Oil Change International identified 20 countries responsible for nearly 90% of new oil and gas extraction projects between 2023 and 2050.
At the top of this list of "planet wreckers," as OCI calls them, are the following five usual suspects, but Clarisa Diaz has charted the full 20, which contains some surprises. If the planet wreckers are allowed to continue in this vein, says the report, holding global temperature rise to 1.5°C would be impossible.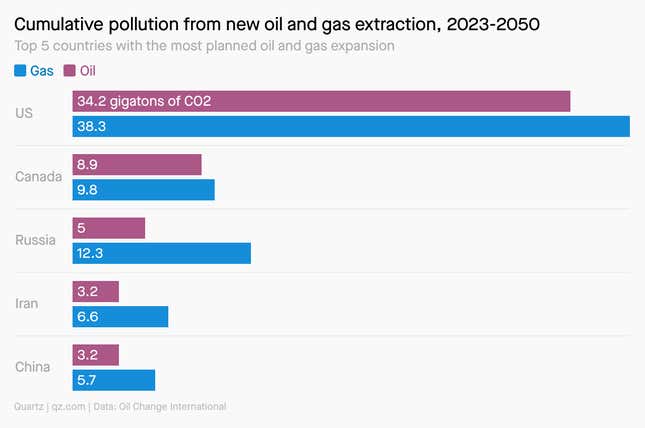 Stopping new oil and gas would not be enough, according to the authors. Governments need to go further by closing down already producing fields.
---
Quartz's most popular
🪧 The UAW union yielded on wages—but a major auto industry strike is still possible
🔭 The dramatic way our view of Pluto has changed over 87 years
🛬 American Airlines demonstrated what could be the world's cheapest way to fight global warming
❔ Replace exit interviews with 4 questions that get employees to stay
🔥 Burning Man's wealthy Burners got the wakeup call they needed
😷 How worried should we be about the uptick in covid cases? A Johns Hopkins scientist explains
---
Surprising discoveries
If bull sharks wash into your lake… Sorry to be the one to tell you this, but you've got sharks in your lake, forever.
The Brady Bunch house sold for a song. OK, some of the fixtures and appliances are "decorative only," but 42% under asking price??
A Dutch airline will allow an adults-only section. Of course, it comes at a price.
Putting a bow on anything ups its value these days. Perhaps the above Dutch airline will let you make your upgrade in ribbons.
Some say the pumpkin spice espresso martini signals the end of any originality. We say, why not just order something else?
---
Our best wishes for a productive day. Send any news, comments, "No Swimming, Ever Again" signs, and whatever martinis we want to talk@qz.com. Reader support makes Quartz available to all—become a member. Today's Daily Brief was brought to you by Morgan Haefner and Susan Howson.