Good morning, Quartz readers!
Here's what you need to know
Israeli airstrikes killed 43 Palestinians. The attacks, which came as Hamas launched more than 100 rockets at Israel, made Sunday the deadliest day in the most recent flare-up of violence.
Masks are still necessary for the unvaccinated. Dr. Rochelle Walensky, director of the US Centers for Disease Control, clarified after recent guidelines for vaccinated Americans allowed for maskless shopping and indoor dining.
A massive media deal is brewing. AT&T, the owner of WarnerMedia and HBO, is in talks with Discovery about combining their assets.
The UK sets a deadline. The nation will decide on whether to ease lockdown measures June 14.
A cyclone is headed for southern India. Days after tornadoes claimed 12 lives in Wuhan, China, a 140 mile-per-hour cyclone has already caused heavy rains and flooding along the Arabian Sea coast, killing six.
Dutarte warned China that he won't retreat. The president of the Philippines says he won't withdraw ships in disputed waters, even on threat of death.
Amazon is focused on India. The tech giant is launching MiniTV, a free streaming service targeting viewers of a similar offering from Flipkart.
---
What to watch for
While Brits are eagerly awaiting their departures to overseas travel destinations and their first trips to crowded pubs in more than a year, a Covid-19 variant that's wreaking havoc on India is spreading throughout the UK, with plenty of cause for concern.
Health Secretary Matt Hancock told reporters that the B.1.617.2 variant is more transmissible than the U.K.'s main strain and "it is likely it will become the dominant variant." Cases of the variant have doubled in the UK over the last week, though infections and deaths continue to trend downward.
While prime minister Boris Johnson's decision to ramp up vaccinations to combat the variant eased some concerns, a delayed reopening this week does more than dash the hopes of shoppers and diners: it throws the effort to enter the final reopening phase by June into serious doubt.
"This isn't over yet," Hancock said to the BBC. "The virus has just gained a bit of pace and we've therefore all got to be that bit much more careful and cautious."
---
Charting post-pandemic in-person shopping
The pandemic accelerated and likely solidified consumers' adoption of e-commerce. While companies with robust e-commerce platforms like Amazon and Walmart have the revenue to show for it, a number of retailers without a strong online presence are doubling down on their brick-and-mortar strategies.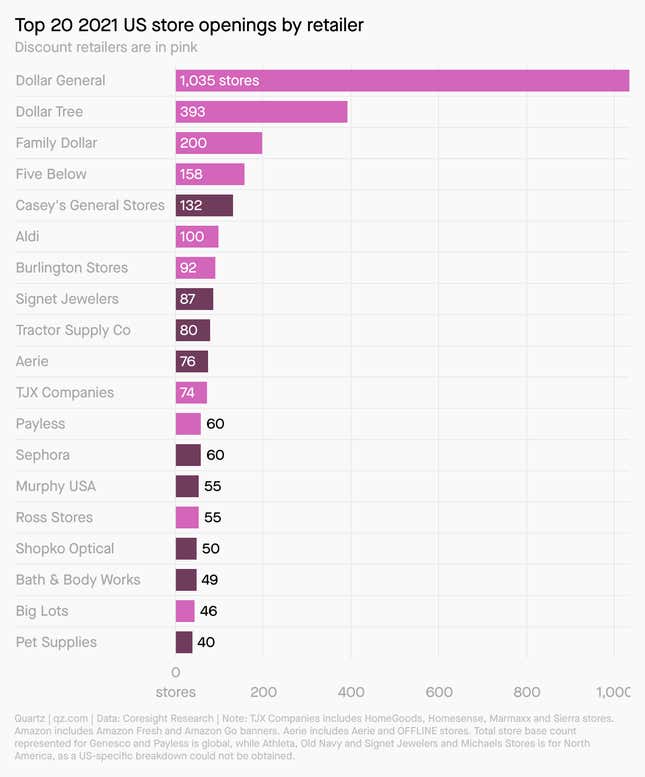 Many of these discount retailers have inventory and pricing strategies that makes a move online impractical, and they're betting on in-person shopping for the foreseeable future.
---
Stores are here to stay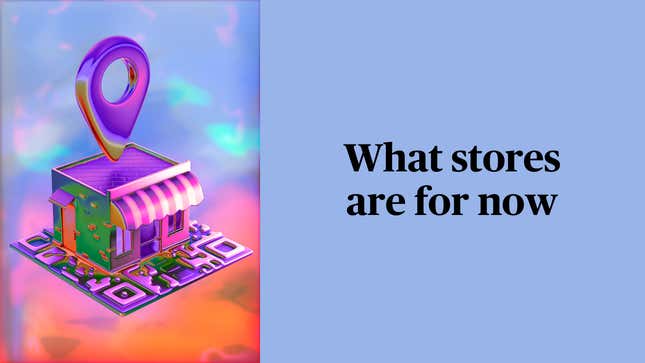 Experts believe a lot of the digital shopping habits consumers picked up during the pandemic are here to stay, even if e-commerce sales moderate some as life eventually returns to normal.
UBS, an investment bank, predicts roughly 80,000 stores could close by 2026 in the US alone as online shopping grows even more common. It's the beginning of the end for brick-and-mortar shops, right?
Well, no. Even in the midst of a pandemic, consumers in the US and UK have been making the majority of their purchases in stores. The reality is, stores aren't going away. As virtual as our lives have become, we're still physical bodies operating in physical spaces. But there's no doubt the way companies use stores is changing as technology alters the way we buy things.
✦  Few areas of business are changing more than retail. Try a Quartz membership during Retail Week and enjoy a discount on our field guides and news coverage. Try membership free for a week, and use the code RETAILWEEK for 40% off!
---
Handpicked Quartz
📲 Social media has no incentive to fix what ails it
🚫 Africa's plastics bans are pitting the environment against the economy
💨 How an NGO helped 10,000 Covid-19 patients survive India's oxygen shortage
✏️ Remembering the architect who birthed our obsession with beautiful office interiors
🕵️ A new book reveals how Germany ran a sophisticated spy operation in South Africa during World War II
💰 Should companies pay ransoms to hackers?
Surprising discoveries
Houston police found the loose tiger. India, owned by Victor and Georgia Cuevas, was surrendered to police Saturday.
Historic bookstores in Paris are struggling. In a city where independent literature has long flourished, many are worried about the impact of the pandemic on these essential businesses.
Cloudflare knows we're tired of CAPTCHAs. The company that connects users to websites has a new security key that saves time and headaches, but it won't phase those pesky alphanumerics out for a while.
A California woman washed her $26 million lottery ticket. Despite video evidence that proves her purchase, her prize might go to local public schools.
Change is coming to the Suez Canal. The Suez Canal Authority will deepen the body by 10 feet and widen it by 131 feet to prevent future ships from disrupting international commerce.
---
---
Our best wishes for a productive day. Please send any news, comments, security keys, and UK travel agents to hi@qz.com. Get the most out of Quartz by downloading our iOS app and becoming a member. Today's Daily Brief was brought to you by Alexandra Ossola, Marc Bain, Oliver Staley, and Jordan Lebeau.