Good morning, Quartz readers!
Here's what you need to know
WhatsApp is suing the Indian government. The Facebook-owned platform took legal action over new social media rules that would remove encryption of messages and enable "mass surveillance." Today is the deadline for the major tech companies to comply with the drastic changes.
A special grand jury is reportedly set to consider evidence against Donald Trump. New York state prosecutors are investigating criminal allegations surrounding the former US president, who describes the process as a "witch hunt."
An Olympics sponsor wants the Games canceled. Japanese newspaper Asahi Shimbun called the event a "threat to health" and called out prime minister Yoshihide Suga.
Fugitive ex-CEO Carlos Ghosn hopes France will clear his name. Speaking to the Associated Press from his exile in Lebanon, the former Renault-Nissan boss described his dramatic escape from Japan and criticized its legal system.
China took over from Germany as the UK's biggest importer. The volume of Chinese goods entering the UK rose by 66% from the start of 2018 to the first quarter of 2021, official data show.
What to watch for
Today, the state of Ohio will randomly draw the name of one vaccinated adult to win $1 million. It's the first of five such drawings that are part of a lottery to spur people to get the shot. Vaccinated individuals in the 12-17 age group will have their own chance to win tuition to a four-year college—it's there that Ohio's governor says the state has seen the highest increase in vaccinations.
As Covid-19 vaccination rates slow nationwide, US states, cities, and businesses are throwing incentives at the reluctant. It could make a big difference, alongside other initiatives. Here are some incentives getting some traction:
🍺  New Jersey will buy of-age vaccinated individuals a beer.
💰  Maryland is giving state employees $100.
🎓 Lancaster, California is offering scholarships.
🍩 Krispy Kreme is still providing free doughnuts.
---
Charting a US vaccine milestone
The US announced Tuesday that it's vaccinated 50% of its population against Covid-19, making it the first large country to do so. When it comes to global health, Annalisa Merelli writes, it is rare for the US to be a leader.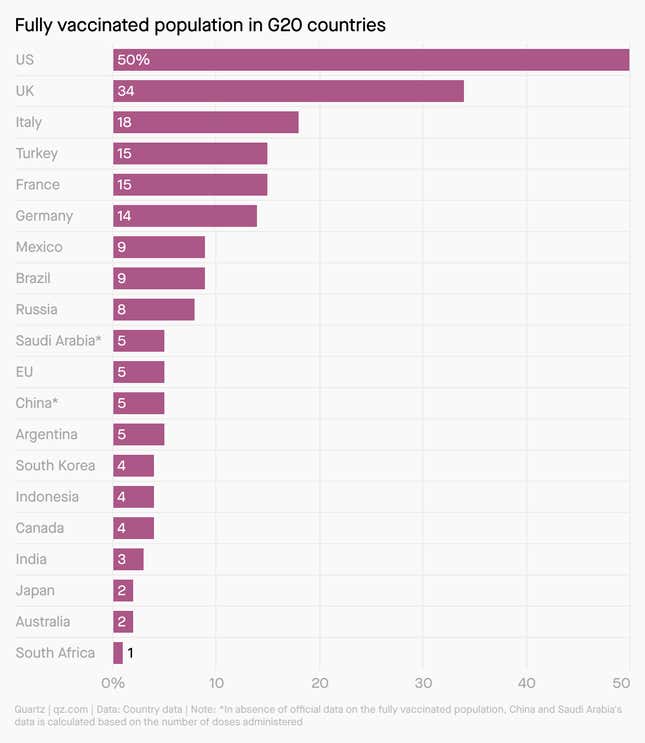 So what worked?
While financial and culinary incentives may be chipping away at the undecided or hesitant, the US was able to achieve most of its success through significant investment in 2020, both in vaccine development and by securing a large supply of doses even ahead of production. Behind the impressive numbers, however, there are accusations of vaccine nationalism.
---
Epic's consultants v. Apple's consultants
The outcome of Epic v. Apple—currently being deliberated by a US district judge—will, in large part, hinge on one key question: How big is the market in which Apple's app store operates?
Epic is attempting to prove Apple has a monopoly over the market for apps—like Epic's hit game Fortnite—and that Apple is using its monopoly power to take an unfairly large cut of the profits developers make through in-app purchases.
Most American monopoly cases revolve around calculations about the size of a market and the amount of control one dominant company has over that market. Coming up with those calculations is exacting, expensive work—so much so that there are only a handful of consulting firms that are consistently hired to crunch the numbers. This small group of monopoly consultants, ironically, dominates the market for highly paid expert witness testimony in antitrust cases. Nicolás Rivero takes a look at how these expert witnesses make up a niche industry that drives up court costs and heavily impacts verdicts.
Handpicked Quartz
🚼  US childcare is a mess but it's not what's holding back the recovery
🇳🇬  Nigeria has the most startups in Africa but falls short on other critical metrics
👰  A "joy ride" that turned out to be a mid-air wedding and flouted all Covid restrictions in India
📈  Indian stock brokers clocked stellar growth in a year when the economy went into recession
---
Surprising discoveries
Rockstar Games is starting a record label. Video game DJs are about to hit the club.
A new Disneyland sandwich will cost $99.99. The Marvel-inspired panini is intended to serve six to eight people.
Conservationists spotted a giant river otter thought to be extinct. The critter had last been seen in Argentina more than 100 years ago.
Mastodons and camels and tapirs, oh my! An archaeological dig in California has turned up hundreds of fossils and petrified trees dating back millions of years.
There's a better way to detect earthquakes. Displaced GPS satellite receiver stations could help assess tremors more quickly than traditional seismic sensors.
---
---
Our best wishes for a productive day. Please send any news, comments, earthquake warnings, and virtual bangers to hi@qz.com. Get the most out of Quartz by downloading our iOS app and becoming a member. Today's Daily Brief was brought to you by Hasit Shah, Tripti Lahiri, Mary Hui, Susan Howson, and Liz Webber.