Good morning, Quartz readers!
Here's what you need to know
The US and China's trade negotiators held talks. Chinese vice premier Liu He and US trade representative Katherine Tai had their first phone call under the Biden administration, which Beijing described as "constructive," though Tai said "very large challenges" remain.
Big Oil faced a day of defeats. Exxon Mobil shareholders elected two new board members who want to move the company away from fossil fuels. In the Netherlands, a court ordered Royal Dutch Shell to shrink its carbon dioxide emissions by 45%.
HSBC is backing away from the US. Europe's second largest bank is withdrawing from American retail banking as part of a long-term pivot to Asia, and will sell its branches to Citizens Bank and Cathay Bank.
Joe Biden ordered a new report on Covid-19's origins. The US president gave intelligence agencies 90 days to examine the emergence of the virus, as the hypothesis that it leaked from a lab appears to gain traction.
Amazon confirmed a deal to buy MGM. The $8.5 billion agreement is the clearest example yet of Hollywood's legacy institutions being swallowed up by Big Tech and media giants.
Facebook named Russia its biggest source of disinformation. Meanwhile, Moscow told both Facebook and Twitter to store data on Russian users in the country by July 1.
Iran suspended cryptocurrency mining following blackouts. The energy-intensive process will be halted for at least four months.
The author of The Very Hungry Caterpillar died. Eric Carle published the legendary children's book in 1969, and died at his studio in Massachusetts at the age of 91.
What to watch for
On Friday, Biden will unveil his first full budget proposal for fiscal year 2022, which begins in October of this year (a "skinny" budget came out in April). It's arriving a bit later than is typical for the first year of a presidential term. The delay means Congress has much less time to vet, argue over, and approve the budget, and may need to pass a stopgap measure to keep the government running in the meantime.
The budget reportedly will not contain some of Biden's campaign promises, like a public option for healthcare or student loan debt forgiveness. Here's a look at what we do know, by the digits:
>$4 trillion: New government spending Biden has already proposed
$753 billion: Biden's proposed national defense budget for fiscal year 2022
$50 billion: Potential savings due to the military withdrawal from Afghanistan, which some lawmakers and advocacy groups believe should be redirected to domestic programs
10%: Proposed increase to the size of the Cyber Mission Force, the division that deals with cyberattacks
3: Months delay to congressional testimony from military leadership on defense budget needs due to the lateness of Biden's proposal
$50,000: Amount of student debt forgiveness per person Biden supported on the campaign trail, which is not expected to be part of his first budget
$3.1 trillion: The US budget deficit in 2020
---
Charting Africa's tech ecosystems
A new report ranks the tech competitiveness of 17 African countries based on categories such as their economic potential, business climate, cost effectiveness, connectivity, and worker experience.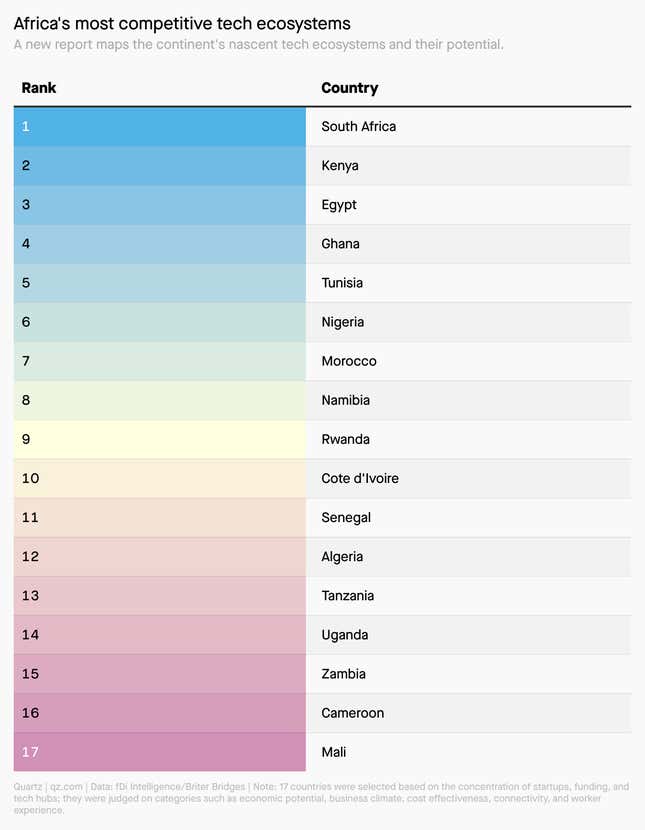 South Africa led the way in the categories of startup status and business friendliness, while Kenya boasts the highest numbers of coding schools and is a forerunner in the African fintech space. Although Nigeria had the highest volume of startups—over 750—its lower ranking reflects stifling government policies, infrastructural issues such as poor internet speed, access, and connection, and a host of other systemic challenges that its entrepreneurs must contend with.
---
A beginner's guide to the world of SPACs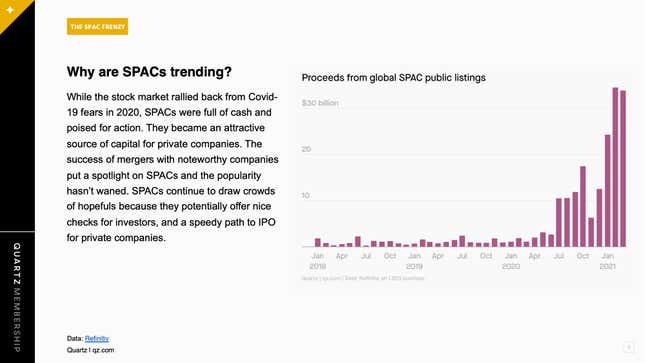 What do a health insurance company, a space tourism company, and an electric vehicle company have in common? They're all special purpose acquisition companies (SPACs), which have gained traction on Wall Street as a quick way for companies to go public. But experts worry that SPACs could hurt regular investors in the end.
If you've been hearing about SPACs for months now but still scratching your head, we've got you covered. Here's our latest presentation—consider it your beginner's guide.
✦ Quartz members get access to all our presentations, field guides, event recaps, and more. Try it free for a week.
Handpicked Quartz
🚙 Can Uber lure back its US drivers without making them full-time employees?
👔 What will we wear when we return to the office?
🇬🇧 The dream to turn Britain into Singapore-on-Thames is dead
🙊 Dear India, here's how to cope with a censored internet, xoxo China
📱 One million Ethiopians signed up for the country's first mobile wallet in one week
✊ Hong Kongers are using blockchain archives to fight government censorship
🎨 An anonymous artist is chronicling the pandemic politics in Modi's India—one comic at a time
🏢 Why the wild variation in plans for returning to offices is a good sign
🚜 Come hail or pandemic, India's farmers have been protesting for six months
---
Surprising discoveries
No more grandiose buildings and starchitects. The US entry in the Venice architecture biennale goes for wooden simplicity.
Tasmanian devils are back in mainland Australia. Seven joeys were born in a wildlife refuge—the first such births in 3,000 years.
A rarely seen Brontë manuscript collection will go up for auction. The drafts and letters of the sisters had been collected by brothers who lived nearby.
A wild grouse adopted a man. His family says it waits for him when he leaves and follows him around when he's back.
The last Star Wars trilogy could have benefited from a plan. JJ Abrams admitted what the rest of us already knew.
---
---
Our best wishes for a productive day. Please send any news, comments, priceless scribbled notes, and Tasmanian devils to hi@qz.com. Get the most out of Quartz by downloading our iOS app and becoming a member. Today's Daily Brief was brought to you by Leslie Nguyen-Okwu, Mary Hui, Tolu Olasoji, Chika Dunga, Susan Howson, Liz Webber, Hasit Shah, and Samanth Subramanian.