Good morning, Quartz readers!
Was this newsletter forwarded to you? Sign up here. Even if you can't attend in person, send it to someone else. 
---
Here's what you need to know
The Olympics are "100%" going ahead, their lead organizer insists. But Tokyo 2020 president Seiko Hashimoto also warned there may be no spectators at all.
China accused Western brands of potentially harming children. 81 items sold by companies like Nike, H&M, and Zara now have warnings attached; all three of these firms previously expressed concern over allegations of forced Uyghur labor.
The National Football League is dropping "race-norming." It's a policy that reduces the compensation available to Black athletes with brain injuries, based on the assumption that their normal cognitive function is lower than white players'.
Exxon is set for a third activist board member. The company admitted that shareholders back yet another nominee from the environmentalist hedge fund Engine No. 1.
The rise in global house prices is at a 15-year high. According to a report from a major international realtor, Turkey is seeing 32% growth, while the US is at 13.2%.
Meme stocks surged, again. Shares of the movie chain AMC, retailer GameStop, and the software firm Blackberry all gained over 10%, fueled by individual traders and activity on the Reddit WallStreetBets forum.
NASA announced two new missions to Venus. The $500 million exploration projects are due to launch between 2028 and 2030.
---
What to watch for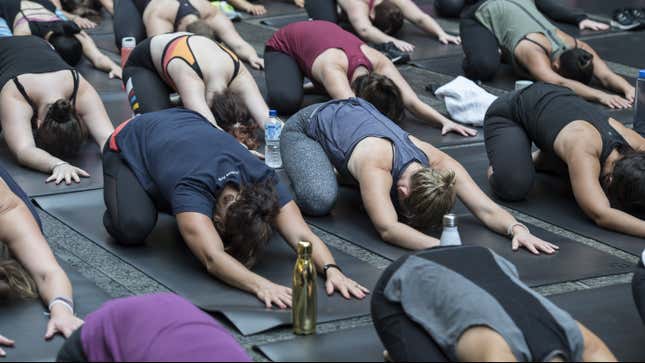 Lululemon reports its latest quarterly earnings today. The athleisure company fared well during the work-from-home era, with annual revenue jumping to $4.4 billion in the 2020 fiscal year, up 11% from the previous year. But as offices reopen, will employees be trading in their stretch pants for a more formal look?
One possibility is that workers will swing from sweatsuits to what the Wall Street Journal calls "joy dressing"—bold prints and ruffles in all colors of the rainbow, all symbolizing shared relief at emerging from a traumatic year. (Joy dressing can be a real mood-booster for remote workers too, as Quartz reported last year.)
Another possibility is that the business-casual look will get even more laid-back, with workers importing the elastic waistbands to which they've become accustomed. DEI experts suggest that relaxing standards of professional attire could also wind up being a boon for equity in the workplace. Leggings or no, here's hoping the next chapter of business dress is more comfortable for everyone.
---
Charting Olympic sponsorship revenue
It's looking increasingly likely that the Tokyo Olympics will happen—not least because of the massive amount of sponsorship dollars at stake. Brands typically pay the International Olympic Committee for a four-year package, called a quadrennium, which gives them marketing rights to one Summer and one Winter Games. In total, the IOC is expected to bring in about $2 billion from global sponsors this quadrennium.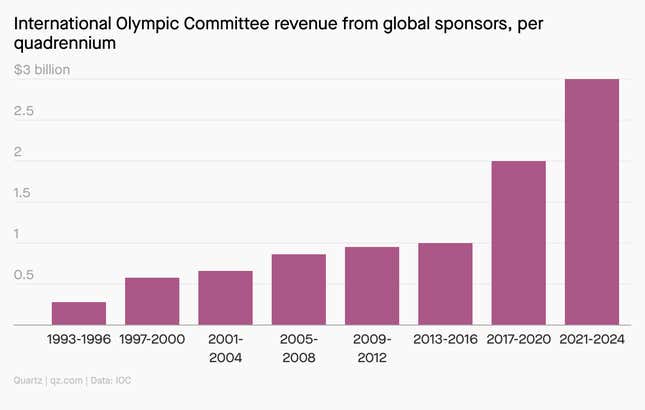 What the brands get out of this arrangement isn't always easy to quantify, but they're sure it's worth it. Adam Epstein explains why even in a pandemic there's no shortage of sponsors.
---
Is Depop worth $1.6 billion?
Etsy seems to think so—the online purveyor of homemade goods is buying the UK-based fashion resale marketplace for that tidy sum in a primarily cash deal. Launched in 2011, Depop's merchandise sales grew to $650 million last year, generating $70 million in revenue. The overall fashion resale market is now worth between $30 billion and $40 billion globally, according to Boston Consulting Group.
Marc Bain breaks down why Etsy made the deal:
💁 A younger clientele: The average Etsy seller is 39. At Depop, about 90% of its active users are younger than 26.
🛍 A loyal following: Depop's average active buyer made purchases six times last year, and 75% of merchandise sales come from existing buyers.
📈 Potential for scale: Etsy can share its expertise in search and help Depop boost its marketing, something the latter hasn't done much of thus far.
✦ Marc covers the future of retail, including in his most recent field guide on what stores are for now. Before you add a Quartz membership to your online shopping cart, you can try it free for a week.
Handpicked Quartz
🦺 It's time to learn if the new Nafta really protects workers
💼 The future of work according to Zoom
👎 The coronavirus pandemic has revealed capitalism's greatest weakness
📉 Facing labor shortages, companies are draining their inventories
🚘 Drivers in the US and UK have very different strategies for pressuring Uber
🌊 Why is Mukesh Ambani building an international undersea cable system?
(Psst.☝️ We took the last story out from behind our paywall. We found it that fascinating.)
---
Surprising discoveries
US troops stormed the wrong factory during a training exercise. No one was hurt, but the owner of the Bulgarian sunflower oil plant has filed a lawsuit. 
Elon Musk made "Baby Shark" stock rise. The man can't say a single thing without moving the market.
He's also got his eye on the restaurant biz. Tesla has applied for new trademarks in the food industry, presumably to realize its CEO's vision of a 1950s-style diner, only with Superchargers.
AMC is giving retail investors free popcorn. The movie theater meme stock wants to engage more with those who are sending its stock to the moon—and it's working.
The world's only alpine parrots may just be regular parrots who hate people. There's no real genomic adaptation that makes them need to live in New Zealand's mountains.
---
---
Our best wishes for a productive day. Please send any news, comments, meme stock tips, and associated rewards programs to hi@qz.com. Get the most out of Quartz by downloading our iOS app and becoming a member. Today's Daily Brief was brought to you by Hasit Shah, Sumnima Lama, Mary Hui, Tripti Lahiri, Sarah Todd, Liz Webber, and Susan Howson.