Good morning, Quartz readers!
Was this newsletter forwarded to you? Sign up here. Forward it to a friend so they can take a well-earned break from work.
---
Here's what you need to know
The US border reopened to fully vaccinated Canadians. They no longer have to quarantine on arrival, but most other restrictions remain in place.
Oil prices reached a six-year high. A dispute between Saudi Arabia and the UAE has blocked a supply increase.
Twitter has lost legal protections in India, the government says. The company hasn't complied with India's new IT rules, and is no longer immune from prosecution over users' posts.
The Ever Given is finally free. The infamous cargo ship will leave Egypt after its owners settled with the Suez Canal Authority for an undisclosed amount (plus a new tugboat).
England is scrapping most remaining Covid restrictions. Prime minister Boris Johnson confirmed that social distancing and face masks rules will likely end on July 19, despite the Delta variant. 
Iceland's experiment with a four-day week was a success, researchers say. Trials took place between 2015 and 2019, and productivity remained constant, or even improved.
The director of The Goonies, Lethal Weapon, and Superman died. Bronx-born Richard Donner was 91.
---
What to watch for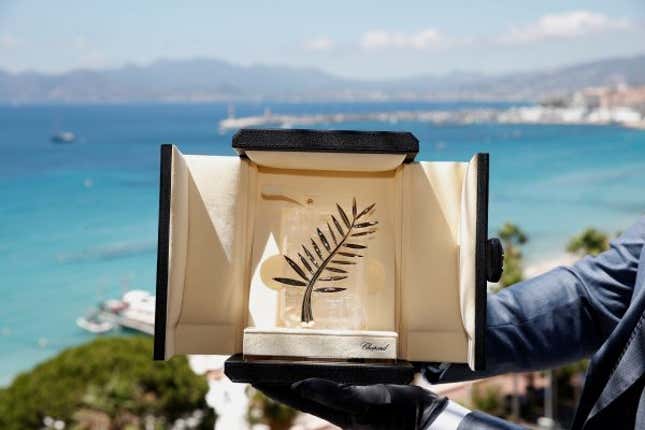 Today marks the return of the Cannes Film Festival, which is determined to prove to the world that "cinema is not dead," as artistic director Thierry Frémaux puts it. After a difficult year for the film industry—and the glamorous, star-studded festivals that support it—the iconic event is pulling out as many stops as it can.
2,300: Number of titles submitted, a record 
€20,000,000: Average budget for the festival
€24: The post-tax entry fee—a first this year—to help offset carbon emissions caused by festival-goers traveling to and from Cannes
4: Number of female directors whose films are in the running for the coveted Palme d'Or
20: Number of men whose films are up for the same award
0: Cheek-kisses that will be bestowed on the red carpet this year by Frémaux
---
Charting vaccines in Africa
When news broke last week that the EU's new vaccine passport does not include the Indian-made version of the AstraZeneca vaccine, called Covishield, public backlash was swift. The EU distinguishes between AstraZeneca's Vaxzevria shot and its identical, Indian-made version—Covishield—which is the main vaccine distributed in Africa and India.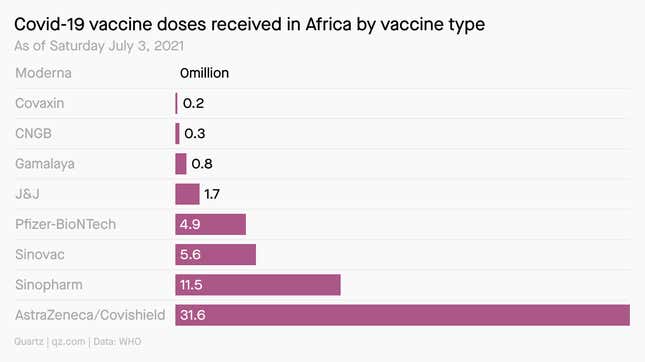 The move effectively cut off many Africans and Indians from any prospect of visiting European countries, when travel eventually reopens. On July 1, a handful of European countries reportedly recognized the Covishield vaccine, offering hope that more countries in the bloc may likewise recognize the vaccine soon.
---
Charting a course to Tokyo
In football, the pitch and goals are all the same size. With sailing, the waves are different, the tides are different, there are different temperatures, the wind is different. You need to learn the difference from venue to venue. —KC Ganapathy, Olympic sailor from India
KC Ganapathy and Varun Thakkar have been training in Portugal, where big waves and lots of wind create conditions similar to those in Tokyo. But it's taken years for the duo to get this far, stymied by a coaching void, a motorcycle accident, and, of course, the pandemic. Ananya Bhattacharya chronicles their journey to the upcoming Olympics, which has been anything but smooth sailing.
✦ We're setting our sails to cover the people, politics, and profits surrounding the Tokyo Olympics, which begins in a little over two weeks. To get the full experience, try a Quartz membership. And make sure you're signed up for our free Need to Know: Tokyo Olympics email—if not, click the button below!
Handpicked Quartz
(👇 We found the first one so fascinating, we decided to drop its paywall.)
😰 Why it's so risky for Indians to invest in bitcoin and cryptocurrencies
⛓ China is reining in one of its most successful tech businesses just days after its US IPO
💾 Reliance is establishing itself as a tech major—with shoddy websites and a poor social media footprint
🤰Should pregnant women in India get a Covid-19 vaccine?
🥛 A soy milk company is feeling the pain of Hong Kong's latest flashpoint with Beijing
⛏ Today's intense work culture has its roots in Soviet mining
---
Surprising discoveries
Russia says its sparkling wine is champagne, and French champagne is sparkling wine. In return, the French champagne industry wants to see how Russia likes going without it.
Parents of Alexas have a bone to pick with Amazon. They'd like the smart speaker's name to be something that doesn't turn a real-life Alexa into the butt of constant jokes.
Zero bedrooms, one bath. No amount of "microstudio" spin can erase the fact that a Vancouver apartment listing is just a bathroom with a bed in it.
Big cats are getting their Covid shots. Bears and ferrets are also being vaccinated as part of an experimental vaccine program at a California zoo.
Little cats are getting a curfew. A Melbourne municipality says it's too dangerous for felines to roam the streets.
---
---
Our best wishes for a productive day. Please send any news, comments, inoculated big cats, and stir-crazy little cats to hi@qz.com. Get the most out of Quartz by downloading our iOS app and becoming a member. Today's Daily Brief was brought to you by Hasit Shah, Annabelle Timsit, Uwagbale Edward-Ekpu, and Susan Howson.