Good morning, Quartz readers!
Was this newsletter forwarded to you? Sign up here. Forward it to a friend who can't decide if they're ready to go to a movie theater.
---
Here's what you need to know
There's a problem with the Boeing 787 Dreamliner. The US Federal Aviation Authority identified a production fault that must be fixed before further deliveries of the plane can commence.
Indian e-commerce giant Flipkart raised $3.6 billion. The Walmart-backed retailer's successful funding round gathered support from the likes of SoftBank, and Singapore's sovereign wealth fund.
Oil investors are rattled by the delta variant. Futures slid as Asian countries tighten Covid-related restrictions, and US cases climb. The International Energy Agency's monthly oil report is released today.
Bytedance's US IPO is reportedly on hold. The company behind TikTok is shelving its plans, the Wall Street Journal reports, because of China's ongoing crackdown on data security and foreign listings.
Cuba's nascent 3G network is enabling nationwide protests. Activists are able to organize marches via Telegram, livestream on Facebook and Twitter, and stay in touch with the diaspora. The Cuban president blames the US.
---
What to watch for
JPMorgan Chase and Goldman Sachs kick off the latest round of bank earnings today with numbers that should be much better than a year ago, when the pandemic was fresh and lenders were girding for it by building up reserves.
But Wall Street's mainstay activities have been a mixed bag of late. While market volatility is way down (good for your nerves, but bad for trading revenue), investment bankers are busier than ever, advising on mergers and acquisitions, and taking firms public. Here's a quick look at how different factors will affect the big banks' second-quarter results:
📉 Trading
📉 Loan growth and card balances
📉 Interest rates and net interest margin
📈 IPOs
📈 M&A 
Bank of America, Citigroup, and Wells Fargo join the earnings party on Wednesday.
---
Charting investors' unrealistic expectations for Anil Ambani
Companies led by Anil Ambani—brother to Mukesh Ambani, India's richest man—have piqued the interest of stock market investors, leading to unrealistic rallies in their share prices. While Mukesh is known for making stellar business moves, Anil's companies have been mired by scandals and losses, and his personal net worth dropped from $42 billion in 2008 to zero last year.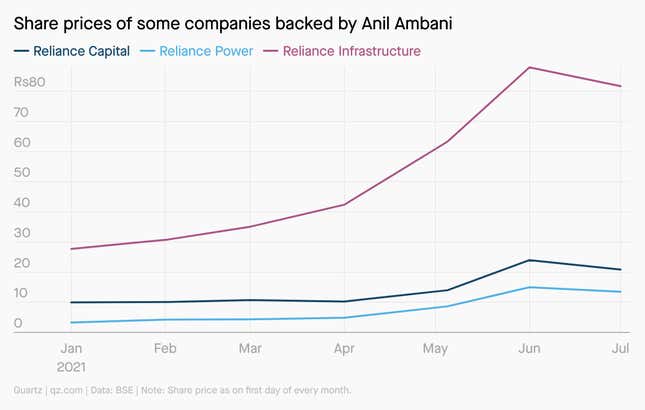 The recent rally in these firms' shares can be attributed to fresh capital infusion by promoters, asset monetization, and progress on debt resolution processes. Experts say any hopes that Anil's fortunes have reversed are extremely optimistic.
---
Hiring diverse candidates requires more than just talk
Many companies have committed to improving diversity within their ranks, starting with hiring more women and people of color. But even with the best of intentions, unconscious biases can keep firms from meeting their goals.
✍️ One recent study found women whose cover letters were less feminine-sounding were less likely to be hired for jobs—including those in male-dominated industries—because they weren't meeting stereotype expectations.
🌈 Another study showed when women and people of color are in charge of hiring, the applicant pool is likely to be more diverse than when the hiring manager is a white man.
Ultimately, it's up to organizations to improve the hiring process by finding ways to remove gender bias and reach a broader network of candidates.
✦ The Quartz at Work team has even more tips for hiring and beyond in the field guide to building an anti-racist company. Try membership free for a week.
Handpicked Quartz
(👇 The first one is so good, we decided to drop its paywall.)
⛏ A new US-Europe rare earths supply chain is using a "very Chinese model" to counter China
💉 Why Taiwan's tech giants had to step in to source vaccines for the government
🗳 Do Africans value development over democracy?
👟 China's Anta is about to become more valuable than Adidas
⚽️ London's weekend of sport was one giant Covid experiment
🦚 Peacock's moment to shine is finally here with the Olympics
---
Surprising discoveries
A Super Mario 64 cartridge sold for $1.5 million. And nobody had to shove their brother out of the way to get it.
Peloton is the highest paying music streaming service. The fitness company doesn't give artists more money on purpose—it's complicated.
Goats could keep wildfires at bay. All by doing what they do best: eating plants that could otherwise become fuel.
Dubai is now home to the world's deepest pool. At 196 feet, Deep Dive Dubai is a veritable theme park for diving enthusiasts.
Could calmer music slow Covid transmission in gyms? South Korea has banned energetic beats to keep panting at a minimum.
---
---
Our best wishes for a productive day. Please send any news, comments, slow playlists, and underwater cities to hi@qz.com. Get the most out of Quartz by downloading our iOS app and becoming a member. Today's Daily Brief was brought to you by Hasit Shah, Heather Landy, Niharika Sharma, Sarah Todd, Lila MacLellan, Liz Webber, and Susan Howson.