Good morning, Quartz readers!
Was this newsletter forwarded to you? Sign up here.  Forward to a friend who never eats out.
---
Here's what you need to know
The largest forest wildfire in US history ravaged Oregon. The so-called "Bootleg Fire" spread to an area the size of Los Angeles over the weekend.
​​US diplomats in Vienna are complaining of a mysterious brain illness. More than 20 staffers have reported symptoms of a "cognitive fog" similar to Havana Syndrome.
Haiti's first lady returned home to bury her husband. Many are speculating that Martine Moïse will take an active role in the country's fragile political landscape.
Three people were wounded during a shootout outside Washington's baseball stadium. Fans were asked to shelter in place and the game was eventually suspended.
Thais are calling for prime minister Prayuth Chan-ocha's resignation. The retired army general is being blamed for the recent spike in Covid-19 cases in the country.
UK prime minister Boris Johnson will quarantine. He was potentially exposed to Covid-19 after meeting with a minister with mild symptoms.
---
What to watch for
On Monday (July 19), England and Scotland will lift most remaining Covid-19 restrictions. Some have dubbed the date—which was originally scheduled for June 21 but pushed back by a month to allow more people to get vaccinated—"Freedom Day."
The term is controversial, as is the idea of lifting public health restrictions while the more contagious Delta variant causes a surge in Covid-19 cases and hospitalizations. Wales lifted its rules July 17 and Northern Ireland is scheduled to follow July 26.
Currently, across the UK, there are:
🤒 48,553 new cases per day
☠️ 63 daily deaths within 28 days of a positive test
🏥 582 daily hospital admissions
In the medical journal The Lancet, a group of healthcare experts called the decision "dangerous and premature," and said letting the virus run amok will "disproportionately affect unvaccinated children and young people." In England, only 16.4% of 18-to-24-year-olds are fully vaccinated, and most children under 18 have not been offered a vaccine.
---
Charting the flurry of venture deals
Investment in US startups is exploding, with the flow of money on pace to exceed $200 billion this year. That would easily break a record set last year.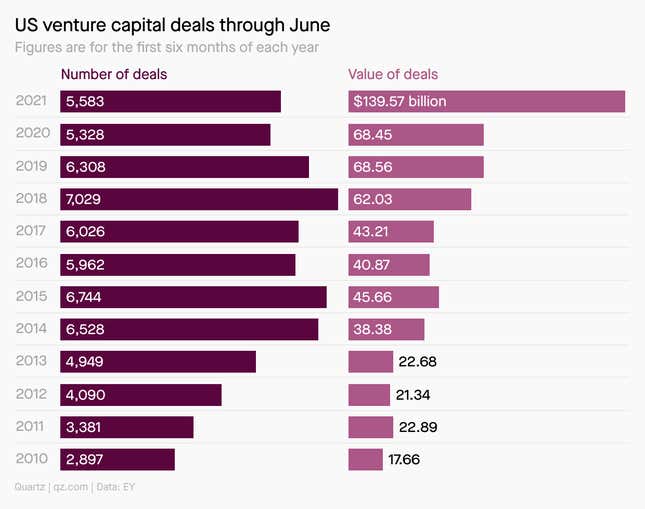 The size of the deals are bigger than ever, too, said Jeff Grabow, who heads the venture capital practice for EY, as sovereign wealth funds and private equity are investing alongside traditional venture capital firms.
The frenzy has been fueled by the pandemic, Grabow said. As the world changed how it worked, traveled, and shopped last year, companies sprung up to develop new technologies to help us adapt.
---
Not so Farfetched
For most of luxury fashion, online sales are an afterthought. Brands use the internet to showcase their latest styles, and entice shoppers to their boutiques. Farfetch is working to change that, by representing 3,500 clothing labels on its site, and hosting a platform for companies to build their own sites.
As founder and CEO José Neves put it to analysts during an earnings call in February, the company's goal is to be "an operating system and digital enabler for the entire global luxury industry."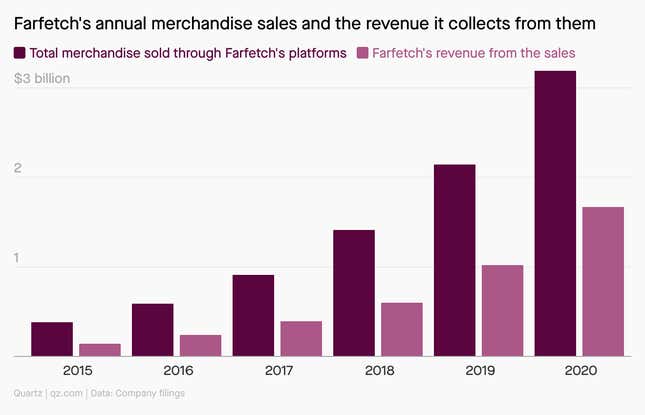 Luxury brands have traditionally been slow to embrace e-commerce but the pandemic generated new shopping habits. By 2025, online sales of personal luxury goods are projected to reach as high as €115 billion ($136 billion), up from €33 billion in 2019.
✦ There's nothing fashionable about being uninformed. Support what we do—and read every bit of it—by trying out a membership.
---
Handpicked Quartz
(👇 The first one is so good, we decided to drop its paywall.)
⏩ The Anthony Bourdain audio deepfake is forcing a debate about AI in journalism
👎 Sex testing at the Olympics has always been wrong
🔥 Is complaining about your colleagues a fireable offense? Netflix says yes
💳 Who will benefit from the Mastercard ban in India?
👛 US clothing sales are setting new records, but can it last?
🏍️ Nigeria's ride-hailing startups are trying to survive their worst days
---
Surprising discoveries
Spike Lee bombed in Cannes.The director prematurely mentioned a historic win for French filmmaker Julia Ducournau at the beginning of the ceremonies.
Starchitect-designed toilets are opening throughout Tokyo. The 17 Instagram-worthy public restrooms are meant to be emissaries of Japanese hospitality.
The Olympic ceremonies composer was a terrible bully. Musician Keigo Oyamada (a.k.a. "Cornelius" or "Japanese Beck") apologized for tormenting disabled classmates.
The earliest named writer in history was a woman. Enheduanna, a poet and high priestess in ancient Mesopotamia, is the subject of a forthcoming exhibition at New York's Morgan Library.
There are sunglasses specifically designed for Black faces. The "Afropolitan" shades, fitted for low and wide nose profiles, could also work for east Asians and people with Down syndrome, designers say.
---
---
Our best wishes for a productive day. Please send any news, comments, startup investments, and amazing toilets to hi@qz.com. Get the most out of Quartz by downloading our iOS app and becoming a member. Today's Daily Brief was brought to you by Annabelle Timsit, Marc Bain, Anne Quito, and Oliver Staley.