Good morning, Quartz readers!
Was this newsletter forwarded to you? Sign up here. Forward to that friend you have who's most likely to get hooked on livestream shopping. 
---
Here's what you need to know
Why Robinhood shares fell in the first day of trading. After a slow opening on its debut yesterday, the retail trading app has been sliding; Quartz's John Detrixhe explains what's going on.
Scarlett Johansson and Disney are at war. The Black Widow star filed a lawsuit over potentially lost earnings, but the company accused her of "callous disregard for the horrific and prolonged global effects of the Covid-19 pandemic."
Joe Biden encouraged $100 vaccine incentives. The US president is concerned about rising Covid cases in many states as the delivery of shots slows down, with EU vaccine rates now overtaking the US.
Amazon made nearly $30 billion in profit last year. But "people are getting out more and doing things besides shopping," said finance chief Brian Olsavsky.
Didi denied it is considering going private. According to the Wall Street Journal, the ride-hailing app is thinking of making the move to compensate investors, just weeks after its IPO.
Japan expanded its states of emergency. The increased coronavirus restrictions around Olympic host city Tokyo and Osaka are in response to a continuing surge in cases.
What to watch for
The national moratorium on evictions in the US is up this Saturday. It was first put in place as a public health measure, so that people who lost their income would not be left without housing, or forced to crowd together in relatives' homes or homeless shelters, where Covid-19 would be more likely to spread. Now, after four extensions, the protections are finally being lifted.
This is bad news for the 3.6 million American renters who are likely to face an eviction within two months, according to the latest US Census Bureau data. Collectively, Americans might owe more than $50 billion in back rent, according to some estimates.
Rental assistance could help, and federal money has been allocated for this, but so far, only 6.5% of available funds have been distributed.
---
Charting the link between dementia and air pollution
Scientists are growing more confident that air pollution—especially from particulate matter less than 2.5 microns wide, known as PM 2.5—significantly raises the risk of Alzheimer's disease and other forms of dementia, according to a series of separate studies published in July.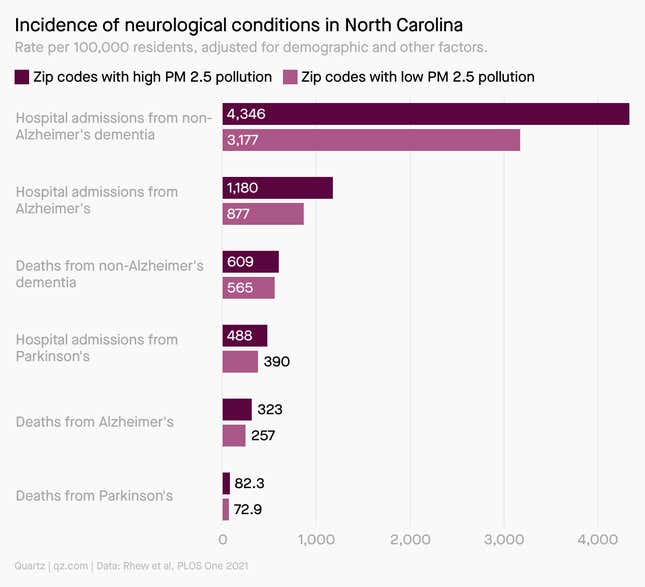 Air pollution is far from the most decisive factor for dementia risk. About 70% of risk stems from an individual's genetic predisposition to the disease, and the remainder comes down to age, lifestyle, and environmental factors. Still, all else being equal, PM 2.5 pollution clearly substantially elevates risk, and it should be a concern for countries where it remains elevated—Bangladesh, Pakistan, and India rank highest in the world.
---
Chips move everything around me
Chips are in a ton of products consumers love, but the current global shortage is putting a damper on spending. The pandemic caused a surge in demand for electronics, which left chip manufacturers exposed to the inefficiencies in the global supply chain. Now governments and countries are working together to boost manufacturing capacity and meet the needs of a rapidly digitizing world.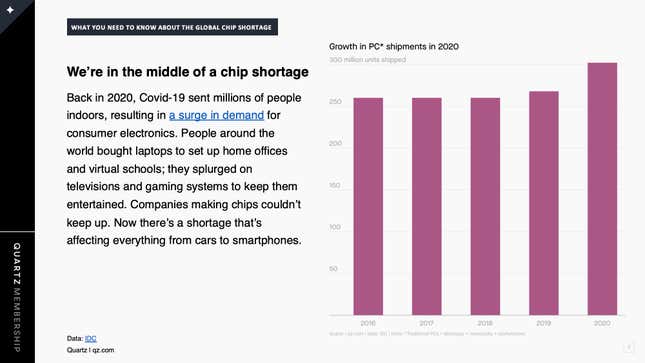 Read more in our latest presentation on what's causing the global chip shortage.
---
You asked about breakthrough infections
What is a breakthrough infection and what does the delta variant have to do with it?
You've been vaccinated, you're following mask guidelines—how much should you worry about getting a so-called "breakthrough" infection of Covid-19? The reality is that there were always going to be Covid infections among the vaccinated, though they only rarely lead to hospitalization or death, if they're symptomatic at all. The problem with the delta variant is that, while it's not more severe, it is much more contagious—and this virus was plenty contagious to begin with.
So that means more breakthrough infections that spread more delta variant cases, which in turn lead to more hospitalizations and deaths among the unvaccinated, more virus replication, and therefore more dangerous variants. That's why calls for vaccination (our best defense) and masking (still a pretty good one) are only getting louder.
---
Handpicked Quartz
(👇As always, the first story in this list is paywall-free. Want all of them to be? Try a Quartz membership free for a week.)
🚀 SpaceX just saved NASA $500 million with one rocket
🤑 Is McKinsey wrong about the financial benefits of diversity?
💰 The Party's assault on the private sector is roiling China's billionaire ranks
💍 The future of social media looks a lot like QVC
🖌 Being your authentic self is actually not ideal for creativity
🐎 The UK economy is barreling toward normalcy
Surprising discoveries
What's the longest running animated kids show in the US? The 25-year-old PBS program, which may not have been your first guess, is calling it quits.
Scooter loot. A jewel thief in Paris chose an unconventional (and unsuccessful) getaway vehicle.
Oceans have a "false bottom." Sonar technology helped scientists understand that what they thought was an ocean floor is actually a "twilight zone" teeming with life.
US governments seized a stolen artifact from Hobby Lobby. The arts and crafts chain had bought a cuneiform tablet at auction to display at a Bible museum—a cuneiform tablet that had been stolen from Iraq, that is.
Fencers weren't fencing enough. The Olympians were spending too much time standing around, but a new rule forces them to fight.
---
---
Our best wishes for a productive day. Please send any news, comments, action-oriented rules, and recovered artifacts to hi@qz.com. Get the most out of Quartz by downloading our iOS app and becoming a member. Today's Daily Brief was brought to you by Hasit Shah, Tim McDonnell, Camille Squires, and Susan Howson.