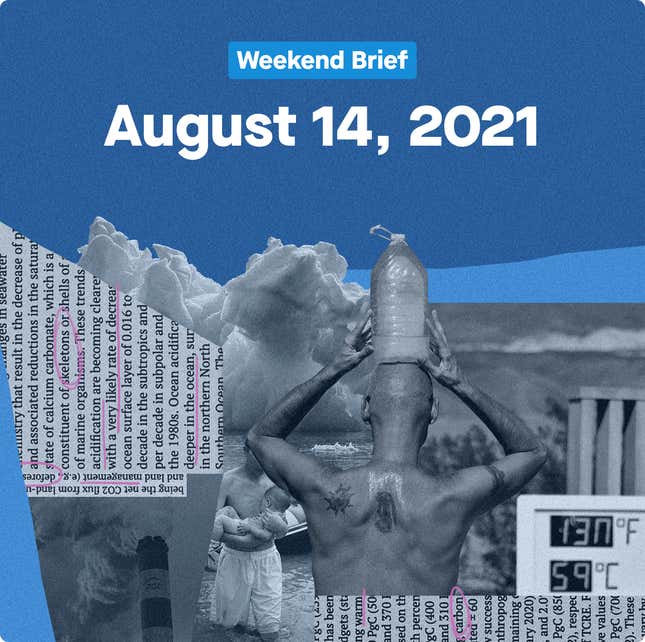 Good morning, Quartz readers!
This is the second edition of the refreshed Weekend Brief, where every Saturday we break down a big story, and share our favorite links from Quartz and elsewhere. Yes, links from elsewhere are back!
Starting in September, the Weekend Brief will be exclusive to Quartz members, so take 50% off your first year to keep this edition coming. And if you're already a member, here is a haiku in your honor: The work that we do / Wouldn't be possible if / You didn't exist. 🙏
Okay, let's get started.
---
Seeing code red
Jochem Marotzke grew up in Cold War-era Germany, and was preoccupied, like everyone else, with nuclear war. Diplomacy and activism were important, he realized, but the crisis was binary: Either the bombs start falling, at which point the marginal value of one more summit or protest falls immediately to zero, or they don't.
Now, as a climate scientist at the Max Planck Institute for Meteorology, Marotzke is working to tackle a fundamentally different crisis. Because when it comes to the planet, no matter how bad things get, humanity will never lose the ability to make them a little less bad.
That is a key conclusion of this week's Intergovernmental Panel on Climate Change (IPCC) report, which Marotzke helped author. It was also the takeaway most obscured by this week's doom-and-gloom headlines. Is climate change bad? Yes. Are many impacts already here, and irreversible (at least for centuries)? Yes. Is it humanity's fault? "Unequivocally," the report says.
Yet the report makes clear that every fraction of a degree of warming makes a tangible difference to the frequency and severity of impacts we will experience. Likewise, every avoided ton of CO2 emissions truly matters. That's scary, because it guarantees things will get worse. But it's the closest thing to optimism we have, because it means every action individuals, companies, or politicians take does make a genuine difference, and will continue to make a difference no matter what.
The IPCC report isn't a death sentence. It's a call to action. And it has one thing in common with the specter of nuclear holocaust: Millions of lives are at stake. "It's never too late," Marotzke says. "And there is no point of no return." —Tim McDonnell
---
---
The backstory
The IPCC report is a big deal. Every five years, hundreds of scientists get together to present the best available science on what's happening to the climate. This is the sixth assessment report; the first was in 1990.
It isn't just about science. Sure, scientists sign off, but so do nations. That means 195 governments said "Yes, agree" to a report that blames them for the lack of progress on climate change.
This year's report factors in politics. Climate models incorporated into the assessment for the first time tell us how the world might evolve under different political circumstances.

---
Yes, we're sure
The first scientist to measure carbon dioxide's potential to absorb heat was an American woman, Eunice Foote, in 1856. She filled one glass cylinder with carbon dioxide, another with air, and set them out in the sunshine. Her scientific brief recorded the temperature in the carbon dioxide-filled cylinder as rising much higher than in the one with air.
Ever since, scientists have been steadily building confidence in the idea that humans are changing the climate through emissions, and the sixth IPCC report is the most certain assessment yet. Compared to the 2013 report, the portion of statements expressing "high confidence" rose from 36% to 56%.
Want to go deeper? We created an interactive "heat map" of scientists' confidence in their conclusions.
---
What to watch for next
---
Jargon offsets
At more than 4,000 pages, the IPCC report is a doorstopper, and scientists aren't known for their conversational tone. Here's one emblematic paragraph:

TLDR: Climate models are getting better, more precise, and more accurate at predicting regional impacts. While comprehensiveness is the name of the IPCC game, it's no wonder some takeaways get missed.
---
7 Quartz stories to talk about
🏢  The psychological case for delaying office reopenings
🇮🇳  India has its first cryptocurrency unicorn
😔  No one will talk about Kenya's booming skin-lightening business
💼  There is no such thing as a low-skilled worker
🚀  This is NASA's starchitect-designed condo for Mars
🧑‍🎓  Beijing's private-tutoring crackdown is upending lives
💰  Hackers are returning the spoils of the world's largest crypto heist
---
5 great stories from elsewhere
💸   The guy who lost $20 billion is chilling in New Jersey. Bloomberg checks in with Bill Hwang, who lost a fortune (but not everything?) in the April collapse of Archegos Capital Management.
😬  That trendy startup doesn't make what it's selling. The Strategist goes down a rabbit hole on Doris Dev, an agency that handles startups' product design, engineering, sourcing, and manufacturing.
❤️  What Bobby McIlvaine left behind. The Atlantic takes a sweeping look at one person who died on 9/11, and everything his family has gone through since.
😈  He predicted the dark side of the internet. The Washington Post examines the legacy of Philip Agre, a humanities professor whose prescient perspective on tech was too often ignored.
🙃  Emoji have different meanings. The Wall Street Journal explains why a smiley isn't just a smiley, and assures us that 😂  is no longer cool. Spoiler: This article will age you.
Thanks for reading. And don't hesitate to reach out with comments, questions, or topics you want to know more about.
Best wishes for a hopeful weekend,
Tim McDonnell, climate reporter (and cautious optimist)
Michael J. Coren, tech and science editor (and de-jargoning wizard)
Kira Bindrim, executive editor (and resident cynic)