Good morning, Quartz readers!
Was this newsletter forwarded to you? Sign up here. Forward to the friend who's wondering what happened to that Squid Game meme coin.
---
Here's what you need to know
Evergrande has been scraping some money together. The troubled Chinese real estate developer may be able to make some of its looming bond payments this week after it sold a portion of its stake in a film production and media company.
Tesla's stock slid after Elon Musk's Twitter followers directed his next move. His poll—which he said he'll honor—about whether to sell $21 billion in Tesla shares illustrated how US Democrats' unrealized capital gains tax could work.
Facebook's whistleblower spoke to the European Parliament. Former employee Frances Haugen said the platform does little in the way of safety measures for non-English speakers.
Nextdoor went public through a SPAC. The neighbor-connecting app, which has received its share of criticism, saw a surge of interest at the height of the pandemic.
Barack Obama told young people at COP26 to "stay angry." The former US president admitted not enough has been done since the 2015 Paris Climate Agreement, where rich countries made promises on which poorer countries accuse them of reneging.
Joe Biden will pick up another Federal Reserve seat. In addition to choosing a new chair when Jerome Powell's term is up in February, the US president will get to replace resigning Fed governor Randal Quarles.
---
What to watch for
Hertz, the US rental car giant that has whipsawed between bankruptcy and a resurgent $16 billion valuation, plans to list on the Nasdaq this week.
But all eyes have been on the splashy deal Hertz may or may not have struck to buy 100,000 electric cars from Tesla and rent half of them to Uber. Amid conflicting reports, we've summed up two truths and a lie:
Truth: Hertz ordered 100,000 cars from Tesla, sending the stock prices of both companies soaring.
Truth: Tesla has begun delivering cars to Hertz. Hertz revealed it had already started receiving deliveries from Tesla on Nov. 2.
Lie: Tesla signed a contract with Hertz to deliver all those cars by the end of 2022. Hertz's original announcement included the end-of-2022 timeline, but the Wall Street Journal reports that the two sides are still hammering out terms and Hertz isn't getting any special treatment.
---
Thank the teens
Businesses are still reeling from labor shortages. But industries as varied as restaurants and retail to trucking have started filling the gap with an unlikely labor force: teens.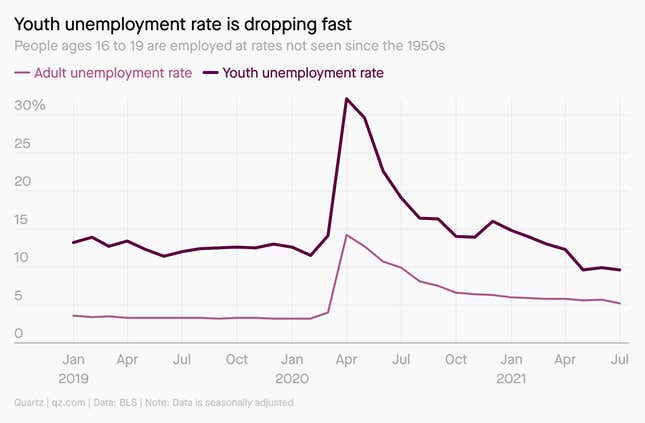 In the US, 16- to 19-year-olds are employed at higher rates than have been seen in decades, according to data from the Bureau of Labor Statistics. As of July 1, the youth unemployment rate was 9.6%, down from a pandemic peak of 32%.
But there's concern that working too many hours can have negative effects on adolescents' academic performance, participation in extracurricular activities, and getting enough sleep. And some fear that since white teens are employed at higher rates than their nonwhite peers, not all teens will reap the benefits of work experience.
---
Step aside, QVC
Livestream shopping is big business—at least in China, where what was only a $3 billion industry in 2017 has quickly ballooned, and is expected to take in $423 billion by 2022 across products.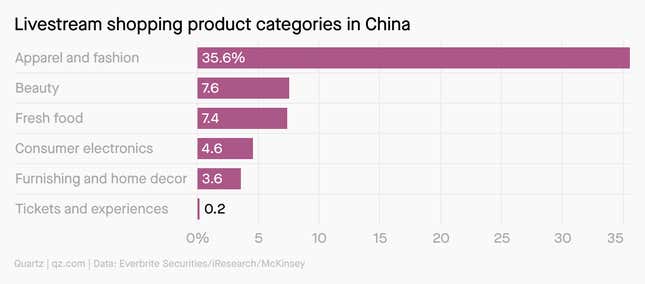 Part of the reason livestream shopping has taken off in China is because social media, e-commerce marketplaces, and payment options are often integrated in one app. Were there a Facebook-Amazon-PayPal integration, Americans might already be shopping on livestreams.
The future of the shopping experience was the topic of our latest Forecast email, which gives Quartz members insight into emerging trends in retail and beyond. ✦ Try a free seven days to get a full week of our member-only content.
---
Handpicked Quartz
🔌  Cadillac is dropping hundreds of dealers who aren't ready for electric cars
🏗  What the $1.2 trillion US infrastructure bill is doing for construction stocks
🛍  The metaverse can't go mainstream without brick-and-mortar stores
⛏  How economic sanctions drove money transfers in west Africa underground
💵  Demonetization didn't go as planned in India
🏠  A surge in the US affordable housing supply is coming
---
Surprising discoveries
Eight camels and one llama had a night out in Madrid. The circus they escaped from blamed animal rights' activists.
A pair of bionic gloves helped an injured pianist get back to it. Their innovative design was inspired by Formula 1 cars' rear suspension mechanism.
Head-tilting is the sign of a gifted dog. Also, each dog has a tilt-side preference.
A South Carolina recycling bin washed up in Ireland. Myrtle Beach authorities said surely a major weather event sent it on its transatlantic journey.
Nintendo promised a new console before 2100. At least the Japanese video game icon wasn't willing to overpromise and underdeliver.
---
---
Our best wishes for a productive day. Send any news, comments, long-lost sea treasures, and your best dog tricks to hi@qz.com. Get the most out of Quartz by downloading our iOS app and becoming a member. Today's Daily Brief was brought to you by Nicolás Rivero, Alexandra Ossola, Scott Nover, Susan Howson, and Morgan Haefner.