Good morning, Quartz readers!
Was this newsletter forwarded to you? Sign up here. Forward to your nicest friend.
---
Here's what you need to know
Rivian raised $11.9 billion in its IPO. The listing is the sixth largest in US history and the biggest globally this year. It values the electric truck maker higher than Ford Motor and rival Lucid Group.
China and the US made a surprise agreement at COP26. In a rare moment of cooperation, the two countries pledged to work together in the 2020s to cut emissions. The announcement comes on the heels of the summit's first draft deal.
Evergrande is slowly being dismantled. According to The Wall Street Journal, China is quietly selling off some of the troubled property developer's assets to Chinese companies to "manage a controlled implosion."
Facebook and Instagram banned some ad targeting. Parent company Meta said it won't let advertisers reach users based on their interaction with content about race, sexual orientation, and religion.
The EU won a big, anti-competition case against Google. A European court ruled that Google was favoring its own comparison shopping services in its search results. Google will have to pay a $2.75 billion fine, and the verdict may pave the way for other cases against the company.
US inflation hit a 30-year high. Consumer prices jumped 6.2% in October, with a mix of supply challenges and strong demand driving up the cost of just about everything.
What to watch for
Singles Day, the annual online shopping event invented by Alibaba, kicked off officially at midnight in China. When it began in 2009, China still gave its tech giants free rein, but Beijing has recently been checking the untamed growth of its internet giants and the power of their billionaire founders.
The event begins in the midst of COP26, the UN climate summit. Singles Day 2020, which saw $115 billion in sales from China's top two e-commerce firms, led to nearly 4 billion parcels being shipped, about 20% of which were plastic. This year, Alibaba platforms will feature more sustainable products and packaging (it's unclear how products will qualify).
That's nice. But, as with Black Friday shopping in the US, Singles Day will still be a stark illustration of a flawed economic model that, in its obsession with selling stuff, fails to account or pay adequately for the environmental costs involved.
---
The used car effect
US consumer prices rose at the fastest pace in 30 years in October, as pandemic-related supply chain issues and surging demand lifted prices of everything from gasoline to homes by an overall 6.2% from last year. After slowing down for three months, inflation is accelerating again, fueling concerns that prices could spin out of control and interrupt the US recovery.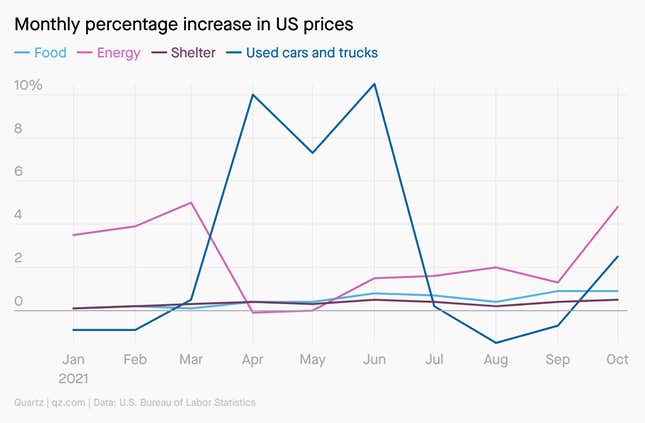 Back in June, overall inflation rates were similar, but a single item, used cars, was largely behind the increase in the overall rate. This time around, prices for almost everything went up, with energy accounting for a big portion of the monthly rise. Inflation for these items should slow down as supplies normalize, like it did with used cars.
---
🎧 This week on the Quartz Obsession podcast
Oat milk: Don't call it creamy. If you're concerned about sustainability and wellness, chances are you're a consumer of oat milk, the latest star in the alternative milk scene. But does oat milk have appeal around the world? And who will lose out as big dairy muscles into the alt-milk space?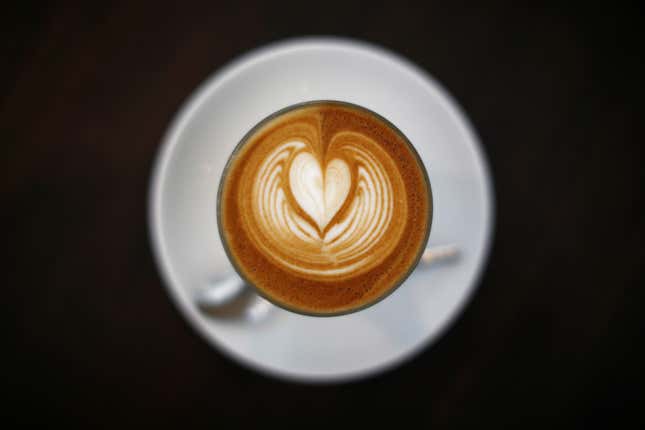 Sponsored by American Express
Check out this week's episode of the Quartz Obsession podcast, with Quartz reporter Sarah Todd taking the plunge.
Listen on: Apple Podcasts | Spotify | Google | Stitcher
Handpicked Quartz
👋 There is no shortage of US truck drivers
🍿 Food delivery's M&A frenzy is just getting started
🖼 Beeple is changing the relationship between the artist and the collector
🔨 What does the breakup of GE say about the future of conglomerates?
💺 Covid helped kickstart the age of cargo drones and air taxis
🗺 3 tips for young employees navigating hybrid work environments
Surprising discoveries
Don't call, don't text. Bosses who do so after office hours in Portugal may be penalized under a new remote work law.
Bees scream with their bodies. Especially when there are giant hornets around.
A Japanese train driver has sued over 49 cents in docked pay. The train company's "no work, no pay" policy apparently applies to one-minute delays.
Astrophysicists have found a lot of ripples in the fabric of space-time… Two of the 35 latest detections include collisions of very large black holes,
…Which are much bigger than Timbiebs, the donut holes inspired by Justin Bieber. The singer teamed up with Canadian fast food chain Tim Hortons for three new flavors.
---
---
Our best wishes for a productive day. Send any news, comments, and a year's worth of oat milk lattes and sugary pastries to hi@qz.com. Get the most out of Quartz by downloading our iOS app and becoming a member. Today's Daily Brief was brought to you by Tripti Lahiri, Nate DiCamillo, Susan Howson, Morgan Haefner, and Samanth Subramanian.