Good morning, Quartz readers!
Was this newsletter forwarded to you? Sign up here. Forward to a friend who gets weed delivered.
---
Here's what you need to know
India's stock market is struggling after Paytm and Reliance suffered big setbacks. But the former's disappointing IPO and the latter's evaporated Aramco deal aren't solely to blame for the plunge.
UK energy supplier Bulb is going into administration. It's the latest—and largest—in the industry to falter as wholesale fuel prices surge. Europe and the UK are burning record amounts of coal as the energy crisis deepens.
The US is planning to open oil reserves. The coordinated effort with China, India, Japan, and South Korea aims to reduce prices for consumers, though OPEC+ says it's not necessary.
Austria went back into lockdown. As covid-19 cases soar on the continent, other western European leaders called for tighter restrictions and urged vaccinations lest their countries have to follow suit.
Jerome Powell may get a second term as head of the Fed. US president Joe Biden nominated the current Federal Reserve chair amid some Democrats' objections. If approved, Powell will face tougher choices this time around.
Ericsson agreed to buy Vonage. The $6.2 billion purchase of the New Jersey-based cloud communications provider will be the Swedish telecom company's biggest deal to date.
Japan is ramping up electric vehicle purchase incentives. Tokyo announced it would also double infrastructure subsidies in an attempt to catch up to the US and Europe.
---
What to watch for
For a year, Amazon has stalled a $3.4 billion deal between Reliance Retail and Future Group, India's largest and second largest retailers, respectively. Today is the final supreme court hearing on the matter.
August 2020: Reliance Retail announces it will buy retail, wholesale, logistics, and warehousing assets from Future Group.
October 2020: Amazon, which has a 49% stake in promoter entity Future Coupons (translating to a 10% stake in Future Retail), blocks the deal by obtaining an emergency order from the Singapore International Arbitration Centre (SIAC). Reliance and Future try to ignore the stay.
November 2020: The Competition Commission of India approves the deal.
January 2021: The Security and Exchanges Board of India gives its OK.
August 2021: India's supreme court upholds SIAC's emergency order.
November 2021: The court asks Future Retail to stop pursuing the matter in all other forums. If the deal falls through, Future may be out of options.
---
We know you've got options for where you get your news. Tell us about yourself, why you read Quartz, and what you're obsessed with by taking our audience survey and we'll make it worth your while. Complete the survey and you'll be entered for a chance to win a $250 Amazon gift card.
---
The excitement over options trading
Retail investors are moving from stocks to options, which offer a cheap way for traders to bet on a stock going up or down in price without having to actually purchase the shares.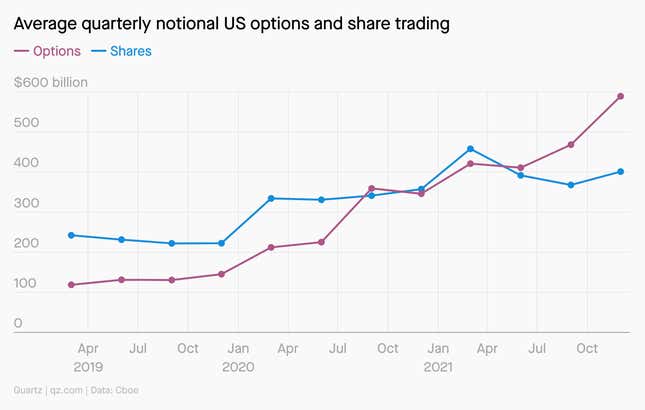 The boom in options could be making financial markets more volatile, but it's possible to overstate their influence. While trading in options linked to GameStop skyrocketed in early 2021, a report by the US Securities and Exchange Commission found no evidence it had unintended consequences on the share price from market makers racing to hedge the options activity. Quartz came to a similar conclusion when reporting on Robinhood options.
---
When you're excited about your (job) options
So you've decided, like so many other people, that it's time to quit your job. But that doesn't mean you want to burn a bridge.
You'll almost certainly be asked to submit a resignation letter after you announce your intention to leave. Paul McDonald, senior executive director at Robert Half, says its best to keep it simple:
Start by succinctly stating that you have accepted another position, and are resigning.
In a sentence or two, express your gratitude for the opportunities and experience the organization has provided you.
Close by stating the final date you'll be on the job, and offer to help transition your duties and responsibilities to your replacement.
Read more on how to handle conversations with your current employer before and after writing that email in How to send a resignation letter, our latest in a weekly series of member-exclusive emails for navigating everyday challenges in work and life.
Handpicked Quartz
🤳 China's common prosperity drive is taking aim at wealthy internet influencers
🎁 Shortages, not shipping costs, are driving up the price of holiday gifts
🎣 Africa doesn't reap the rewards of its $24 billion marine fisheries industry
🤝 How to create meaningful allyship at your organization
🇳🇬 The US secretary of state offered advice to Nigeria on police brutality
🚗 Indian car manufacturers just had their worst festive season in a decade
---
Surprising discoveries
A fake hitman-for-hire site traps those plotting murders. The site's astonished creator has been sitting back and watching the requests come in since 2005.
Octopuses, crabs, and lobsters are getting more rights. The UK is expanding their protections after a report showed they experience pain and distress like other animals.
El Salvador is building a "bitcoin city." If that sentence weren't weird enough, please know that the tax-free metropolis will be powered by a volcano.
NASA is sending a spacecraft to blow up an asteroid. It's a test to see if humans can actually prevent an apocalyptic collision in the future, instead of just writing movies about it.
Kudzu didn't have a natural predator in the US until the 21st century. Unfortunately, the "kudzu bug" is now also considered an invasive species, since it discovered soybean crops are also tasty. The kudzu episode of the Quartz Obsession podcast digs into how humans tend to let a single mistake turn into acres and acres of them.
🎧 Listen to all this season's episodes on Apple Podcasts | Spotify | Google | Stitcher
---
---
Our best wishes for a productive day. Send any news, comments, helpful bugs, and happy cephalopods to hi@qz.com. Get the most out of Quartz by downloading our iOS app and becoming a member. Today's Daily Brief was brought to you by Ananya Bhattacharya, John Detrixhe, Susan Howson, and Liz Webber.