Good morning, Quartz readers!
Was this newsletter forwarded to you? Sign up here. Forward to the friend who drowns pancakes in maple syrup.
---
Here's what you need to know
Travel bans are back after the discovery of omicron. The World Health Organization designed it a variant "of concern," but it's not yet known whether it can beat vaccine protection. It's probably already in North America, too. (See more below.)
Moderna shares surged. The company said it could adapt its vaccine by early 2022, but despite investors' optimism, it's not clear if a new or modified vaccine is needed.
Virgil Abloh died aged just 41. The influential LVMH artistic director and Off-White founder had been privately undergoing treatment for cardiac angiosarcoma, a rare cancer, since 2019.
Nissan unveiled an $18 billion EV plan. The world's third biggest car maker has trailed its rivals for years, and today announced its first-ever comprehensive electrification schedule.
Macau casino shares plunged following arrests. Police detained 11 people over allegations of money-laundering and illegal betting in the world's biggest gambling jurisdiction.
What to watch for
Omicron is here, and the world is reacting swiftly with travel bans, mask mandates, and renewed calls for vaccine uptake, as most covid-19 deaths are among the unvaccinated.
South Africans are especially unhappy: Their scientists identified omicron, and alerted the world, but they are suffering most from the sharp global reaction, which may be about politics as much as public health. "Excellent science should be applauded and not punished," said the South African foreign ministry on Nov. 27.
The symptoms may differ from the delta variant, according to the South African doctor who discovered omicron, and the key questions are:
Can omicron break through vaccine protection against infections?
And more importantly, can it break through vaccine protection against severe disease, which could lead to hospitalization or death?
Scientists don't have the answers yet, but so far, there's no clear evidence that omicron is a game-changer either.
---
Québec's strategic maple syrup reserve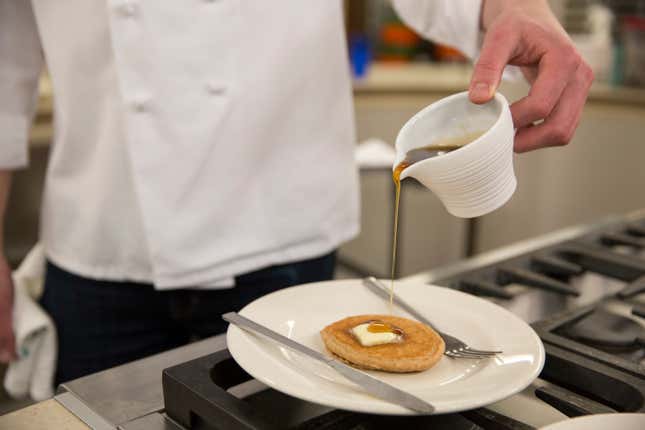 Global pancake enthusiasts are breathing a sigh of relief. Québec's strategic reserve announced it would release about 50 million pounds of syrup into the market to make up for the shortfall.
But why does it even have a strategic reserve?
There's plenty of money at stake. In 2019, a barrel of maple syrup cost almost C$1,900 (US$1,485), 20 times the value of a barrel of crude oil. Canada exported about 135 million pounds of maple syrup in 2020, worth more than C$515 million (US$402 million), according to the Federation of Québec Maple Syrup Producers, the OPEC-like "cartel" that runs the industry.
There's also a trade union connection. The federation was formed in 1966 under Canada's Professional Syndicates Act, which allowed trade unions to form. The union helped to professionalize the business of tapping maple trees for their sugary sap.
---
What trucker shortage?
The US is facing a shortage of 80,000 truck drivers. Executives at publicly traded companies referenced the "driver shortage" in at least 61 calls with investors over the past 30 days.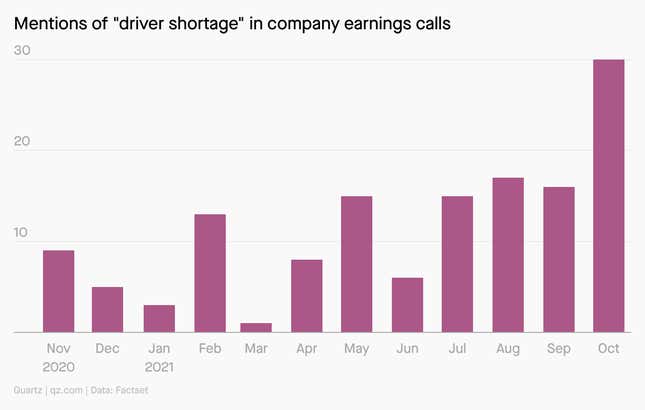 But the assertion that the US is suffering from the latest round of an ongoing truck driver shortage is misleading at best. The real shortage is of good trucking jobs that can attract and retain workers in a tight labor market.
The retention problem was featured in the Weekend Brief, a weekly email giving Quartz members a wider lens to the biggest stories in business. Try a free membership for a week.
Handpicked Quartz
💥  Why the boom in US home sales is not a bubble
📈  Gold has been a terrible hedge for inflation this year
🇪🇹  Has the Ethiopian prime minister gone to the frontline of a warzone?
🚢  2021 is the year "supply chain" went from jargon to meme
😷  Why is India unable to deal with Delhi's toxic air crisis?
🛫  An airline CEO's strategy for making African aviation sustainable
Surprising discoveries
Amsterdam's Schiphol airport drafted pigs to stop geese air strikes. The hope is the animals will eat leftover sugar beet that attracts the birds.
Snow trapped 61 people in Britain's highest pub. An Oasis tribute concert turned into days of games and karaoke, with one woman saying, "I don't want to leave."
The first 3D printed eye was fitted for a patient in the UK. The eye is more realistic than other alternatives, and the procedure is less invasive.
Vulture bees are feeding their babies rotting chicken. Bees are vegetarians, so researchers described this as "super crazy on a bunch of different levels."
Rare earths are known as industrial vitamins. Even technologies need a boost, as discussed on the latest episode of the Quartz Obsession podcast.
🎧 Listen to all this season's episodes on Apple Podcasts | Spotify | Google | Stitcher
---
---
Our best wishes for a productive day. Send any news, comments, pigs with important jobs, and champagne supernovae to hi@qz.com. Get the most out of Quartz by downloading our iOS app and becoming a member. Today's Daily Brief was brought to you by Hasit Shah, Cassie Werber, Nicolás Rivero, and Morgan Haefner.