Good morning, Quartz readers!
Was this newsletter forwarded to you? Sign up here. Forward to the friend who feels the most.
---
Here's what you need to know
Joe Biden opened his Summit for Democracy. The US president is virtually meeting with 80 other leaders to discuss how freedoms have declined worldwide. Meanwhile, China—which was not invited to the summit—is trying to redefine the narrative.
China sent a warning to countries boycotting the 2022 Olympics. Governments not sending officials to Beijing in protest of the country's human rights abuses "will pay the price for their mistaken acts," a spokesperson said.
Covid restrictions ramp up in the UK as omicron spreads. Mask wearing is again mandated in most UK indoor venues, and working from home is advised from Monday, as cases of the new variant almost doubled in one day.
US inflation data will likely show consumer price hikes. The government sought to downplay the Consumer Price Index report ahead of its release today, saying it was "backward looking."
A truck crash in Mexico killed 54. More than 150 people, mostly migrant workers, were crammed into the vehicle when it rolled, in one of the deadliest such crashes in Mexican history.
Pfizer/BioNTech's booster was approved for 16- and 17-year-olds in the US. The US Food and Drug Administration's authorization made the shot available to 2.6 million teens. The WHO declined to recommend boosters, citing global vaccine inequality.
Starbucks employees are organizing. A store in Buffalo, New York voted to unionize in a big win for labor.
What to watch for
"I don't think there is anything more important in my lifetime to work on." Jack Dorsey, speaking at a bitcoin conference in Miami, June 2021
Today, digital payment company Square changes its name to Block. In practice, the name change doesn't mean very much. But the switch from Square to Block reflects CEO Jack Dorsey's ambition to build a tech conglomerate in the image of Amazon, Alphabet, and Meta. Each of these parent companies has a huge, steady stream of revenue from their core businesses that finance expensive, experimental side projects to extend their dominance.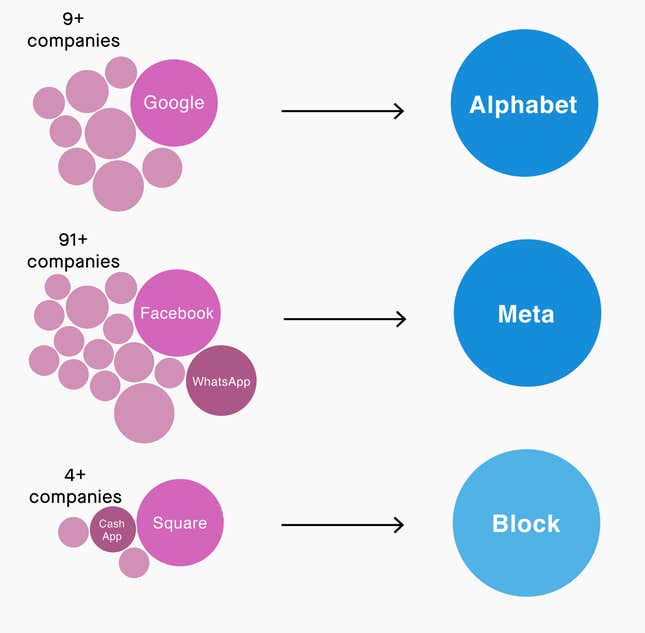 Dorsey never had a chance to do that as the CEO of Twitter, a role he gave up on Nov. 29. Square makes three times Twitter's revenue, and Block gives Dorsey a chance to redirect some of it towards cryptocurrencies, his personal obsession. (What's next for Twitter? Members can find out in our latest issue of The Company.)
---
Should we trust Pfizer about omicron?
Early evidence indicates three doses of Pfizer's vaccine show significantly more protection against the omicron covid-19 variant, compared to two doses. While the drugmaker's internal test results could well be accurate, independent reviews without the same biases might find less encouraging outcomes from those of the company.
On one hand:
🤚In this rapidly changing environment, every piece of information should be shared as soon as possible.
On the other:
🖐 Constantly published information, particularly if it's contradictory, can erode trust, and even provide ammunition to those willing to discredit public health authorities.
What should we do?
🤷‍♀️ Wait for more context. For instance, an independent review found that Merck's antiviral pill for covid-19 was far less effective than the company had announced once its efficacy was reviewed independently. Remember, no vaccine is a magic bullet, but vaccines plus good masks and social distancing is about the safest you can get.
---
Let's do some math
The US is the only wealthy country where workers are not universally guaranteed an income during critical periods in life, like stepping back from work, caring for a new baby or aging family member, or dealing with personal illness. But the Democrats' Build Back Better spending bill includes a proposal for a paid family leave program that would change that.
We came up with a calculator that can tell you what an American's paid leave reimbursement would look like, based on their salary.
✦ You'll need to be a member to try the calculator, but good news, you can get a membership free for a week. It'll give you access to plenty of other things too, like your pick of our member emails.
Handpicked Quartz
✍️  China wants to redefine democracy
🔭  NASA's new space telescope is 14 years late and 1000% over budget
😬  Job prospects are looking grim in China's once promising tech sector
⏸  India's farmers call off their year-long protests against the Modi government
💝 There's a 4-step process to teaching empathy that every working parent should know
Surprising discoveries
Your IKEA toilet brush is named after a real place, and Sweden wants that name back. Bolmen is a beautiful lake, not a loo scrubber, the country's tourist board said.
Researchers accidentally found the first warp bubble. The discovery marks a step toward making warp-capable spacecraft.
We have a mongoose coin. It started trading immediately after a US lawmaker joked about it at a crypto hearing Wednesday.
Hallmark commissioned Salvador Dalí to design Christmas cards in 1960. If you pictured clocks dripping out of a Santa made of shelves, you're spot on.
Thank Charles Darwin for your office chair. He was the first person known to slap wheels on a chair (so he could roll around and look at specimens). The evolution of the office chair—and more—are all discussed in the latest episode of the Quartz Obsession podcast.
🎧 Sit back and listen to all of this season's episodes on Apple Podcasts | Spotify | Google | Stitcher
---
---
Our best wishes for a productive day. Send any news, comments, misterhults, and Dalí prints to hi@qz.com. Get the most out of Quartz by downloading our iOS app and becoming a member. Today's Daily Brief was brought to you by Annalisa Merelli, Clarisa Diaz, Nicolás Rivero, Morgan Haefner, Susan Howson, and Cassie Werber.