Good morning, Quartz readers! We won't be sending a Daily Brief on Monday, Dec. 27, so we can give our team a little extra holiday time. We hope you and yours stay safe and eat some treats.
Until the end of the year, every Quartz story you click on in the Daily Brief will be paywall-free. It's our gift to you, along with 40% off a year of Quartz membership. (Use code QZLOVE at checkout.)
Was this newsletter forwarded to you? Sign up here.
---
Here's what you need to know
Israel's betting that a fourth dose will do the trick. The US, whose omicron case count just topped delta's peak, is keeping an eye on how well Israel battles the new variant before it decides to follow suit.
A study showed Sinovac boosters aren't effective against omicron. New research contradicts statements made by the Chinese vaccine's maker.
Intel apologized to its Chinese customers. The US chipmaker had been struggling with boycotts after it tried to distance itself from Xinjiang suppliers.
Vladimir Putin fired (figurative) shots at NATO. The Russian president used his press conference to make what many see as an ultimatum, while Russian mercenaries were deployed to help separatists in eastern Ukraine.
Turkey's state banks intervened to help the lira. Reuters reports that the banks sold dollars after president Recep Tayyip Erdoğan announced a scheme meant to stabilize the struggling currency.
CES is in trouble. As big names like Intel, Twitter, and Lenovo drop out over covid concerns, the Consumer Electronics Show is trying to fill the gap.
---
What to watch for
"Hello, you there, boy!"
"Me sir?"
"Yes you, my good fellow. What day is today?"
"Today? Why it's Crypto.com Arena day, of course!"
"Crypto.com Arena Day… I haven't missed it. The spirits did it all in one night."
While many gorge on cookies and kick around wrapping paper, Christmas Day also marks the moment when Los Angeles' Staples Center officially becomes Crypto.com Arena. It's not just a clunky name for Lakers fans to throw around—the renaming is a very visible symbol that the crypto era is in full swing. Here's a reading list about the global crypto economy, to get you up to speed:
1️⃣  How crypto fees can cost more than your losing auction bid
2️⃣  The US infrastructure bill will impact crypto tax reporting…
3️⃣  …While India's still figuring out what to do about it
4️⃣  China's crypto ban is its toughest yet
5️⃣  But it could do wonders for the environment
---
RIP, Hong Kong's Tiananmen sculpture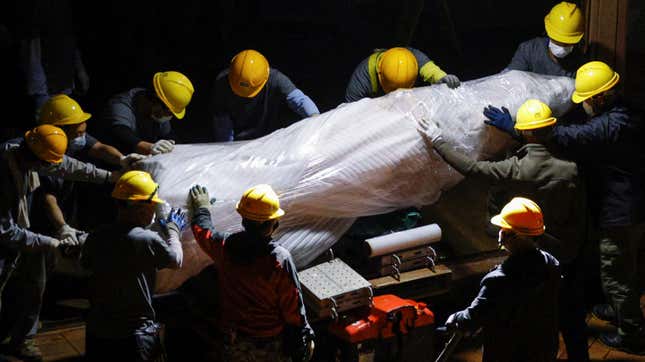 Symbols go up, and symbols come down. For nearly a quarter of a century, the University of Hong Kong was home to a slim sculpture commemorating the students killed on June 4, 1989, when the Communist Party sent in tanks to end weeks of protests in Beijing's Tiananmen Square. Created by Danish sculptor Jens Galschiøt and first brought to Hong Kong in 1997, the year the UK handed over the city to China, Pillar of Shame is a tangible symbol of the former British territory's autonomy from Beijing and mainland China. Yesterday, it was dismantled, shrouded, and taken away.
---
Handpicked Quartz
↩️  Retailers have a secret policy to deal with Christmas returns
🏒  The NHL's Olympics exit is probably just the beginning
🙅‍♀️  How to set omicron boundaries with friends and family
😷  A history of design innovations emerging from health crises
🚘  The last major obstacle to cracking the code on self-driving cars
❓ The most popular emoji used on Venmo in 2021
---
Surprising discoveries
Nobody expected the Spanish Inquisition… to reach into 2021.
A Japanese professor created TV you can taste. The process may be simple—canisters spray flavors onto a film that rolls over the screen—but the ick factor is complex.
Watching a lecture at double speed can help you learn it better. But only if you do it twice.
Dogs were cast in a Welsh nativity play. The individuals were selected based on their resemblance to the characters.
Hamburg has an XXXmas market. If covid has kept you away from German Christmas markets, the Quartz Weekly Obsession will take you, well, as far as we can.
---
---
Our best wishes for a productive day. Send any news, comments, visions of sugarplums, and chestnuts roasting on an open fire to hi@qz.com. Get the most out of Quartz by downloading our iOS app and becoming a member. Today's Daily Brief was brought to you by Kira Bindrim, Susan Howson, and Charles Dickens, with apologies.