Good morning, Quartz readers!
Until the end of the year, every Quartz story you click on in the Daily Brief will be paywall-free. It's our gift to you, along with 40% off a year of Quartz membership. (Use code QZLOVE at checkout.)
Was this newsletter forwarded to you? Sign up here. Forward to the friend who avoids conflict.
---
Here's what you need to know
Daily global covid-19 cases are at a record high. New infections totaled nearly 1.5 million worldwide on Monday. Several countries—including the US, the UK, and France—hit new daily records yesterday.
Hong Kong police raided Stand News. They also arrested six people, including editor Ronson Chan, who heads the Hong Kong Journalists Association, and pop star Denise Ho, who previously served on the independent news outlet's board of directors.
India changed the rules for companies going public. New limits on when shares can be sold and how companies use the cash they raise could put a damper on upcoming IPOs.
Russia ordered the country's oldest human rights group to close. Memorial International was dedicated to remembering the victims of the Stalinist era. Separately, two allies of Alexei Navalny have been detained and could face lengthy prison sentences.
Ant Group is shutting down a crowdfunding service. Xianghubao, a "mutual aid" platform to help pay for medical costs, is the latest to shutter as China cracks down on the tech industry.
A South Africa court blocked a Shell oil exploration project. Indigenous groups said they had not been consulted and argued the company's seismic tests could be harmful to whales and other marine life.
---
What to watch for
With record numbers of job openings and employers doing everything they can to retain workers, US jobless claims—the number of people filing for unemployment insurance—are hitting 50-year lows.
On Thursday, economists will get another look at initial jobless claims, which they expect to stay low. By the end of 2022, Federal Reserve officials expect the unemployment rate to fall to 3.5% because of the hotness of the labor market.
Fed officials look at many data points to determine whether maximum employment has been reached, and a 3.5% unemployment rate is going to be part of defining if the central bank has reached that goal.
As the labor market continues its pandemic recovery into next year, expect jobless claims to again be the first look economists get of the tightness of the labor market.
---
CEOs say covid is their least worry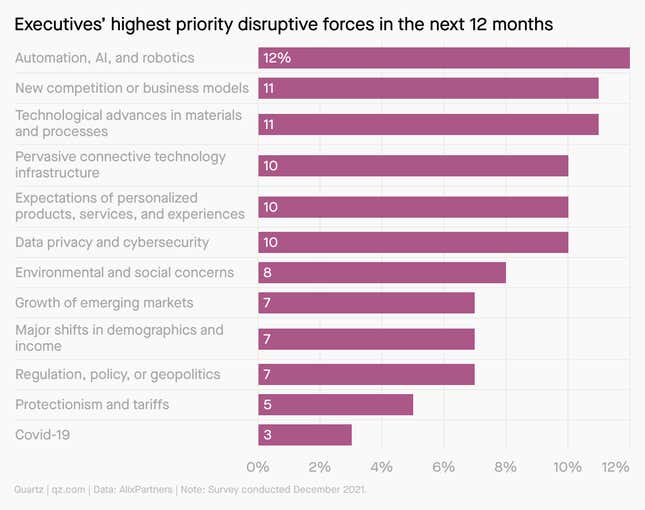 CEOs are getting anxious, according to a global survey of 3,000 executives from the management consultancy AlixPartners, but not from the most obvious disruptive force of the past two years: covid-19.
Instead, the vast majority of executives—who hail from companies with more than $100 million in revenue from the US, China, Japan, and other major economies—rank other worries ahead of covid-19. Even so, many of their fears are, in one way or another, a symptom of the pandemic. Although executives say they aren't thinking about covid-19, they'll be spending 2022 grappling with its consequences.
Handpicked Quartz
🛳  Why Americans keep getting on cruises
🥽  Meta's Oculus was the US's most-downloaded app on Christmas
🛢  Oil and gas discoveries are at the lowest level since 1946
🛰  China has safety concerns about Elon Musk's Starlink satellites
🗣  "Tactical empathy" is the key to navigating workplace negotiations
🕷  Spider-Man: No Way Home earned $1 billion without a release in China
---
Surprising discoveries
Legos have a better rate of return than gold. A study found the market for second-hand plastic bricks increases in value by 11% annually.
Researchers digitally "unwrapped" the mummy of Amenhotep I. New scans indicate the pharaoh, who ruled in the 16th century BC, died of a virus or infection.
A Finnish man blew up his malfunctioning Tesla. He decided it wasn't worth the $22,600 to replace the car's battery.
Alexa suggested a 10-year-old touch a penny to half plugged in electrical prongs. The Amazon voice assistant found the "challenge" by searching the web.
You must report stolen property as income on your tax returns in the US. That's according to the Internal Revenue Service's 2021 federal income tax guide.
---
---
Our best wishes for a productive day. Send any news, comments, valuable second-hand Legos, and valuable stolen property to hi@qz.com. Get the most out of Quartz by downloading our iOS app and becoming a member. Today's Daily Brief was brought to you by Nathan DiCamillo, Nicolás Rivero, Morgan Haefner, and Liz Webber.