Good morning, Quartz readers!
Was this newsletter forwarded to you? Sign up here. Forward to the friend who's still mourning BBM.
---
Here's what you need to know
India launched an antitrust investigation into Apple's app store fees… The tech giant says they're necessary for making its devices more attractive to consumers.
…While Apple hit a $3 trillion market cap. Though it's the first US company to hit the milestone, that milestone is mostly arbitrary.
Tesla has a new Xinjiang showroom. The US-based electric vehicle maker could face regulatory and consumer pushback at home over its support of a region where China is accused of human rights abuses.
Israel will allow some foreign travelers starting next week. The announcement relaxes a travel ban set in November to counter omicron. Meanwhile, young US teens can now get Pfizer boosters.
European and American factories said the supply chain crisis has gotten better. But that could all be erased by possible omicron-related lockdowns.
Evergrande trading was halted in Hong Kong. The struggling construction company said it will announce "inside information" but didn't specify when.
---
What to watch for
The world's top oil-producing countries aren't very concerned about rising omicron infections. In a Jan. 2 memo, the Organization of Petroleum Exporting Countries (OPEC) said it expects the impact of omicron to be "mild and short-lived."
Throughout the pandemic, OPEC countries—now under the leadership of newly-elected secretary general Haitham al-Ghais of Kuwait—have sought to balance their desire to increase production with the risk that cranking up the pumps too quickly will drive down the price. In the last few months, they've mostly taken a bearish view of the prospects for oil demand growth and steadily raised their production quota.
So far, the bet has paid off: Oil was among the commodities with the greatest price increase in 2021. The group seems likely to boost production at their meeting today, which would send its quota to about 70% of pre-pandemic levels—and on track to be fully restored by September.
---
Germany's nuclear phaseout hurts its climate goals
Germany closed three of its remaining six nuclear power plants on Dec. 31. Much of the energy shortfall will be made up by burning natural gas, now at record high prices.
The nuclear rollback has slowed Germany's short-term progress on reducing greenhouse gas emissions and will force it to rely on fossil fuels longer than its peers will. Germany and the UK, for example, both source about 44% of their electricity from renewables. But the UK plans to eliminate its use of coal by 2024, six years earlier than Germany.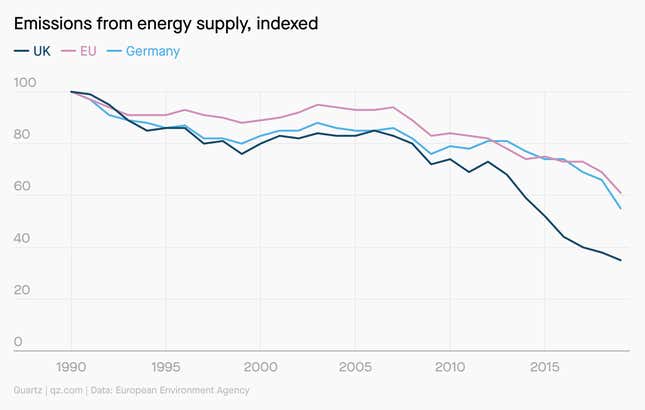 ---
Handpicked Quartz
⚔️ How to win workplace negotiations
🎓 Fewer undergraduates during covid-19 puts college budgets at risk
🎬 The Battle at Lake Changjin showed the fading power of Hollywood in China
🚫 Tumblr banned these words to satisfy Apple safety standards
💸 Apple can't just throw money at its talent retention problem
🎥 Amazon Prime Video turns to Nollywood to woo African subscribers
---
Surprising discoveries
Covid lockdowns sent condom sales drooping. It turns out hotel stays are key, said the CEO of Malaysia's Karex, the world's biggest condom-maker.
A US minor league baseball team's staff were surprised with life-changing bonuses. After the Iowa Cubs' sale, the team's owner thought $2,000 per year employed seemed like it was only fair.
700 German sheep and goats assembled in the shape of a syringe. The shepherd, who simply placed pieces of tempting bread in an outline of the 330-foot figure, wanted to promote covid vaccination.
And one German swan was put back in its place. An elderly lady expertly grabbed the escapee and hurled it over a fence into the water whence it came.
Your BlackBerry will stop working today. It's time to say good-bye.
---
---
Our best wishes for a productive day. Send any news, comments, obsolete technology, and hotel room keys to hi@qz.com. Get the most out of Quartz by downloading our iOS app and becoming a member. Today's Daily Brief was brought to you by Tim McDonnell, Liz Webber, and Susan Howson.