Welcome back! If you're new, sign up here to receive this free email every week.
---
Hello Quartz readers.
Last week we published a guide to the best government plans for bolstering an economy during an epic downturn. We looked around the world to find the most promising programs for retaining skilled workers, lending to small businesses, and supporting the self-employed. In interviews with economists, labor experts, and financial academics, several countries were consistently at or near the top:
🇩🇪 Germany gets consistently high marks for its Kurzarbeit, the short-time working system to help companies keep highly skilled workers. The program has been copied around the world, and some of the newer systems may be simpler and more efficient.
🇨🇭 Switzerland was one of the first countries to unlock the fastest way to get money to small enterprises. The key is a 100% government guarantee for the loans. With so much uncertainty, as the UK found out, even 80% backing won't convince banks to shovel out money quickly enough. (Britain later rolled out a scheme with 100% backing.)
🇩🇰 Denmark appears to have gotten two factors right when it comes to supporting the self-employed: the country moved quickly and was generous. The self-employed aren't just middle-class writers and programmers—they're also cleaners and hairdressers who were eking out a living even before the pandemic hit.
Of course, it will take years to know which programs are genuinely most effective, and there will be myriad unintended consequences. The policies that truly perform the best will be much more obvious with hindsight. But it's worth noting that countries with the policies that experts are most hopeful about also tend to be those that score highly on things like credit ratings, rule of law, and lower levels of corruption. Turns out that well-run countries are the ones that are best at responding to a severe crisis.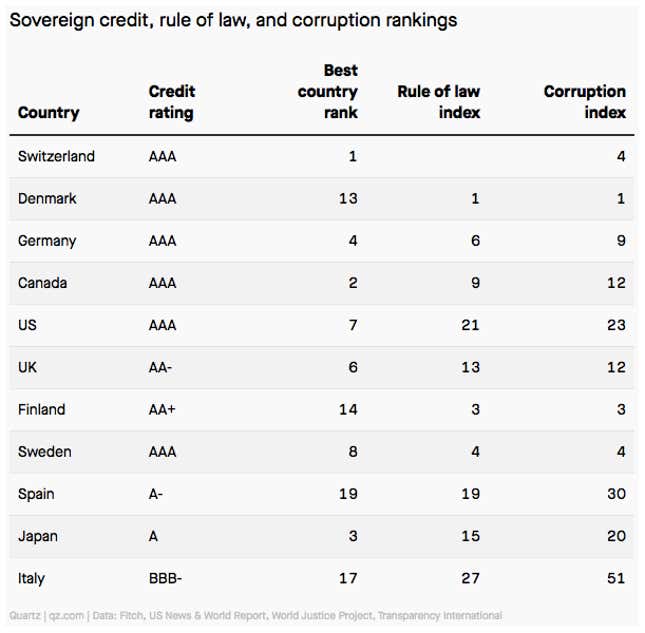 ---
More top stories
📱 Banks are flocking to Ant Financial's digital tech, paying the company to help them build apps and using its cloud computing services. Bloomberg reports that inquiries to collaborate with the tech giant, which operates the ubiquitous Alipay wallet, jumped 400%.
😷 Traders are wondering whether the trading floor at the 300-year-old insurer Lloyds of London (paywall) will re-open, according to the Financial Times. In the meantime, as the Wall Street Journal reports, the New York Stock Exchange is re-opening its iconic trading floor (paywall). Only a limited number of traders and brokers will be allowed in—they will have to wear masks, and they won't be allowed to take public transportation.
🇩🇪 Deutsche Bank has restarted job cuts as part of its turnaround plans. The German lender's CEO also thinks offices and travel are overrated, as virus lockdowns have shown the company can operate less of them.
💵 CipherTrace is pitching its services to central banks, offering to develop money laundering and other controls for central bank digital currencies. More than a dozen countries are either researching or piloting a form of digital cash.
📱 Senior employees in "people operations" have been leaving Revolut, the digital bank headquartered in London, and it has cut about 60 workers (paywall), according to Financial News. Monzo is looking to raise fresh cash at a valuation that's about 40% less (paywall) than the digital bank's last fundraising, the Financial Times reports.
---
About 40% of startups will be out of cash in three months, without intervention. Most of these tech firms will need to slash costs by around 60% to stay afloat.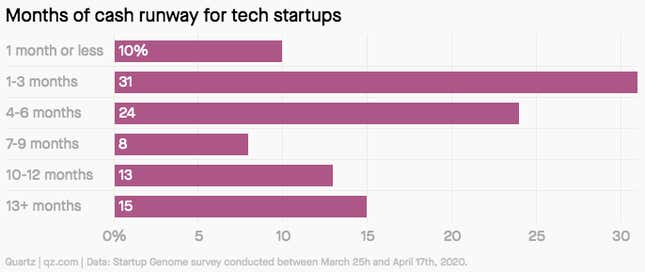 Is your bank branch likely to close? If you live in the US, you can use our handy estimator that uses historical data to find out the likelihood of your nearest branch shuttering.
In India, smaller banks are losing deposits to their larger peers. Institutional and corporate clients are looking for the perceived safety of bigger financial institutions.
Digital payments have been turbocharged by coronavirus lockdowns. "We are hitting a tipping point across the world where people are seeing just how simple and easy it is to use digital payments to pay for services," PayPal CEO Daniel Schulman said.
---
Always be closing
---
I hope your week has been a profitable one (pick your own metric). Please send tips and other ideas to jd@qz.com.