Hi Quartz readers!
Today's events were marked by a number of surprising exits and upsets. Read on for all the guts and glory.
---
Highlight reel
---
Bigger isn't always better
India has the worst population to medals ratio at the Olympics. Since its first appearance at the summer Games in 1900, the country has managed to score just 29 medals, including a silver in Tokyo.
This year, India has sent its largest ever contingent—120 athletes, who are competing in 85 medal events. But the country has been here before. In 2016, India sent 117 players to Rio, pinning hopes on winning between 10 and 14 medals but clinching just two.
Understandably, Covid dealt a huge blow. Domestic sporting events were canceled, and foreign training and competitions were mostly off the table for Indian athletes. India's top medal contender Neeraj Chopra, who competes in javelin throw, spent 400 days without competition or overseas training trips.
However, the pandemic is only making a bad problem worse. The country has a notorious reputation for neglecting and underfunding sports. Many athletes who've made it to the Games in the past have done so by paying for their training out of pocket or bagging generous corporate sponsorships.
While medal momentum won't be on India's side, the monetary situation seems to be looking up this time, with funding provided by the Target Olympic Podium Scheme and at least nine private sector companies. But corruption, lack of transparency, and underutilization of resources still run rampant. And sports governance is not India's strong suit. —Ananya Bhattacharya
---
By the digits
$40 million: Estimated worth of the exposure US sprinter Sha'Carri Richardson received after being banned from the 2020 games
1: Bears recently spotted wandering the Olympic grounds
21: Median age of the 97 female gymnasts competing in the Tokyo Olympics
19 years, 7 months: Median age of the female gymnasts at the Rio Olympics in 2016
3: Teams gymnast Oksana Chusovitina has competed for—the Commonwealth of Independent States, Uzbekistan, and Germany—over her eight Olympic appearances
4 lb (1.8 kg): Weight of the gummy bears US rifle shooter Mary Tucker brought with her to Tokyo
$1.45 billion: Amount Discovery paid the International Olympic Committee in 2015 so that its Eurosport network would have the exclusive rights to the Games across Europe for 2018-2024
---
What to watch for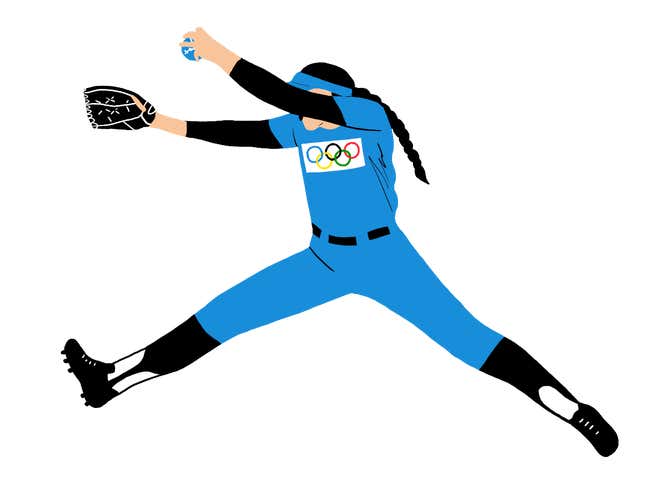 Baseball and softball are making a brief return to the Olympics in baseball-crazy Japan. They won't be back for the Paris Games in 2024, but could make it to Los Angeles in 2028.
Unlike basketball, which features stars from the NBA and WNBA, there are no active Major League Baseball players in Tokyo, since the season is still unfolding. Instead there are a smattering of former big leaguers and minor leaguers on the rosters of the six nations competing. However, the professional seasons were suspended in South Korea and Japan (the betting favorite) so players could compete in the Olympics, giving their teams a slight edge over the Dominican Republic, Israel, Mexico, and the US.
Six teams also competed in softball: Australia, Canada, Italy, Japan, Mexico, and the US. Their games started before the opening ceremony, and the gold medal game was held Tuesday, with Japan beating the US 2-0.
---
Quotable
"After the performance I did, I just didn't want to go on. I have to focus on my mental health." —US gymnast Simone Biles, explaining why she withdrew from the team competition on Tuesday
---
Wheaties is for winners
Appearing on the Wheaties box is an honor usually reserved for US champions. Swimmer Michael Phelps took home 20 Olympic medals after he first appeared on the box in 2004. But only a handful of athletes—including speed skater Apolo Anton Ohno, sprinter Justin Gatlin, and swimmer Amy Van Dyken—went on to win more Olympic medals after they were featured. Most athletes won multiple medals and set records prior to being on the box. Track and field athlete Carl Lewis won 9 gold medals before he had his Wheaties moment. According to General Mills, the Wheaties team looks for athletes who are not only the best but go beyond their sports to contribute to culture and society in a meaningful way.
---
Instant replay
🏆 Simone Biles shows why it's time to put less weight on winning
😔 The two biggest names at the Tokyo Olympics stumbled on the same day
🛹 Japan's Olympic golds show its rise as a skateboarding superpower
🥇 It took a woman to end the Philippines' 97-year Olympic gold medal drought
💪 The challenges and historic opportunities for female athletes at the Tokyo Olympics
---
🎵 This email was produced while (still) listening to John Williams's "Olympic Fanfare and Theme."
---
Our best wishes for an inspiring day. Get in touch with us at needtoknow@qz.com and live your best Quartz life by downloading our iOS app and becoming a member. Today's email was brought to you by Ananya Bhattacharya, Oliver Staley, Clarisa Diaz, Jordan Weinstock, and Liz Webber.