Hello, Quartz at Work readers!
This week, New York City will start enforcing a first-of-its-kind law aimed at bias in the workplace: the kind introduced by AI.
That's because artificial intelligence isn't simply poised to change how we get our jobs done. It's also deciding whether we get jobs at all. Companies are increasingly incorporating algorithmic tools into their hiring processes, from software that reads our resumes to AI bots that score our first interviews.
Now the city aims to force transparency in the algorithmic tools companies use to make hiring and promotion decisions. The law compels companies to disclose when they use AI software in their hiring processes, along with requiring them to audit those tools annually for bias. Job candidates also gain the right to request information about what of their personal data is being collected and evaluated by an algorithm.
The law is just the first in a series of pending regulations—from states like California and New Jersey to legislative blocs like the European Union—that aims to rein in an algorithmic Wild West in the workplace, especially in hiring.
But not everyone is cheering on the new regulation. That's especially true for ethical AI advocates, who say New York's law doesn't go far enough to meaningfully protect job candidates.
"There's a real concern that good governance tools, like audits and impact assessments regarding artificial intelligence programs, become this administrative wand-waving in front of your face," Ben Winters, who leads the AI and human rights project at the Electronic Privacy Information Center (or EPIC), tells Quartz.
So is there any hope for the new rule—and what does it mean for your next job application? Take a peek inside its inner chambers.
🎧 And for a longform listen into the algorithm, Quartz's Gabriela Riccardi and Scott Nover talk all about how algorithms are changing hiring in the Quartz Obsession podcast. Listen here or read the transcript.
---
HOTEL WORKERS ARE CHECKING OUT
In other first-of-its-kinds, this week California hotel employees staged what may be the largest hospitality strike in US history.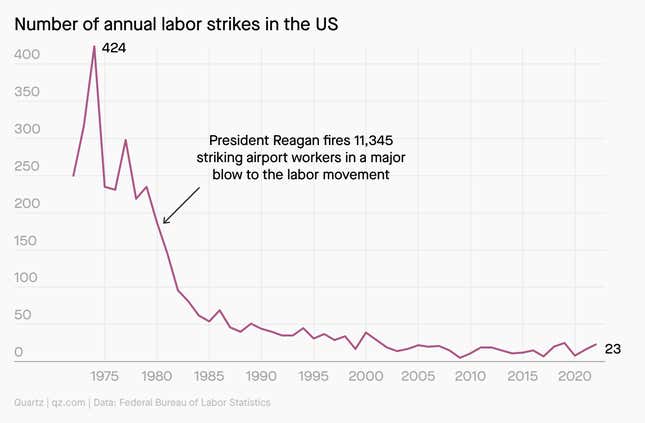 📉 American labor strikes have faced a drastic drop-off in the last 50 years, according to the US Bureau of Labor Statistics. But on July 3, more than 15,000 workers representing cooks, room attendants, dishwashers, and front desk employees walked off their jobs for better pay and benefits.

The strike comes as Southern California has seen some of the sharpest cost-of-living spikes in the nation during the past few years—and the rest of the nation has seen more prominent work stoppages.
Quartz's Diego Lasarte reports on how this strike fits into the (re)growing US labor movement.
---
POP QUIZ: PASSING THE MIC
In theory, good meetings give everyone a chance to add their two cents. But in practice, not everyone has an easy time contributing to the group conversation. Which of these tactics is most likely to get people to pipe up at your next team meeting?
A. 🚥 Stop-and-go group updates
B. 🪑 Radical room rearrangements
C. 🍿 Salty-sweet conversation starters
D. 🚪 Implored invitations to leave
Quartz collected its best advice to get people to actually speak up in meetings, from the three words worth trying to the benefits of going totally silent. Find your answer (and other chitchat) in our full roundup.
---
YOUR WEEKLY WORK HACK
Team-mapping can help you become a better collaborator. "It's rare a team can complete their work without the help of other teams," writes Atlassian's Mark Cruth in Quartz. But they often don't spend time building rapport with overlapping teams.
Enter a group exercise that steps in to strengthen those relationships. It's called team-mapping.
Together, you'll lay out your adjacent teams, identify the people involved in the success of a project, and map a way to better cross-team collaboration. Even better: It only takes about an hour.
---
QUARTZ AT WORK'S TOP STORIES
🗣 How to get people to actually speak up in meetings 

👀 America's first law regulating AI bias in hiring takes effect this week

💼 With affirmative action struck down, here's how employers can protect workplace diversity initiatives

🤖 It only took five hours for an AI model to design a functional computer 

🤝 This 90-minute exercise helps improve cross-team collaboration
---
YOU GOT THE MEMO
Send questions, comments, and maps to aoakes@qz.com. This edition of The Memo was produced by Gabriela Riccardi.