To modern workers everywhere,
It's happening: Working dads are starting to grasp that ​when you're maxed out at home, it's not easy to be a star around ​the office.​
At least that seems safe to extrapolate from the finding​s​ of a recent global survey by Boston Consulting Group. It found that in late 2020, caregivers (whether looking after kids or older parents) reported feeling more angst about their well-being than those without any dependents at home. More narrowly, parents with children under age 12 ​experienced greater stress than those with older children.
The US-specific data also showed that fathers were slightly more likely than mothers to agree with statements like "I am worried about my future in my company," and "I believe I am at a disadvantage compared to my colleagues who are not parents."
Matt Krentz, the senior partner at BCG who led the survey, finds that ironic​, since it's still women who shoulder the heavier caregiving load​, he observes.​ "I don't think ​[men] have had to deal with this before​," says Krentz.​ Now that they are experiencing it, and they see non-parents congratulated for really stepping up during the pandemic, he adds, "they are worried about their own careers."
Feeling that your future is in jeopardy, a concern reported by a third or more of all caregivers, ​can be​ a sign of burnout, a syndrome marked by exhaustion and caused by unrelenting stress. Caregivers in the office were already at risk of burning out before the pandemic made everything harder. Now women, in particular, are leaving the workforce at alarming rates.
Burnout erodes your sense of identity and confidence. Journalist Olga Khazan argued in a recent piece for the Atlantic that only your boss can relieve your burnout—by adjusting your workload, giving you the autonomy you need to work flexibly, and offering the recognition that helps you feel valued. Indeed, the problem is too big to be solved by meditation apps and self-care routines on their own.
Krentz's experience suggests that not just managers but entire teams of co-workers may need to pitch in on this effort. His team at BCG holds a weekly meeting that's strictly about how everyone is working together. People choose an image and a phrase that explains how they're feeling, from "I'm feeling great" to "I'm in a bad way." Krentz says that two weeks ago, a project leader who is expecting her first child told the group, "Actually, I'm not in a great place. My doctor told me I'm at some risk. I'm trying to figure out how I balance that and work." That made it easier for another woman to share that she was feeling low because her teenage daughter was struggling at school. Together the group decided to ​really hold each other to ending the day at 5pm​,​ and to stop emailing each other in the evenings. ​
A collective approach like this makes sense for any company that relies on collaboration (a.k.a., every organization). We know that the attitudes of our teammates matter. You can have the most sincere and understanding manager and still feel the scorn and judgment of the group.  Imagine if you are already feeling burned out, or if you're the boss and could use your whole team's understanding.
It might not seem that anyone has the bandwidth for one thing more. But we need to remember to also give care to the people we work with—because compassion between co-workers is one of the simplest and surest ways to cope with the burdens of the moment.—Lila MacLellan
A special invitation
It's the Quartz at Work (from home) workshop you've been waiting for. Join us remotely this Thursday, March 18, from 11am-12pm US eastern standard time for an expert discussion, with plenty of audience Q&A, on how to manage burnout.
✍️ Expect to learn: How to work through this burnout, starting with recognizing the signs and the simple steps you can take right now to regain your energy and build up resilience.
🗣️ We'll be joined by:
Paula Davis, CEO of the Stress & Resilience Institute and author of the new book Beating Burnout at Work
Gianpiero Petriglieri, associate professor of organizational behavior at INSEAD
Lorraine Uy Alire, co-chair of the Oppression and Resilience Special Interest Group for Minority Mental Health, Association for Behavioral and Cognitive Therapies
This live, one-hour workshop is free and open to all. The recording will be available to Quartz members. We hope you can join us.
---
Five things we learned this week
US senator Amy Klobuchar backs a "Marshall Plan for Moms." She floated several ambitious ideas for bringing women back to the workplace in a conversation with Quartz editor in chief Katherine Bell.
Even princesses need onboarding. Not providing it was one of many royal HR failings revealed by Oprah's interview with Meghan Markle and Prince Harry.
The way people behave in Zoom meetings can signal larger problems. Get a reading on your company culture by paying attention to phone scrollers and missing faces.
You're probably under-utilizing your calendar app. Like all workplace technology, it can cause burnout, or it can save you from it.
An analysis of 27,000 Instagram images show that fashion's BLM reckoning was mostly bluster. At a handful of companies, mostly in the luxury group, the median skin tone of models featured in the brands' Instagram posts skewed even lighter after the protests.
---
It's a fact!
89% of people who responded to a Harvard Business Review workplace burnout survey said their wellbeing at work has declined since the beginning of the pandemic. Of those, 56% also reported increased demands in their job, and 25% said they were experiencing a loss of work-life separation.
---
Final call
Whether your company is fully remote or distributed with a strong remote contingent, your employer may be eligible for Quartz's Best Companies for Remote Workers, a new global ranking to be published this year on Quartz at Work. But you can't make the list if you don't register—and the deadline for that is now upon us. (Actually, it was yesterday, but we're giving readers of The Memo one last chance to get their companies registered.) Sign up today and tell us about the features, rhythms, norms, and policies that help your people succeed no matter how far they are from the actual power centers of the organization.
---
30-second case study
In early 2000, the financial situation at the digital strategy Crowd Favorite looked dire. The company was optimistic that any pandemic-related slump in revenues would be temporary, however, so it chose to prepare for a period of austerity by cutting managers' pay and furloughing 20% of its staff. As chief operating officer Jason Rosenbaum writes for Quartz at Work, this wasn't the first time that Crowd Favorite ran into tough times. A few years ago, instituted rounds of pay cuts over several weeks, leaving employees frazzled and anxious about what would happen next. Rosenbaum called it "death by a thousand cuts."
Last spring's process was far more organized and intentional. The company sent a staff memo explaining that those selected for furlough would have their situations reevaluated after 60 days, and that the company would keep paying for their health insurance. The leadership team scheduled an all-hands Q&A session, to be held the next day. "Providing the email in advance of the meeting allowed staff time to gather their thoughts and questions," Rosenbaum writes. "Equally as crucial, we kept the lines of communication open and had very candid discussions. After that, every two weeks we held a company-wide meeting that furloughed employees were also invited to attend."
Two months later, the furloughed employees were back, except for two people who had found other jobs. Managers saw their full pay restored by the end of the year. Performance hardly suffered; Rosenbaum says the company increased revenue by double digits quarter-over-quarter for the remainder of 2020. The company even launched a profit-sharing program.
The takeaway: When leaders must resort to making drastic pay cuts or furloughs, it pays to first think deeply about how employees will experience the change. Will they be given all the information they need along with a clear plan of action, or be forced to speculate about what comes next? Can management lay out a pathway back to "normal" that can be trusted, without making promises it can't keep? Or does consideration for the way news will land become an afterthought? In this case, Rosenbaum writes, following the principles of "human-centric" leadership meant that this time, the company grew closer through a tough period.
---
Quartz field guide interlude: How to support sober (and sober-curious) employees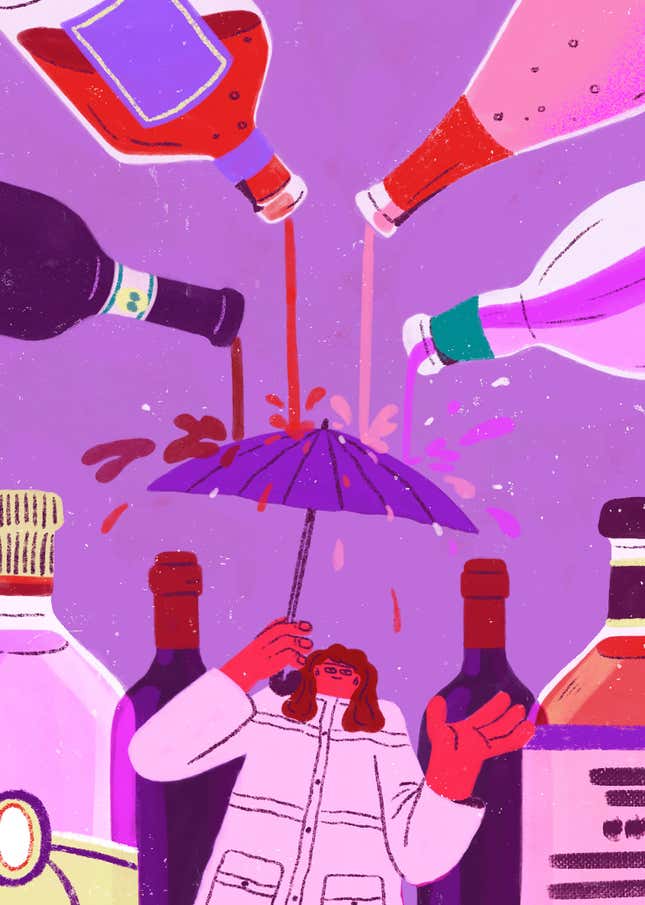 Before the pandemic, alcohol was central to how many of us socialized with co-workers. After all, a drink (or two) is commonly thought to ease workday stress.  But the research is clear that alcohol negatively impacts productivity and company performance. This week's field guide investigates The Joy of Sobriety and includes advice for how employers can support abstainers and those who are just seeking to cut back. Here are some of the experts' recommendations:
🤔 Understand what it means to quit drinking. Before an organization makes sober-friendly changes, its leaders should interrogate their own belief systems and biases around alcohol and its role in the workplace.
🍽  Choose restaurants over pubs, or bars with excellent non-alcoholic drinks, once we start gathering again. People can bond over food, so choose restaurants instead of bars when you're looking for a local hangout for a team gathering.
💁 Hire caterers who have followed the sober-curious trend. Though there are still industries in which companies build bars and "speakeasies" as employee amenities, heavy drinking at industry events is outdated.
Read all nine tips and pour over more facts about the changing attitudes toward alcohol.
Not yet a Quartz member? Sign up now for a 7-day free trial.
---
The burnout files
Burnout was with us long before the pandemic, and the Quartz at Work archive is a rich source of content on the topic. Here are just a few of the articles we recommend, whether you're looking for coping tips or commiseration:
---
ICYMI
Two years ago, former Quartz reporter Corinne Purtill attended a "Schwartz Rounds" meeting, a widely used emotional check-in system for hospital workers, pioneered in 2002 to help prevent employee burnout. It allows doctors, nurses, janitors, translators, and other staff to give voice to their struggles and stresses. "People talk about the uncomfortable emotions they can't express to patients: hurt, confusion, rage," Corinne reported. Read her full account in this thoughtful, instructive feature about a program for the medical profession that just might hold the key for fighting burnout in any industry.
---
Words of wisdom
"Sometimes the best response to our howls of anguish is the honest one. We need friends who wince along with our pain, who tolerate our gloom, and who allow us to be weak for a while, while we're finding our feet again. We need people who acknowledge that we can't always hang on. That sometimes everything breaks. Short of that, we need to perform those functions for ourselves: to give ourselves a break when we need it and to be kind, to find our own grit in our own time." — Katherine May
From Wintering: The Power of Rest and Retreat in Difficult Times, a new memoir with timely life—and workplace—lessons by UK author Katherine May.
---
You got The Memo!
Our best wishes for a restful, restorative week. Please send any workplace news, on-trend mocktail recipes, and reassuring words for stressed-out working dads to work@qz.com. Get the most out of Quartz by downloading our app and becoming a member. This week's edition of The Memo was produced by Lila MacLellan and Heather Landy.