To modern workers everywhere,
News that the acclaimed New York restaurant Eleven Madison Park is shifting to a vegan menu has sparked a lively conversation about the environmental impact of eating meat. But chef and owner Daniel Humm is inspiring us for reasons beyond climate action.
Humm told Bloomberg that when he thought about reopening the restaurant after its pandemic-induced closure, he realized: "I didn't want to do the same thing for another 20 years." Referencing the dry-aged ducks in his restaurant's most iconic dish, he said, "I was thinking, it can't go back to those hanging ducks. It has to be something else."
The technical name for Humm's change in approach is job-crafting, a term established by researchers Amy Wrzesniewski and Jane Dutton back in 2001 as a way to describe how workers alter their jobs so that their roles are better suited to their strengths and interests. It's a way of making our work more exciting and fulfilling, without sending out a single cover letter.
A 2008 paper authored by Wrzesniewski and Dutton, along with consultant Justin M. Berg, outlines three kinds of job crafting. The first involves changing the "number, type, or nature of tasks" in a job: A teacher who loves music, for example, might start delivering their lessons in the form of songs. The second category involves changing interactions with others, like a salesperson who prides themselves on taking new employees under their wing. The third category is changing how you perceive your job. Wrzesniewski's research on custodial workers, for example, found that hospital janitors who saw their work as a way to support patients were far happier at their jobs than those who envisioned their roles as simply cleaning up.
Of course, sometimes the best way to get a creative second wind may indeed be to switch jobs, or even pursue a new career. But Humm's decision to overhaul Eleven Madison's menu is a reminder that sometimes the solution to career doldrums is to reinvent the job you already have. —Sarah Todd
---
Five things we learned this week
😉 Working from home has made it harder for colleagues to gossip and tease. That's too bad, as both gossip and teasing can bring people closer together.
⚕️ India is facing a severe nursing shortage. Part of the problem lies with short-term contracts that offer few benefits despite the high-risk nature of the work.
💞 There are three kinds of empathy—one of which can lead to burnout. People who have a surfeit of "emotional empathy" need to be vigilant about setting boundaries.
📖 Chinese tech CEO Wang Xing got in hot water over a classical poem. Some interpreted the poem Wang shared on social media as a veiled criticism of the Chinese government.
💼 True entry-level jobs are disappearing. It's up to employers and educators to do something about it.
You're invited
The internet promised to bring us closer together, but building networks and authentic professional relationships in many ways seem harder than ever. Quartz invites you to join us for our next virtual workshop, How to Master the Art of Connecting and Networking, this Thursday, May 13, from 11am-12pm US eastern time. We'll hear from experts on where to find people who can help you in your career, how to develop the art of reaching out, and ways to pay things forward.
Whether you're looking for a mentor, a job referral, an "in" at a prospective employer, or a connection with curious-minded people like yourself, you will find something to learn in this Quartz at Work (from home) workshop.
---
30-second case study
Smell is perhaps the most underappreciated of the five senses—but developing our olfactory skills can provide a real boost to creativity. That's the promise of a new virtual workshop called Scentsplorations. Framed as a wellness and team-building activity, the hour-long session is conducted by Olivia Jezler, a scent researcher who runs the Instagram account Future of Smell.
Using everyday objects like books and fresh laundry, Jezler guides teams through a series of "cross-sensory exercises" designed to get people talking. As Quartz at Work's Anne Quito reports, smelling objects has a way of encouraging people to speak candidly about their emotions or even share memories from their childhood. And because our vocabulary for describing smell is so limited, participants tend to use more evocative, sometimes more honest, language instead of lapsing into business-like jargon.
The takeaway: "Not only was the experience really grounding and relaxing, it was pretty shocking how quickly the exercises really fired up the imagination," says Mark DiMassimo, founder and creative chief of the New York-based ad agency DiMassimo Goldstein, who says that taking Jezler's workshop as a team activity has added a new dimension to the agency's brainstorming sessions. "We all committed to not just think in words and pictures, but to try to think about other senses."
For branding exercises, the team now tries to define what a particular entity might smell like vis-a-vis its competitors. Thinking in terms of smell also can improve writing and speaking, DiMassimo says, sharing that he now might describe "being strategic" as operating like "a sharp knife cutting through a cold lemon."
"It's just a departure from how most business conversations happen, and different is really important," he says. "It definitely engages people in a more vivid way."
---
Quartz field guide interlude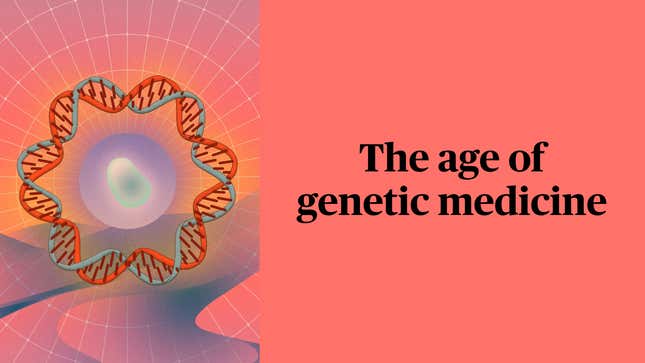 Covid-19 vaccines are the start of a new wave of genetic medicine—drugs that tweak DNA to keep us healthy. Quartz members can read more in our newest field guide.
Brief history of genetic medicine
1953: UK-based biologists John Watson, Francis Crick, Maurice Wilkins, and Rosalind Franklin uncovered the double helix structure of DNA.
1965: Robert William Holley, Har Gobind Khorana, and Marshall Warren Nirenberg become the first to sequence genetic material—a form of RNA. They win the Nobel Prize for their work in 1968.
1971: Cetus, the first biotech company, is established in Berkeley, California, working on components of antibiotics. It's the first of the third wave of pharmaceuticals: biologics, drugs are based on molecules the body makes, like insulin or antibodies. They set the groundwork for the fourth wave of pharmaceuticals—precision genetic medicine—which kicked off in the 2000s.
1998: The first form of precision genetic medicine, an ASO called fomivirsen to treat a rare form of eye inflammation in people with compromised immune systems, is cleared for medical use in the US.
2016: The FDA approves Spinraza, an antisense oligonucleotide drug to treat the fatal genetic disease spinal muscular atrophy. It is the second precision genetic treatment to receive such an approval.
Not yet a Quartz member? Sign up now for a 7-day free trial.
---
It's a fact!
Demand for delivery workers is falling as Covid-19 eases in the US. The latest US jobs report shows that the number of people employed as couriers and messengers declined by 7%.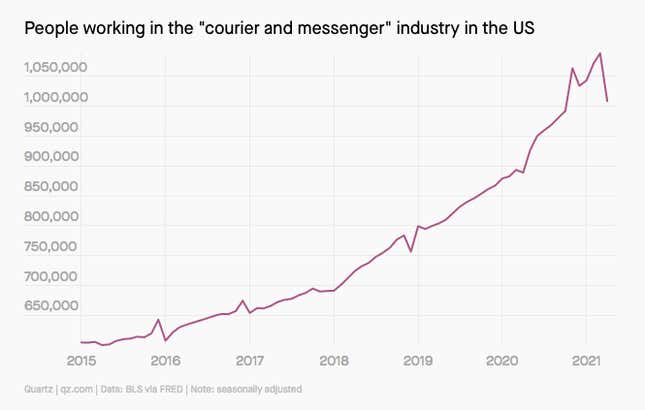 ---
Words of wisdom
"I reinvented electric cars and I'm sending people to Mars on a rocketship. Did you think I was also going to be a chill, normal dude?" —Tesla and SpaceX founder Elon Musk on Saturday Night Live, discussing his controversial persona
---
Office tunes
🎵 This Memo was produced listening to The Chicks' 1998 album Wide Open Spaces, inspired by a recent episode of the podcast You're Wrong About on the backlash against The Chicks after lead singer Natalie Maines denounced George W. Bush and the Iraq War.
---
You got The Memo!
Our best wishes for a productive week. Please send any workplace news, favorite scents, and classical Chinese poems to work@qz.com. Get the most out of Quartz by downloading our app and becoming a member. This week's edition of The Memo was produced by Sarah Todd and Heather Landy.