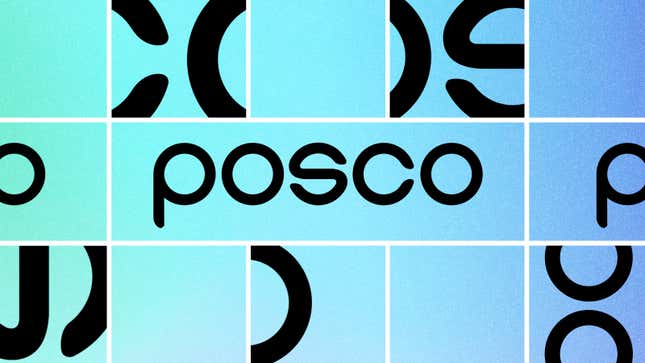 Hi Quartz members,
Steel is a competitive industry. Steelmakers worldwide have long had to grapple with fierce competition from rivals in China, whose overproduction puts pressure on everyone else. Now they must also try to decarbonize the industry, which will involve costly investments. Meanwhile, global demand for steel is forecast to grow a mere 1% in the long term.
Faced with these prospects, the South Korean company Posco, the world's fifth largest steelmaker, is making big bets in the battery space.
That might seem like an unexpected pivot—what does steel have to do with batteries? But it's all about which industry offers the best future prospects. Just as steel helped South Korea to rapidly industrialize after the Korean War and propelled the rise of its manufacturing sector, batteries could spur the next wave of industrial development.
Step by step, Posco is building a globe-spanning supply chain encompassing all major steps of the battery production process, which requires minerals like lithium, cobalt, nickel, and graphite. It owns the rights to mine lithium in Argentina. It has a stake in a Canadian nickel miner. It's building a lithium extraction plant. These moves are aligned with South Korea's new industrial goals of being a leading global battery powerhouse.
---
BRIEF HISTORY
1968: Posco is established, on orders from the president, as part of South Korea's bid to industrialize the nation and drive economic growth.
1994: Posco lists on the New York Stock Exchange. It lists on the London Stock Exchange the following year.
1998: Posco becomes the world's top steelmaker by production volume.
2013: Posco cancels a $5.3 billion steel plant project in India due to delays and fierce opposition from residents.
2015: Amid low steel prices as China's growth slows, Posco suspends another Indian steel plant project, which had been mired in delays.
2018: Posco turns 50 and acquires rights to mine lithium at a salt lake in Argentina. (The lake has since turned out to be quite the lithium jackpot.)
April 2021: Posco ends its business partnership with Myanmar's military following the coup and the military's brutal suppression of pro-democracy protests. But it stops short of pulling out of the country.
May 2021: Posco begins constructing a plant to make lithium hydroxide, a key input for EV batteries. Construction is expected to be complete by 2023.
2030: Posco aims to reduce its dependence on China for graphite, used in battery anodes, to below 50% (it's 100% as of 2021) even as it expands production in China of cathodes and other battery materials.
---
THE POWER OF DIVERSIFICATION
Back in the 1970s, Posco found itself in a bit of a jam. It had built its first steel mill, located in the coastal city of Pohang, relying on Japanese suppliers to install the plant facilities. Now it wanted to expand the steel mill, but the supply relationship with Japanese firms was suddenly in jeopardy. The South Korean spy agency had tried to kidnap a Korean opposition leader in Tokyo—South Korea was then under authoritarian rule—prompting the Japanese government to order its companies to cease doing business with South Korean firms. This left Posco in the lurch: Who would help it expand its mill?
The late Park Tae-joon, Posco's founder and chairman, decided to turn to European supplies instead. It turned out to be a key moment of strategic foresight. The Europeans were keen to do business. That made Japanese companies worried: What if they lost Posco as a client? Now Posco was in a prime negotiating position, and ended up clinching highly attractive terms from both the Japanese and Europeans. Diversification had paid off.
Now, some five decades later, Posco is again diversifying. Seeing that growth prospects in its traditional mainstay steel business are limited, it's investing heavily and pushing into the EV battery space—a sector with huge growth potential as the world transitions to renewable energy. Apart from mining rights in the Argentinian salt lake, it's gone on a worldwide shopping trip to establish footholds key steps of the battery supply chain:
As Posco expands into the battery business, it's also intentionally building a diverse battery supply chain so it's not overly reliant on one country to supply key battery materials. It's a strategy that has paid off in the past—and might well pay off again now.
---
BY THE DIGITS
---
CHARTING BATTERY MATERIALS
Posco aims to quickly grow its production capacity of key battery materials. The key to making that happen is a robust supply chain. "No company in the world, except Posco, has an integrated system for supplying secondary battery materials from raw materials such as lithium, nickel, and graphite to cathode and anode materials," Posco chairman Choi Jung-woo told Business Korea in 2020.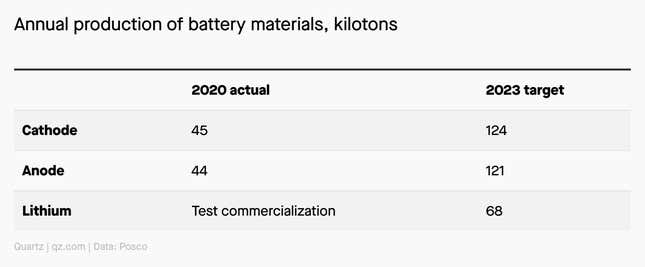 ---
KEEP LEARNING
---
Thanks for reading! Don't hesitate to reach out with comments, questions, or companies you want to know more about.
Have a great end to your week,
—Mary Hui, reporter (like a battery, she also sometimes needs a recharge)
---
One 🏭 thing
China, which manufactures over half the world's steel, is cutting back on steel production as it tries to curb emissions. The expected crimp on global steel supplies is one reason why steel prices have surged, even as iron prices have crashed. Samanth Subramanian explains the see-saw.