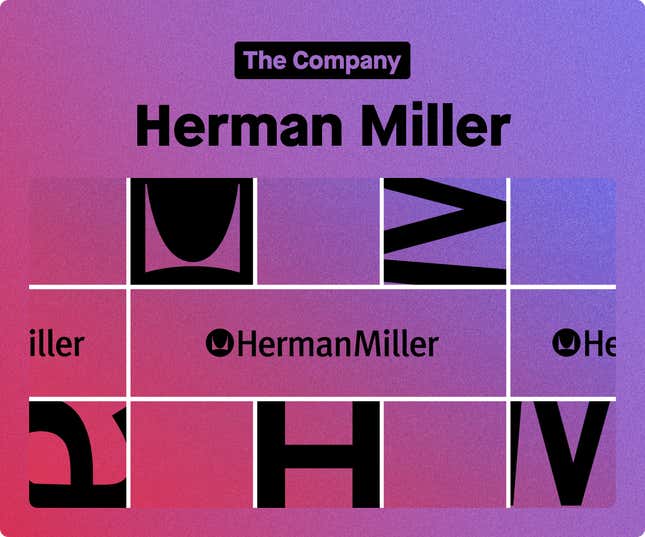 Hi Quartz members,
Where does cool come from? For fans of mid-century design, the answer can be traced to a factory in Michigan, where Herman Miller has for 117 years been making and marketing aspirational furnishings. Named after its first investor, the publicly traded company (MLKN) is behind some of the most recognizable totems of modern design: Daydreaming in an Eames lounge chair—maybe a drink on a Noguchi table nearby—feels like an achievement.
That fantasy is, of course, manufactured. Starting with industrial designer Gilbert Rohde, a parade of legendary designers that includes Charles and Ray Eames has shaped Herman Miller over the years. But the company also relies on an army of designers for films, graphics, posters, and advertising campaigns that help would-be customers associate its products with the good life. As founder Dirk Jan (a.k.a. D.J) De Pree puts it, Herman Miller is designing "a way of living."
Luckily, the mass appeal of 1950s-era style endures. In 2021, with the purchase of longtime competitor Kroll, Herman Miller became the largest purveyor of mid-century furniture in the world.
---
A brief history
1905: Star Furniture Company, a maker of traditional bedroom furniture, is founded in Western Michigan.
1923: The company's clerk, D.J. De Pree, buys the Star Furniture Company and renames it Herman Miller after his father-in-law, its main financial backer.
1931: Industrial designer Gilbert Rohde joins Herman Miller as its first design director. His wife Peggy Ann designs marketing materials for the company.
1942: Herman Miller enters the office market with the "Executive Office Group," a collection of modular furniture pieces that could be configured into 200 different combinations and variations.
1945: Writer and design provocateur George Nelson succeeds Rohde as design director. He recruits the likes of Charles and Ray Eames, Alexander Girard, Isamu Noguchi, Irving Harper, and Tomoko Miho to design for the company.
1956: The Eames Lounge chair launches on NBC's Home show.
1959: Herman Miller mounts a display of American soft power in the former USSR: The American National Exhibition in Moscow showcases rooms teeming with modern conveniences, including a fully-automated kitchen.
1994: The Aeron chair launches, with an accompanying CD-Rom.
2014: Herman Miller acquires cash-strapped furniture retailer Design Within Reach.
2021: Herman Miller acquires its competitor Knoll and rebrands as MillerKnoll. The combined company is now among the largest purveyors of modern design in the world.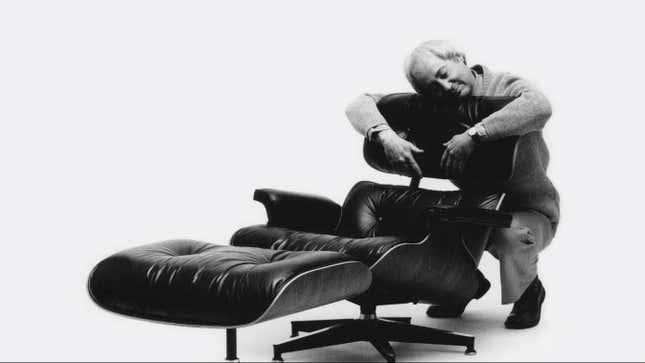 ---
Knocking off knock-offs
Since its early years, Herman Miller has been plagued by counterfeits: For every authentic Eames chair, there are tens of cheap copies marketed as an "homage" to the original. Examples abound on the Instagram account Design Within Copy and the trade organization BeOriginal.
Ironically, Herman Miller itself began as a company that produced copies of European design for the American market. Rohde ultimately convinced the owners to embrace modern design by pointing out that profiting from faux-antique furniture was dishonest.
Today, Herman Miller holds over 160 patents in the US, but policing trademarks on furniture design isn't easy. "While an image of a piece of furniture can be protected by copyright, and its name can be registered as a trademark, only the decorative components of a design can be protected with a design patent, which, if granted, lasts for only 14 years," Metropolis magazine's Misha Volf explains.
Still, Herman Miller's legal team has doggedly taken copycats to courts. Last year, it won a $3.3 million trade dress infringement suit against Office Star Products for producing chairs that looked too much like Eames chairs.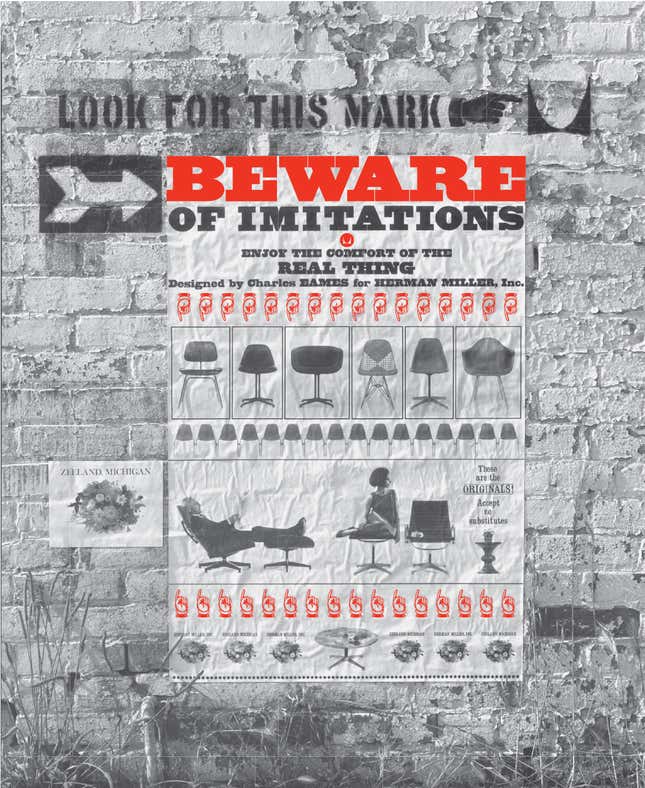 ---
By the digits
47: Steps involved in making an Eames Lounge chair (largely by hand)
3%: Royalty Herman Miller paid Gilbert Rohde for his designs in 1931; it's a compensation model that persists in the industry today
7 million: Aeron chairs sold to date
56%: Reported growth of Herman Miller's retail business in 2020—the highest spike in its history
$1.8 billion: Amount Herman Miller paid to acquire Knoll last year
11,000: Employee count at MillerKnoll
8: Brands MillerKnoll owns, including retailer Design Within Reach and celebrated Danish studio HAY
---
Valuable vintage
Decades of promoting mid-century cool has made Herman Miller a highly coveted brand. With a market cap of $2.9 billion, it's currently the most valuable American furniture company. (IKEA remains the leader globally.) The resale value of some of Herman Miller's most iconic products is proof of its enduring appeal.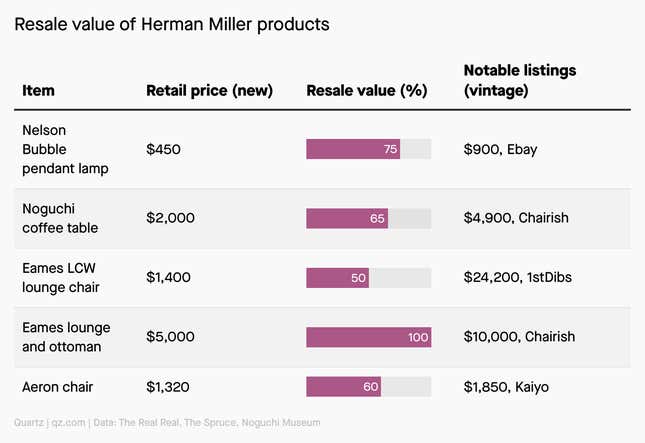 ---
What to watch for next
Resimercial on the rise. Like its competitors, Herman Miller is focused on making and marketing products for work-from-home and hybrid work arrangements. It's already redesigned its commercial showrooms to evoke a more residential atmosphere, and also released its classic office chairs in a new, fresh color palette, suited for the domestic sphere. Baby blue boss chair, anyone?
Advances in extreme sitting. In 2020, Herman Miller pitched one solution for both gamers and remote workers, partnering with the Swiss computer hardware giant Logitech to launch the $1,500 Embody Gaming Chair. Using the bones of its 2008 task chair, Herman Miller tapped a team of biomechanics, vision, and physical therapy experts, to produce a chair solution that purportedly aligns your body, improves blood flow, and maximizes your oxygen intake. To promote its gaming division, the company also recently signed YouTube influencer Tim Betar (known as "Timthetatman") as its first ever brand endorser.
Sustainability sells. Expect Herman Miller to highlight its sustainability efforts. The company has already committed to addressing the ocean-bound plastic crisis: The next generation of Aeron chairs will be manufactured using discarded plastic bottles and fishing nets.
---
Keep learning
---
Have a stylish end to your week,
—Anne Quito (lover of early, mid, and late century design)
---
One 📺 thing
Herman Miller owes its cultural cache in part to Hollywood. In engrossing blog Film and Furniture, Oliver Pearson argues that Herman Miller chairs have "become a shorthand for understated smarts and sophistication,… symbolic of people and places that exude success in one way or another." Here are some of Herman Miller's on-screen cameos:
🚀  In Stanley Kubrick's 2001: A Space Odyssey, a walnut and steel desk designed by George Nelson is used as a futuristic receptionist's station.
🤵  M, the head of M16, perches in an Aeron chair in 2006's James Bond film, Casino Royale.
☕  In Frasier, an Eames lounge chair and ottoman epitomize the therapist's discerning taste.
❌  In The X Factor, Simon Cowell, Paula Abdul, and their fellow reality show judges deliver critiques while perched on Eames Aluminum Group management chairs. The judging panel on Shark Tank are ensconced in white leather Eames lounge chairs.
👨‍👨‍👧‍👦  In Will & Grace, Will obsesses over his new Aeron chair.
👼  In The Simpsons, God floats around in an Aeron chair.