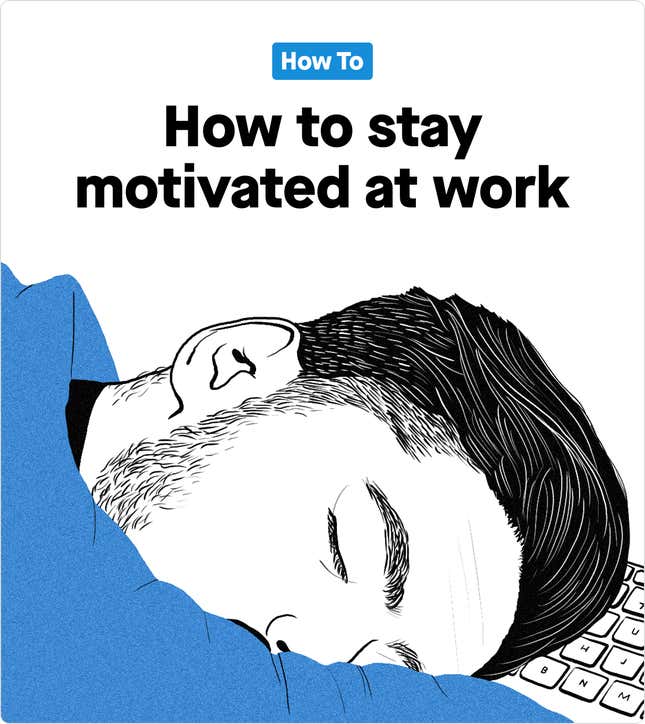 Hi Quartz members,
If you're feeling pretty blah about work these days, you may be tempted to blame the job itself, the sorry state of the world, or a personal failing—a lack of grit. And, sure, any of one of those factors may be weighing you down. But if you've been working at home during the pandemic, there's an even more likely culprit: You miss working with and around other people.
Sitting next to people—whether they were office friends or relative strangers—tapping away diligently at their computers toward the same goal plugs into something fundamental in the way we've evolved to work. Without those connections, it's no surprise that your motivation has dropped off, say experts, even if you're a self-starter or naturally driven in your career.
Fortunately, there are ways to help yourself feel more motivated by shoring up your social support, if you're intentional about it.
---
Explain it like I'm five!
What's the connection between motivation and social connection?
To be sure, motivation is complicated and social support is just one factor that can make or break your inner drive. Before the pandemic, however, social support from colleagues was an abundant, mostly unrecognized resource for many office workers.
Now your intrinsic motivation—doing something for the satisfaction of doing it—is being forced to survive in a vacuum. Without any feedback to keep you engaged, it's easy to lose interest in what you're doing, says Ayelet Fishbach, professor of behavioral psychology at The University of Chicago Booth School of Business and author of the forthcoming Get It Done: Surprising Lessons From the Science of Motivation (Little, Brown Spark, 2022).
"People are not good at being by themselves and working on something by themselves, or with people who don't support what they're doing," she says. Parents working at home with kids in the next room may not be alone, but they're not working with people who help them, either, she explains.
"When they are observed, people run faster, are more creative, and think harder about problems," for many reasons, she also observes in Harvard Business Review.
One reason: When others are watching, people "include others' perspective into their own perspective," she writes—they naturally imagine how someone else might view what they're doing. "The dual perspective then magnifies their work, because investing time, energy, and effort into something that feels big and meaningful is much more motivating than investing in something that feels small."
---
The million-dollar question
Is the real problem my boring job?
Maybe. For the reported 65% of employees who were disengaged at work before the pandemic, the past year and a half has prompted existential questions. One silver lining of the Great Resignation is that people may leave their jobs to find work that will be more motivating, says Fishbach.
That said, her research on motivation suggests that if you basically enjoyed your job before the pandemic, any slump you're feeling now is almost certainly linked to your circumstances. Admittedly, she says, "it's hard to separate not liking the tasks and not liking doing it by myself."
It's even harder if you started a remote job during the pandemic. Some of Fishbach's students who started internships in the past 18 months have complained that they don't like the work. "But they really have no idea what it's like working in that company because they never met the people," she says. "The kind of training that you get on the job when you arrive somewhere and you meet people and you learn the culture, or you adopt the values of the place—these are things that are harder to communicate" online.
---
Quotable
"There are all kinds of weird associations to the word 'play,' but if you understand that relationships are what's going to make some people stay and feel that this is an important place for them to be, then you'll want to bring in tools, practices, and rituals that make those connections."
—Psychotherapist Esther Perel on the importance of "play" at work to combat attrition and a lack of engagement.
---
What you can do (with others) to boost your motivation
Look for ways to be watched and feel seen, perhaps by leaving video calls running as you do individual work with a friend, setting up regular video "fikas" with friends from work, or building a bulletin board or Slack channel where you share work in progress.
Consider sending regular updates to your managers and peers, informally or through a structured 5-15 exercise. Fishbach also suggests making "a growth list with colleagues of skills that you want to learn or improve on, and share your progress."
Create a  "done" list—also known as a "Ta-da!" list—and share it with the appropriate people. Include the everyday trivial tasks that you normally put off and or don't share with others because they feel meaningless.
---
What you can do (by yourself) to boost your motivation
Ask yourself which aspects of your job fulfill intrinsic motivations—the tasks that feel rewarding as you're doing them— and make note of your answers. Then speak to your manager about dialing up the time you spend on those elements.
Harness the power of "fresh starts," such as the beginning of the month, a workplace anniversary, or a new quarter, which can jump-start motivation, according to research by Katy Milkman, a professor at The Wharton School of the University of Pennsylvania and author of "How to Change: The Science of Getting From Where You Are to Where You Want to Be." Fishbach's work also shows that people tend to slack or lose their drive in the middle of a project or event, like a pandemic.
Keep external incentives simple or else they obscure the more motivating goal, says Fishbach. Set ambitious goals, she also advises, because they're more exciting and therefore more motivating.
On really tough days, just start with one small task toward a bigger goal. Instead of waiting for the mood to strike you, try writing an outline to a difficult email, for example, rather than tackling the email itself. Soon you'll break out of the emotional loop that's keeping you stuck.
Learn what else you need, besides other people, to sustain your motivation throughout the work day. Is it the half-mile walk that was once part of your commute? Do you need to set up regular meetings to give your day structure? Some people find that listening to music helps them, says Fishbach. "For another person, it's totally disruptive. Try it and see which person you are."
---
Keep reading
---
Have a great weekend,
—Lila MacLellan, Quartz at Work senior reporter (will work for dark chocolate or great conversations with sources)
---
One 🖼️  thing
The now iconic "Believe" poster that hangs in the locker room on Apple TV's Ted Lasso may seem like a cheesy, sentimental prop, but it would probably work in real life. Visual reminders to push forward can actually improve our motivation levels, according to research by Gary P. Latham, an organizational psychologist at the University of Toronto's Rotman School of Management. (Read more in this profile of the motivational poster company Successories from Quartz's archive.)