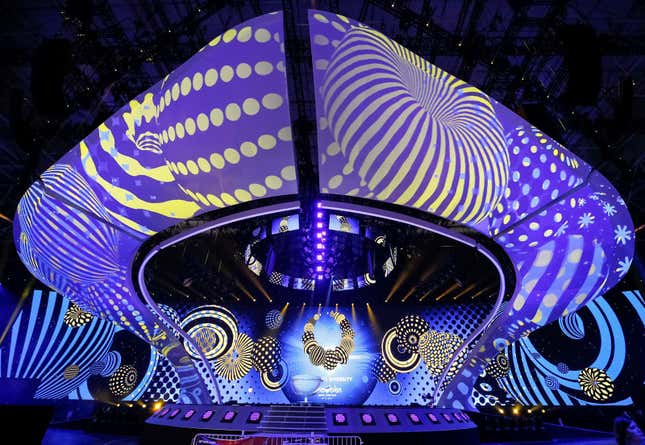 We've updated this Obsession, originally published in 2021, to help you on your Eurovision 2023 journey!
Why a tightening of credit conditions could lead to a weak economy
The real European Union
With more than 1,500 songs in its 65-year canon, the Eurovision Song Contest (ESC) is one of the world's biggest media spectacles. The competition draws hundreds of millions of viewers annually, in a contest where more than 40 countries each send a musical act to a rotating venue, and millions of fans jam phone lines for hours to vote for their song in a state of true pop "Euphoria."
Last year, Ukraine smashed the contest's televoting record with 439 points, claiming victory with the folk-rap song "Stefania" by Kalush Orchestra. The song was written about a band member's mother, but amid the Russian invasion of Ukraine, it took on a deeper, patriotic meaning for many listeners.
Eurovision 2023 runs from May 9-13. It's not just an absurdly fun time. In many ways, Eurovision is the history of Europe writ large in popular culture. It's also an annual snapshot of the state of contemporary society.
Admit it. You're excited.
By the digits
69: Eurovision winners to date
43: The most countries to ever compete in a single ESC (2008, 2011, 2018)
12: Maximum number of points one country can award through either jury or public vote to another country
161 million: Estimated viewers who watched the ESC on TV in 2022
€60 million: Record cost of Eurovision 2012, held in Baku, Azerbaijan
7: Number of times Ireland has won the competition, the most of any country
33: The number of countries where 1976's ESC winner, "Save Your Kisses for Me," hit the top of the charts
---
Explain it like I'm 5!
Liverpool bound

According to ESC tradition, the winning country hosts the following year's contest. But given the ongoing war in Ukraine, this year's contest is taking place in the UK.
The 2022 runner-up, Sam Ryder, a Brit, whose pop hit "Space Man" garnered broad praise, was tapped by the EBU to host the event on Ukraine's behalf.
In September it was revealed that Liverpool was selected as this year's host city, becoming the first UK city to stage the competition since the 1998 ESC in Birmingham.
---
Listed
Come together
Despite the ESC's stated goal of promoting international harmony, the contest itself has often been subject to political controversy. Any Eurovision fan will tell you about the existence of voting blocs within geographical areas (the Greek-Cypriot love fest is hard to deny), something that statistical analysis has backed up, but current events often play a role, too:

🇱🇧 In 2005, the Lebanese entry to Eurovision withdrew at the last minute because of legislation that prevented it from recognizing Israel.
🇦🇲 In 2012, Armenia withdrew when Azerbaijan hosted the contest in the capital Baku after having won the previous year with Ell & Nikki's "Running Scared."
🇺🇦 In 2016, Ukraine's winning entry "1944"—a song inspired by the deportation of Crimean Tatars from the USSR—was widely seen to be a political dig at Russia in the midst of the Crimean crisis. The next year, Ukraine denied the Russian entrant a visa on the basis of her having traveled to the annexed territory, resulting in a Russian withdrawal from the contest.
🇷🇺 In 2022, Russia was banned from participating in the ESC following its invasion of Ukraine in February. The EBU subsequently suspended Russia in May 2022, banning the country from participation in future contests.
---
Rules and regulations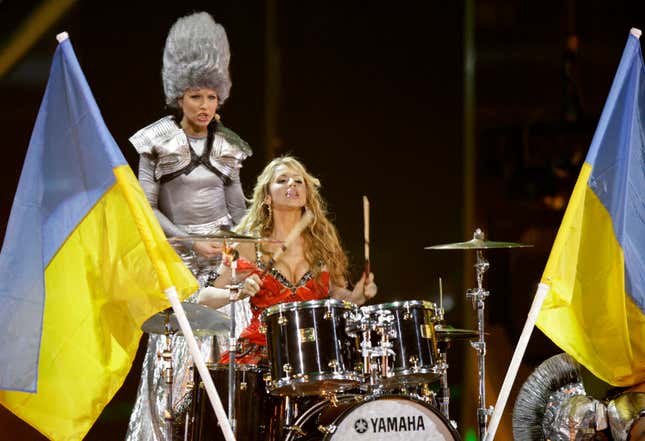 Building bridges

Eurovision entries are sent by national broadcast corporations who are members of the European Broadcasting Union (EBU), an alliance of public-service media companies. However, association with the EBU is not restricted to Europe: Associates include the US's ABC, NBC, and CBS; Japan's NHK; and South Africa's SABC. Past contestants have ranged from Morocco to Australia, and the show was, for a few years, even broadcast in China.

Songs entered in the contest must be sung live (there must be vocals), with no vocals permitted on any background tracks. The material must be completely original; no covers allowed. Up to six performers are allowed on the stage at once. Songs may be performed in any language and by performers of any nationality—although a requirement that songs be performed in one of a country's official languages has been a matter of continual debate.
Pop quiz
What is the longest Eurovision song on record?
A. "Baila el Chiki-chiki"
B. "Weil der Mensch zählt"
C. "Corde Della Mia Chitarra"
D. "Eat Your Salad"
You'll find the answer at the bottom of this email—even though it's top-notch Eurovision history.

---
Brief history
A Modern Fairytale
May 24, 1956: The first Eurovision Song Contest—then called the Eurovision Song Contest Grand Prix—is held in Lugano, Switzerland. Seven countries compete; Switzerland wins.
1965: A pop song wins ESC for the first time: France Gall's classic, "Poupée de cire, poupée de son." It goes on to become an international hit.
1969: The ESC is held in Francoist Spain to much controversy; a tied vote and no rules on tiebreakers results in four countries winning.
1973: Israel becomes the first geographically non-European country to compete.
1974: ABBA crushes the competition with "Waterloo," a smash hit that propels them to global superstardom, and that honor of all honors, a Quartz Obsession email.
1988: A little known singer named Celine Dion takes the prize for Switzerland with "Ne Partez Pas Sans Moi."
2000: Eurovision is streamed over the internet for the first time.
2001: Estonia becomes the first former Eastern Bloc country to win; singer Dave Benton also becomes the first Black artist to win, with pop banger "Everybody."
2015: Australia competes in what begins as a one-off entry with Guy Sebastian's "Tonight Again," but they end up becoming a regular entrant after their 5th place showing.
2020: The ESC is canceled for the first time in its history.
2021: Rock band Måneskin clinches an ESC win for Italy with the song "Zitti e buoni," and soar to international stardom.
2022: "Stefania" wins a record 431 votes from the public and 192 jury points for a total of 631 points to win the ESC. The song becomes a wartime anthem for Ukraine.
---
Watch this and listen to this!
Your 2023 lineup

Eurovision is at its best when both seen and heard. Here's the official YouTube playlist of each costumed, coiffed, and fearless contestant, so you can pick your frontrunners going in.
---
But also listen to this!
The Quartz Obsession podcast is back, and while we don't wear glitzy costumes (or maybe we do, you'll never know), we do beautifully vocalize lots of different Obsession topics.

We've started season 5 with some real winners!

🎡 The World's Fair: Tech's bygone showcase

📱Superapps: There can be only one
✅ Or find it wherever you get your podcasts: Apple Podcasts | Spotify | Google | Stitcher | YouTube 

---
Poll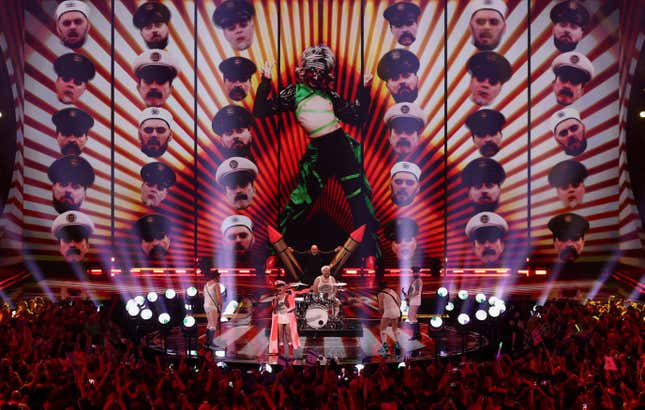 How do you feel about Eurovision?

It's a "Party for Everybody"
I have "No Prejudice"
Two words: "Why Me?"
Vote, in song form, here. (We won't make you sing, though).
---
💬 Let's talk!

In our last poll, about The Book, 48% of you would eschew a title in favor of anarchy.

🤔 What did you think of today's email?

💡 What should we obsess over next?
---
Today's email was written by Brendan Hamill, edited by Susan Howson, updated by Julia Malleck, and produced by Annaliese Griffin.
The correct answer is C. "Corde Della Mia Chitarra." Italy's song entry from the 1957 contest clocks in at over five minutes and features rolled "Rs," sustained vibrato, and finger-picked guitar.