The making of a global phenomenon
The art of drag has been around for centuries—longer if we trace it back to men playing female characters in theater. Yet over the past 15 years, drag has become more popular, better understood, and more visible than perhaps ever before. One reality competition show is largely responsible for bringing performers out of nightclubs and into the living rooms of millions of people across the globe. We're talking, of course, about RuPaul's Drag Race.

Should you keep investing in Big Tech?
Following the success of his hit song "Supermodel (You Better Work)" in 1993, drag superstar RuPaul Charles set off to make a name for himself as a radio and television host before finally agreeing to create a show, with co-founders Fenton Bailey and Randy Barbato, that would honor drag performers.
Drag Race's contestants are the heart of the show, representing a variety of backgrounds and experiences seldom portrayed on television. Their willingness to share the joy, the sass, and the hardship of being LGBTQ+ with a passion for dressing up and entertaining crowds has proven such a successful formula that it has been repeated in countries across the world. In each new territory where RuPaul plants the Drag Race flag, the drag scene flourishes and finds new audiences in a rare example of successful trickle-down economics.
Readers, start your engines, and prepare to be gooped, gagged, and gobsmacked!
---
By the digits
15: Regular US seasons, on top of eight All Stars editions and two Vs. The World editions
2: International editions hosted by RuPaul—UK and Down Under. The other editions are hosted by local drag queens, occasionally former Drag Race contestants themselves
10: Languages officially spoken across the Drag Race editions
$4.99: Cost of a monthly subscription to WOW Presents Plus, the streaming service run by Drag Race production company World of Wonder Productions
$200,000: Drag Race's top prize in its most recent season, 10 times as much as the winner's taking in season 1, a mere $20,000.
---
Mapped
It's a drag race world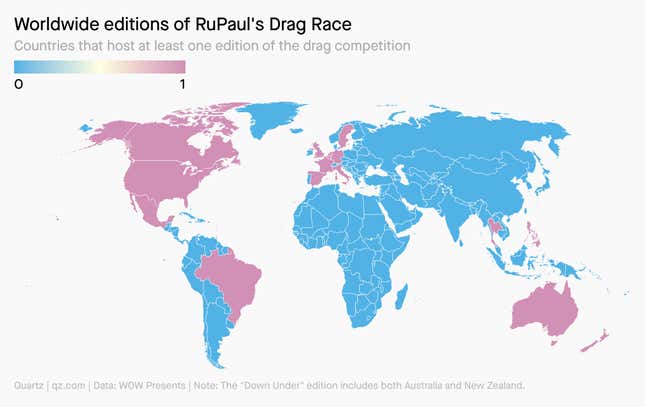 ---
Quotable
"We're all born naked and the rest is drag."

 —One of RuPaul Charles's trademark quotes, and a line in one of his songs, "Born Naked."
---
Department of Drag Race jargon
Sashay away: The parting words RuPaul bestows on the week's eliminated contestant.

Shantay you stay: The words every drag queen who enters a lip-sync wants to hear, meaning they survived elimination.
Charisma, Uniqueness, Nerve, and Talent: The four skills drag artists should display to win the competition. Make of its acronym what you wish.
Lip-sync assassin: An unofficial title bestowed upon a contestant who has survived several eliminations by winning lip-syncs.
Death drop: A signature drag dance move that involves a performer suddenly letting themselves fall to the ground with a leg behind their back (see gif above).
She done already done had herses: The notification that announces the week's challenge, which RuPaul explained was something a lady working in a store said to signal the wrong customer was about to grab their order. For the first six seasons, the message said: "You've got she-mail," but it was changed following complaints about the transphobic connotation of the term. Similarly, one of the show's catchphrases changed from "may the best woman win!" to "may the best drag queen win!" to reflect the diversity of the contestants and of their drag expressions.
---
Origin story
You better vote: Drag and politics
The show has long celebrated drag as an art form as well as a political act, and RuPaul has often promoted the importance of voting through the show and its social media channels, and before that, on MTV, but this year the show read the state of US politics with unsettling accuracy.

The musical challenge in Season 15—which aired in 2009—retold the story of the 1984 film Footloose adapted to a drag ban (instead of a dance ban) storyline, just as Tennessee legislation restricting drag performances hit headlines. The season finale supported the American Civil Liberties Union's fundraiser to fight rapidly spreading drag bans. Roscoe, an LGBTQ+ venue in Chicago, used one of its regular screenings of the show to support a fundraiser for a local bakery that faced closure after experiencing threats and vandalism for hosting drag brunches.

The Republican-led backlash against drag performances has affected the show's drag queens directly. The Hyatt Regency Miami hotel in Florida risked losing its liquor license after hosting a Christmas drag show featuring Drag Race's contestants, for allowing "sexually explicit content" to be performed in front of minors. Increasing rhetoric and violence against LGBTQ-friendly venues—the Q club shooting in Colorado last year and the killing of a California shop owner who displayed a rainbow flag in August—have serious consequences for queens even in states where they can still perform with no restrictions, prompting drag performers to beef up security at their shows.
---
Pop quiz
Who was the first-ever celebrity judge on RuPaul's Drag Race?
A. Ariana Grande

B. Bob Mackie
C. Lady Gaga
D. Elton John
Sashay to the bottom of this email for the answer.

---
Brief history
Feb. 2, 2009: RuPaul's Drag Race season one debuts on cable network Logo.

November 2013: The show begins streaming worldwide on Netflix, boosting the show's popularity abroad
2016: RuPaul achieves his first Emmy win in the hosting category for a reality program, and in 2018 the show wins the prize for Outstanding Reality-Competition Program, a victory that will be repeated for three consecutive years. The show has so far won a total 26 Emmys.
Mar. 24, 2017: RuPaul's Drag Race season 9 moves from Logo to VH1, achieving a wider US audience.
Oct. 3, 2019: The show's first international edition hosted by RuPaul himself, RuPaul's Drag Race UK, airs on the BBC.
Jan 6, 2023: RuPaul's Drag Race moves to MTV for season 15.
---
Fun fact!
Ever since the winner of season 3 was spoiled online ahead of the finale episode airing, various versions of the crowning are filmed, so nobody, including the queens themselves, knows who actually wins until the final version is aired.

---
Watch this!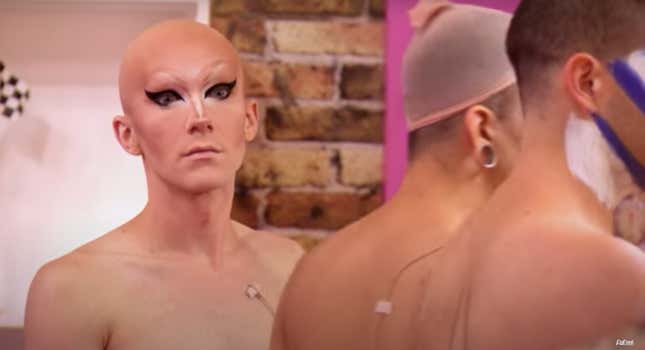 A classic RuPaul's Drag Race episode moment in season 9 reaches an emotional peak while getting ready for the runway. The drag queens discussed the June 2016 deadly shooting at the Pulse nightclub in Florida, a venue to which some of them had strong ties.

---
take me down this 🐰 hole!
The 1990 groundbreaking documentary Paris is Burning serves as the inspiration for RuPaul's Drag Race's reading challenge, which typically happens once per season and involves contestants cracking jokes about one another. The documentary, which was added to the National Film Registry in 2016 and heavily inspired Ryan Murphy's drama series Pose, observes the ballroom scene of late 1980s New York City and its many colorful characters, largely queer people from Black and Latino communities, whose iconic utterances are quoted to this day.
---
When did you first start watching Drag Race?
Before it was cool
It's been a lifeline during the pandemic
As soon I'm done with this email
Let us know, via email—bonus points if you sign it with your best drag queen name.
---
💬let's talk!

We'd love to tell you about what happened in last week's poll about giraffes, but as our polling system is down, we're unable to spot the results. We'll let you know next time.
🤔 What did you think of today's email?
💡 What should we obsess over next?
---
Today's email was written by Sofia Lotto Persio (more queen than drag) and edited and produced by Annaliese Griffin (always working it).
The answer to the quiz is B, legendary designer and frequent Cher collaborator Bob Mackie. Lady Gaga featured in the first episode of season 9, which was viewed by almost 1 million people, while Ariana Grande has been a judge twice. Elton John has not joined the judging panel (yet!) but once recorded a video for the queens.