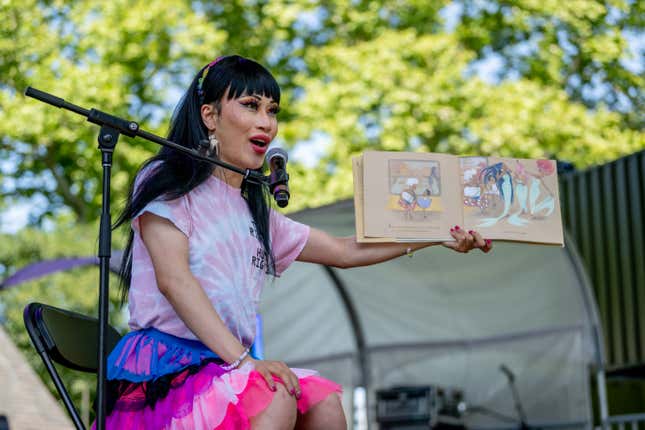 Montana governor Greg Gianforte signed another controversial bill that is likely to be contested on First Amendment grounds. House Bill 359 bans both anyone under 18 from attending "sexually oriented" performances in businesses such as restraurants and clubs, and also bans drag performers from reading books to kids at schools and libraries that receive public funding.
Ben Emons Part 2: The Fed, Apple shares
The new law, passed on Monday (May 22), builds on recent legislation in Florida and Tennessee that aims to restrict who can attend drag performances that are deemed adult entertainment. However, Montana's law goes a step further by banning drag story hours, which the bill designates as different than "sexually oriented" drag performances.
Drag story hours are increasingly popular in libraries and schools nationwide, and are defined by the new law as "an event hosted by a drag queen or drag king who reads children's books and engages in other learning activities with minor children present."
According to the Montana Free Press, one of the bill's critics is Gianforte's son David, who identifies as nonbinary and uses the "him" and "they" pronouns. David encouraged his father not to sign the bill and called it "immoral, unjust, and frankly a violation of human rights."
Who fits Montana's definition of a drag queen?
Country legend Dolly Parton famously said, "If I hadn't been a girl, I'd have been a drag queen." According to this new law, the southern country singer may as well be a drag queen.
Montana's new law defines a drag queen as: "a male or female performer who adopts a flamboyant or parodic feminine persona with glamorous or exaggerated costumes and makeup."
The law also defines drag kings as performers "who adopt a flamboyant male persona," opening up the potential for guests at any number of library or school events to inadvertently break the law, like at an event where Snow White reads German fairy tales or a student concert covering David Bowie hits.
Tennessee is being sued for its ban on drag on 1st Amendment grounds
Final hearings began this week in a lawsuit filed against Tennessee after a judge blocked its controversial drag ban in April.
The state is being sued by Friends of George's, an LGBT theater company, in federal court. The company's lawyers say the law infringes on the First Amendment rights of drag queens.
Last month, US District Judge Thomas Parker issued a temporary order blocking the implementation of the law, writing that the state failed to make a compelling argument as to why the law is necessary and calling it overly broad.
The law doesn't mention drag queens by name, instead reclassifying "male or female impersonators" as a form of adult cabaret, akin to strippers and exotic dancers. The law also bans cabaret performers from performing anywhere where minors might be present.
A First Amendment lawsuit was also filed earlier this week against the Florida drag ban by a restaurant known for hosting family friendly drag events who reported a 20% drop in Sunday bookings .
Related stories:
Tennessee is set to become the first US state to ban drag
Disney sues Ron DeSantis on First Amendment grounds
Montana's TikTok ban is already facing its first legal challenge