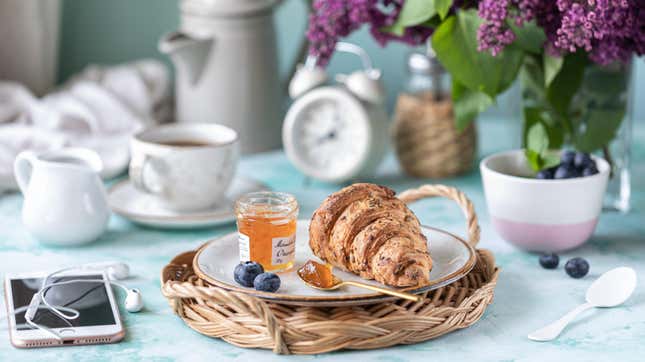 Hi Quartz members!
Enjoying this newsletter? Let us know; we'd love to hear from you.
---
5 things we especially liked on Quartz
🧲 Miracles don't exist. At least, LK-99 most likely isn't the miracle superconductor it was briefly thought to be. Instead, as Tim Fernholz explains—it's most likely a weird magnet. So why was the world so briefly convinced that all our problems were going to be solved by an inexpensive metal that would offer zero resistance to electricity at room temperature? We've always been susceptible to the hope of a magic bullet, and we've always been eager to believe internet hype without waiting for the scientific process to catch up.
​​👟 Made for walking. Add another entrant to the hall of health myths, right next to drinking eight glasses of water daily. There's actually no scientific basis for taking 10,000 steps a day—and new research finds that 5,000 will do you just fine. Ananya Bhattacharya explains why 10,000 became widely endorsed by the likes of fitness apps and health institutes. It all traces back to great brand strategy by one Japanese walking club.
🎲ESPN rolls the dice. Bob Iger, the former Disney CEO who returned to the company after ousting his handpicked heir, is making a major bet with ESPN in the form of a $2 billion partnership with gambling outfit Penn Entertainment. The deal is something of a desperate cash grab and, as Diego Lasarte demonstrates with the example of a controversial NBA draft, promises a tricky line to walk for ESPN's ostensibly neutral journalists.
🚆 Hydrogen derailed. A plethora of countries, from Italy and India to Japan and Namibia, are adopting hydrogen trains. However, the first adopter of commercial hydrogen trains, in Germany, is switching tracks towards an all-electric future. Quartz's Ananya Bhattacharya looks into what happened, and why the death of LVNG's dream doesn't necessarily mean the death of hydrogen rail.
📦What can you do for Brown? UPS, the US delivery giant, just signed a new contract with its employee union that will pay senior drivers as much as $170,000. That news—and the bankruptcy of Yellow, a trucking company—has led searches for UPS jobs at the site Indeed to grow 50%. Any new employees will have to work their way up the ladder to win that top-line salary, but Gabriela Riccardi reports that the deal is also inspiring logistics workers at FedEx and Amazon to push for their own wage gains.
---
5 great stories from elsewhere
☕ Tea change. In April 2022, Sri Lanka defaulted on its debt. Former president Gotabaya Rajapaksa fled to the Maldives amid mass protests, and the poverty rate in the country has since doubled. Zinara Rathnayake for New Lines travels to Colombo to cover how the economic crisis has impacted people's lives. For some households, one of the clearest signs of financial strain can be seen in the way they make their tea.
🍽️ Buffet's end. All-you-can-eat is out in Las Vegas, and à la carte is in, according to a story in The Baffler. Part of the reason might have to do with food trends—sharing an aesthetic meal on Instagram is now more desirable than getting value for volume on the plate. The food hall, a gleaming temple for consumer choice, has risen in the buffet's stead. It may be a great way to cut costs, but workers in the industry are struggling.
📍On the map. The Amazon rainforest, which spans across nine countries in Latin America, is home to a diversity of wildlife—and multibillion-dollar criminal operations. InfoAmazonia created a fascinating visual data project that maps out the Amazon's criminal underworld, showing where armed groups have gained control of territory in the region, and how their presence links to everything from illicit gold mining to indigenous rights.
🌧️ Rain scents. Mitti attar is the name of a traditional Indian perfume that is meant to capture the smell of rain hitting dry earth. A story from Atlas Obscura takes readers to a perfume distillery in the town of Kannauj, in the northern state of Uttar Pradesh, that has produced the fragrance for hundreds of years. Though the ingredients and process for bottling the scent are known, its origins are something of a mystery.
🎉 The big 5-0. As legend has it, hip-hop was born on Aug. 11, 1973 in the Bronx, New York (though, of course, the date has been disputed). That day, DJ Kool Herc and his sister, Cindy Campbell, threw a legendary back-to-school party on Sedgwick Avenue. New York Times critic-at-large Wesley Morris celebrates, with great panache, the form of Black expression that has come to influence music and culture around the globe.
---
What to watch for this week
Here's what our newsroom will be watching next week:
Monday: Earnings for Foxconn—the huge Taiwanese Apple supplier—are expected to drop
Tuesday: Home Depot's earnings will give us some insight into whether people have abandoned their well-intentioned bathroom remodels or not…
Wednesday: …and the latest data on new home constructions in the US will tell us if people are choosing brand-new bathrooms instead. Plus, Tencent, JD.com, and Target all release earnings.
Thursday: The market will take a pulse check on numbers from the world's largest retailer, Walmart…
Saturday: …and we'll monkey around on International Orangutan Day
---
Thanks for reading! Here's to the week ahead, and don't hesitate to reach out with comments, questions, feedback, weather-based perfume ideas, and favorite hip-hop playlists. Sunday Reads was brought to you by Morgan Haefner, Tim Fernholz, Gabriela Riccardi, Shivank Taksali, Julia Malleck, and Susan Howson.