The US government is in the midst of its most contentious budget fight in years, and NASA's lunar return is likely to be a victim.
NASA spending is just 1.5% of discretionary spending (and less than half a percent of total federal outlays). But Republicans are pushing for major cuts, using the leverage of a potential default on US debt to force president Joe Biden to sign off. Talks are ongoing in Washington, but the differences are stark.
Republicans want to cap discretionary spending, the annual appropriations that fund NASA and many other government programs. The cap is ostensibly set at 2022 levels, but Republicans have indicated they will exempt funds for defense and veterans care from these limits. Assuming the cuts are spread evenly, NASA spending would be roughly at 2019 levels.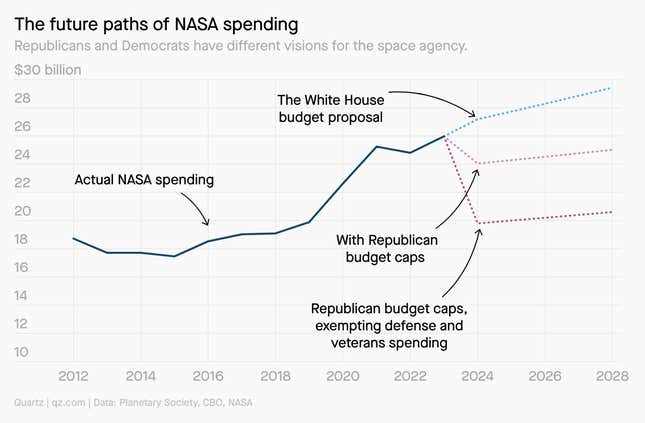 NASA administrator Bill Nelson outlined what that worst-case scenario would mean for the agency in a March letter to lawmakers: Many delayed or canceled science missions, including an ambitious plan to use robots to return samples of Martian soil to Earth. It also would mean delays to the Artemis program's plan to land astronauts on the Moon again sometime around 2026, and the cancelation of subsequent lunar missions and infrastructure—the features of the program that make it more than a re-creation of the Apollo Moon landings. And it would mean cuts to a number of partnerships with private companies seen as driving the future space economy, whether through privately operated space stations, in-space satellite servicing and manufacturing, cargo missions to the Moon, or investments in nuclear propulsion and power.
To be fair, Nelson has incentives to paint an ugly picture, and the consequences of returning to near-2022 levels are mainly delays to future missions. But keep in mind that inflation already means NASA has to do the same with less, and the funding requests from the Artemis program are set to increase, according to NASA executive Jim Free. The extraordinary cost of the Space Launch System rocket at the center of the Artemis program—around $4 billion per mission—may come back to haunt the agency.
Artemis (and NASA) have benefitted from generous bipartisan support in recent years. But space policy will take a backseat to whatever deal is made by party leadership and the machinations of the appropriation committees. Some kind of reductions seem inevitable, and NASA's commercial partnerships are likely to be easy targets (remember the Bezos Bailout rhetoric?). That will present a real challenge for the industry's communicators at a time when its most visible spokesperson, Elon Musk, is increasingly polarizing. But there is an opportunity to make the case that public-private partnerships can deliver with smaller budgets. More likely, we'll hear more rhetoric about the need to compete with China in space, as we're already seeing with the debt ceiling.
🌕🌖🌗
IMAGERY INTERLUDE
Russia's invasion of Ukraine has ground on for more than year now, and satellites continue to provide a picture of the stark reality of modern war. The city of Bakhmut has been the site of an ongoing battle, and the consequences are clear in these Maxar images of a school and apartments, captured in May 2022 and May 2023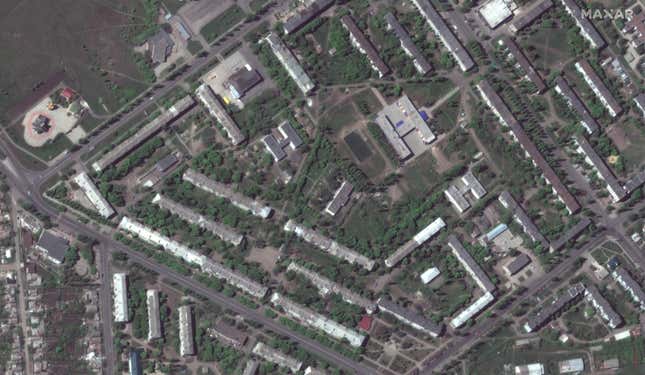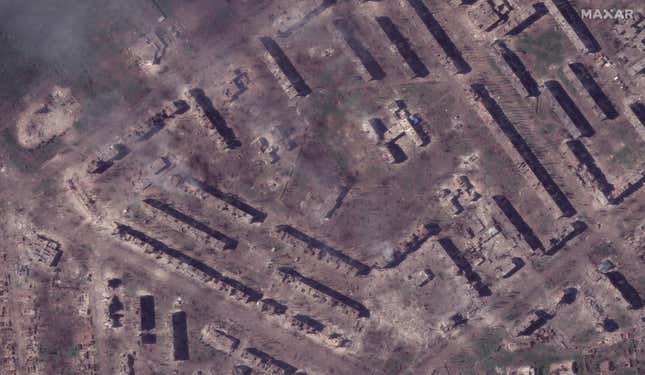 🗣🗣🗣
The world has known for decades that single-use plastic causes significant environmental harm, but what can be done about it?
In the latest episode of the Quartz Obsession podcast, Quartz editor Sofia Lotto Persio explains what manufacturers could do to make a real dent in the plastic problem. 🎧 Listen right now! 👀 Or, read the transcript.
✅ Subscribe wherever you get your podcasts: Apple Podcasts | Spotify | Google | Stitcher | YouTube 

🚀🚀🚀
SPACE DEBRIS

The second private mission to the ISS prepares for lift-off. Axiom Space is preparing to fly three passengers and an astronaut chaperone to the International Space Station onboard a SpaceX Dragon capsule in a May 21 launch attempt. The crew includes the first Saudi woman to head to space, Rayyanah Barnawi; fellow Saudi astronaut Ali Al Qarni; wealthy former Dura-Line CEO John Shoffner; and retired NASA astronaut Peggy Whitson. The paying passengers will perform more than 20 scientific experiments during a mission expected to last about eight days.
Kathy's back on the Moon. Kathy Lueders, who retired as a top NASA executive last month, has joined SpaceX to work on its Starship program in Boca Chica, Texas. Lueders, who helped choose SpaceX for several multibillion-dollar NASA contracts, is the second senior NASA official, after William Gerstenmaier, to depart the space agency and land a job at its top contractor. There's some irony here: Lueders had been managing NASA's Artemis lunar return program, but NASA shifted those duties to another executive in 2021. Now, she'll be playing a key role developing the vehicle NASA needs to put astronauts back on the Moon.
Speaking of Moon landers...NASA plans to announce the second company chosen to build a vehicle to land astronauts on the Moon. The Artemis program will use the Orion spacecraft to carry astronauts to lunar orbit, but it needs a different vehicle to shuttle them to the surface and back. For early missions, that vehicle is SpaceX's Starship, but NASA wants a second option to reach the surface. Jeff Bezos' Blue Origin invested in a lunar lander and led a consortium to bid on this contract, as did the space firm Dynetics. Of course, there are all those budget issues we mentioned above to think about.
ULA is preparing for a critical rocket test. The joint venture of Boeing and Lockheed Martin is prepping a static fire of its Centaur upper stage; the same stage failed during testing in March, delaying the debut flight of ULA's Vulcan rocket. The Vulcan is critical to the US military's space plans, and the postponed first flight will carry a private Moon mission operated by Astrobotic on NASA's behalf.
China wants its own commercial cargo service. The agency operating China's new Tiangong space station is soliciting proposals from private companies to resupply the orbiting habitat. The scheme appears similar to NASA's commercial cargo program, which helped launch SpaceX and continues to provide regular service to the International Space Station.
Last week: Vast's plan to be the first private company to launch a free-flying space habitat.

Last year: Can Starliner restore Boeing's reputation for engineering excellence?
This was issue 181 of our newsletter. Hope your week is out of this world! Please send your NASA budget priorities, dream private astronaut mission roster, tips, and informed opinions to tim@qz.com.